AIADMK's messy politics: Palaniswamy's merger move has checkmated Panneerselvam leaving him with few options
The times are changing in the AIADMK, that in the past few months has broken up into three factions, headed by chief minister Edappadi Palaniswamy, former chief minister O Panneerselvam and deputy general secretary TTV Dinakaran.
The times are changing in the AIADMK, that in the past few months has broken up into three factions, headed by chief minister Edappadi Palaniswamy, former chief minister O Panneerselvam and deputy general secretary TTV Dinakaran. With EPS extending an olive branch to OPS to facilitate a merger of the two factions, it means the original AIADMK (Amma) will now effectively be split into AIADMK (BJP and friends) and AIADMK (Chinnamma and Dinakaran).
That in a nutshell is the messy ABCD of AIADMK politics.
What prompted EPS to do a U-turn on his earlier stand when he said there is no need for a probe into Jayalalithaa's death and announce a judicial commission on Thursday? Dinakaran's public meeting in Melur this week where he had 20 MLAs rubbing shoulders with him, effectively reducing the EPS government to minority status, was the spark. Coupled with it were reports that the DMK could try to use these disgruntled MLAs to bring down the government through a no-confidence motion.
In terms of political gamesmanship, EPS has made a smart move, even if his hand was forced. By seeming to concede to Panneerselvam's demands, Palaniswamy has presented himself as the more amenable of the two. The chief minister also knows that frustration with the OPS camp is rising. Within minutes of his announcement of a judicial probe and the decision to convert Veda Nilayam, Jayalalithaa's residence in Poes Garden, into a memorial, former minister K Pandiarajan welcomed it and wanted the merger process to take place. It is more than obvious that should OPS still fuss over a homecoming, his ranks may deplete.
The problem for OPS is that there is a section within his camp which is not too enthusiastic about a merger. Former minister KP Munusamy argued that they wanted a CBI probe and not a judicial probe into Jayalalithaa's death, while Rajya Sabha MP V Maitreyan, in a clear jibe at Pandiarajan, tweeted that colleagues should not rush with opinions and have faith in OPS. Both these leaders could become irrelevant if the merger takes place unless OPS lobbies for them for party positions. Pandiarajan is certain to return to the state cabinet, possibly with a more plum portfolio than education that he was holding earlier.
The sceptics also point out that while the appointment of Dinakaran has been declared null and void, Sasikala has not been shown the door yet formally. Given that he was appointed by Sasikala, EPS personally would much rather have the Election Commission decide on her election instead.
OPS has called for a meeting at 5 pm on Friday to decide on the next course of action. Palaniswamy's roll of the dice has checkmated him, leaving him with few options. He is not excited about joining the cabinet as deputy chief minister given that he has been chief minister thrice. He would get to lead the party but would not get the tag of general secretary yet, the post occupied by Jayalalithaa. He would wonder if the dharma yudham that he has been waging since February was worth the meagre returns.
The public also knows that beyond the rhetoric, it was only selfish politics for individual gains at play. Neither the probe nor the memorial make any difference to an ordinary citizen's life. On the contrary, OPS will have to answer why he stayed mum on asking for a inquiry when he was CM and why did the thought occur to him only when he was unseated.
EPS would also hope that if the merger goes through, Dinakaran's support base will dwindle by the time he addresses the public meeting in north Chennai on 23 August. Should that happen, EPS will be home and dry for some more months to come till OPS starts building pressure through his friends in Delhi for a change in chief minister.
Dinakaran's challenge now will be to retain his support base of 20 MLAs because that's all he needs to bring down the government whose leaders are seeking to declare him an AIADMK outcaste. If he is unable to do so, Sasikala and Dinakaran's political career will be practically over.
The bottomline is that BJP is keen that this government stay in office at least till end of 2018. The next elections will be fought between AIADMK + BJP and DMK + Congress, with the other smaller parties forced to take sides. Kamal Haasan who has been outspoken in his criticism of the government, could be seen in a special appearance but there is no word on whether Rajinikanth will be part of the political star cast.
The longest running AIADMK family drama, if it sticks to script, may be drawing to a close in the next few days.
Entertainment
Other announcements include Amol Palekar and Barun Sobti's ZEE5 original film 200, and child actor Alexa Swinton's casting in the Sex and the City revival.
India
Tamil Nadu HSC (+2) Result 2021 Updates: Students who are not satisfied with their results can appear for a special examination if the situation improves during September or October, said the state education minister Anbil Mahesh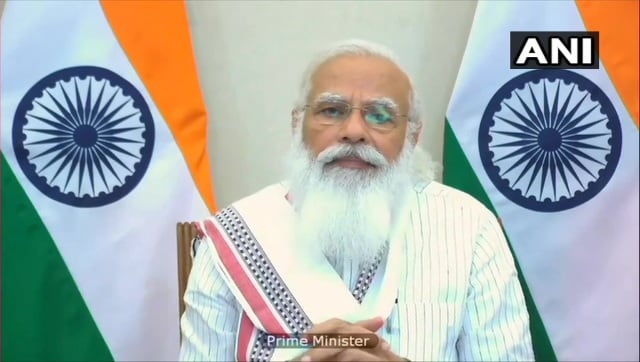 India
During an interaction with CMs of Tamil Nadu, Andhra Pradesh, Karnataka, Odisha, Maharashtra and Kerala, Modi said that 80% of the new COVID cases last week were from these states