Is Shiv Sena chief Uddhav Thackeray holding out an olive branch to cousin and leader of rival regional party Raj Thackeray?
In an interview, given in the party's mouthpiece 'Saamna', Thackeray hasn't ruled out joining forces with cousin Raj's Maharashtra Navnirman Sena, but said it would be possible only if both parties were willing to discuss it together.
"You cannot clap with one hand...How can you ask only me this question? I am ready to answer but if you really need an answer then you need to bring both of us to sit together and then ask if we will come together," Thackeray said in the interview.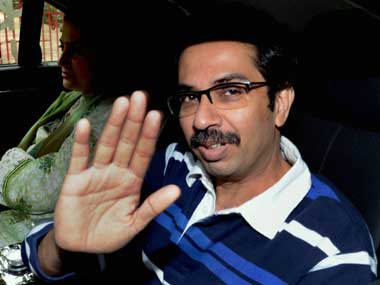 Both would need to think about the question together and it is a question relevant to both parties, the newly elected Shiv Sena president said.
"Before coming together an important question is why we seperated in the past. It is important to consider this as well...The important question is whom are we against and who are our political opponents?" Thackeray said.
The two leaders would need to decide who they had as a common opponent and the direction the two parties needed to take, Thackeray said.
According to the Shiv Sena leader, there has been a partition in the Maharashtrian  votebank that the party's founder Bal Thackeray had managed to create, and the state's people needed to come together to take on other parties.
Both the MNS and Sena had to contemplate why they had split up the Maharashtrian votebank, he said.
"If anyone comes to the Shiv Sena with a heartfelt proposal then I will consider it," he said, when asked if he would consider a proposal to bring the two parties together in an alliance.
Whether Raj Thackeray will take this as an invitation to meet with his cousin or whether he will wait for the result of the next election only time will tell. As it stands the MNS, whose cadre comes from the Shiv Sena, has been able to eat into the the party's vote share but hasn't managed to break the right wing party's hold in many parts of the state.
While the Shiv Sena still holds the upper hand in the alliance with the BJP, Raj Thackeray is said to be making overtures towards it and his performance in polls in the state may hold the key to the future of the alliance.  Raj's presence at the funeral of party founder Bal Thackeray had sparked speculation of the two estranged cousins coming together. Whether this interview is a sign of thawing relations between the two parties remains to be seen.
Updated Date: Jan 30, 2013 12:59 PM