Rajbongshis, the forgotten victims of Bodo-Muslim crossfire
By naming it the Bodo-Muslim violence in Assam, the media has lost sight of some of its other victims. The Koch Rajbongshi community feels they have become collateral damage.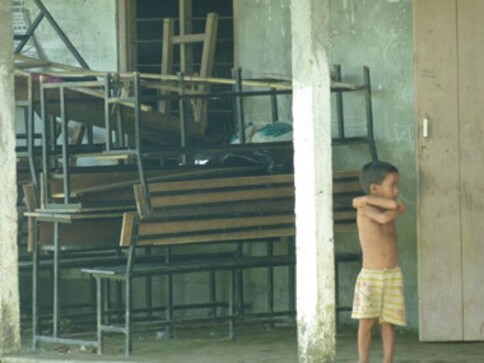 Mongolian Bazar (Assam): "It's not just Bodos and Muslims, we are also suffering. We said nothing. Why did our houses burn? Tell me why do the newspapers not talk about us?"
The 76-year-old man who has this question does not want to give his name. He says I should just call him the camp elder.
The camp in question is a school in Mongolian Bazaar, a little village a few kilometers outside the bustling market town of Bijni. It's like almost every other school turned relief camp that dots southern Assam these days. There are clothes drying in the sun. Women bathe their children at a tap. A chicken picks its way through the muddy field. A pile of wooden benches and chairs outside on the verandah are the only reminders that this was once a school.
But its distinction is that in a conflict that has spawned dozens of Bodo refugee camps and Muslims refugee camps this camp is officially called a "mixed camp". It has Bodos and Koch Rajbonghsis and a couple of Bengali Hindu families as well. The old man is Koch Rajbongshi, descended from an ancient tribe that once ruled the Kamata kingdom of northeastern India. Now they are scattered across Assam, Meghalaya, north Bengal and Arunachal.
"Koch Rajbongshis who lived in mixed villages were victimized," says Trailokya Roy, general secretary of the All Koch Rajbongshi Students Union. "As the violence grew they were caught in between. Their homes were in the path of looting."
The old man comes from a village named Noapara. It's only about 3 km away from the refugee camp. "You can almost see it over there," he says pointing across the pond, and the pucca road beyond it, past the army man sitting behind the sandbags and then straight down the kutcha road that cuts through the green paddy fields. "But I haven't been back," he says. "Others go but I cannot. Atanka choley eshechhey (terror has descended)."
He says his village had always been mixed ever since he could remember. He says he knew the Muslims well - generations of them. "We ate off the same plate, one side for him, one side for me, like sons of one mother. I cannot imagine such a betrayal." He adds, "These days I see many new faces, I don't know who they are but I cannot say they are illegal immigrants." The village was set on fire from one end. 95 houses and some shops burned down. The old man says someone destroyed a temple in the courtyard of one of the houses. "The spade is still embedded in there."
Now 180 Rajbonghsi families from five villages sleep on black plastic sheets on the floors of the classrooms of this school, sharing the space with 499 Bodo families and two Bengali Hindu households. The men sleep on the verandahs sometimes having to brave the monsoon rains.
The Rajbonghsis have become the collateral damage of what has been characterised as  a Bodo-Muslim conflict. These refugees feel they get scant attention from anyone. At night the village is frequently without electricity. They have to eat by the light of their mobile phones because they do not have a generator. A man named Sukumar shows me a little girl whose fever is not going down. She lies listlessly while her mother fans her. No doctor or nurse has shown up today. A BSF camp has finally been set up near their village but it took a week to happen. Sukumar says some young men go during the day to check it out and salvage what they can but no one stays there at night anymore. "I do not believe in the administration," says the old man while the others nod in agreement.
Bhabesh Kumar Roy, general secretary of the Kamtapur Association in Kokrajhar says besides the Rajbongshis of Mongolian Bazaar, another 370 or so fled to a camp in Gosaigaon. "Some of them fled because they were afraid though their houses had not burned," he says. "So they are slowly going back home."
Ironically for  the Rajbongshis their earlier conflict had been with the Bodos during the Bodoland uprising in the 1980s and 1990s. Now the latest clash makes them feel that their position is even more tenuous. Trailokya Roy says there is no Rajbongshi representation in the Bodoland Area Tribal Development local government's open and non-tribal seats.
"This violence and turbulence can be ended soon," says Roy. "But that's not a permanent solution. We need a roundtable for all ethnic groups to openly discuss their issues. All this is old suppressed tensions coming out."
Roy says Rajbongshis need their own security too. In 1996 the Rajbongshis demanded recognition as a Scheduled Tribe. It was declared a tribal community by ordinance but that lapsed when it was not made into an Act. The Centre has included it in the OBC list but the ST status still eludes them. But now amidst all the new uncertainty he wants to revive a 40-year-old demand – a separate Kamtapur state carved out of North Bengal and Assam for the Rajbongshis, their own state where they can feel that they matter.
When I ask the old man at the camp whether he feels that's the ultimate solution he says "I don't know. I am not a politician. But we need a strong political party. Otherwise no one cares about us." He has more immediate worries. Even if he goes back to his village he does not know how he will go to the market anymore. That goes through the Muslim village down the road.
"That road is closed now," he says. "Completely closed."
Entertainment
Karisma Kapoor feels that the gap created by her exit from the movie industry has been more than filled up by her sister Kareena.
India
Community solidarity is deepening psychological schisms in Hyderabad.
Politics
Firstpost speaks with Arvind Kejriwal about his entry into politics, his naming and shaming campaigns and how he plans to expand his party to all parts of the country.