The Contrarian President: Ram Nath Kovind sticking to his ideals shows he's upholding dignity of post
It is imperative to believe, if only for the dignity of the office he holds, that Kovind chooses words that reflect his views.
Thirty two words or 183 characters spoken by President Ram Nath Kovind praising Tipu Sultan has caused heartburn in the Sangh Parivar, a large section of which has declared the 18th-century Mysore ruler a religious bigot, who forcibly converted people to Islam and ordered the loot and pillage of Hindu temples.
However, this is not the only instance of the president 'straying' beyond the Sangh vocabulary.
These are early days into his presidency but if the trend is maintained in future, Kovind would possibly be recalled as a contrarian President, someone who was elected to this office for being part of the Sangh system, but a person who often spoke what he felt was the truth, especially on historical and civilisational matters, even if his opinion went against the discourse of his political clan.
This 'deviation' from the Sangh 'line' is extremely important because its divergence from other political forces is ideologically constructed mainly over interpretation of history, civilisation and culture. Little wonder sections within the Parivar mildly express displeasure in private over Kovind turning out "like many of his predecessors." Yet, there is little that the clan can do save hope that the President would back the government and BJP on political matters.
Kovind's first visit to Karnataka was to address the joint session of Karnataka Legislative Assembly and Legislative Council on 60th anniversary of Vidhan Soudha. The raging debate over Tipu Sultan's legacy ignited by the Congress government's plans for 'Tipu Jayanti' celebrations on his birth anniversary on November 10 and the saffron brigade's decision to oppose this, provided the backdrop. Kovind's address was preceded by contrasting attempts to depict the sultan as either "freedom fighter" or religious chauvinist who was also a "brutal killer and plunderer".
Instead of endorsing either viewpoint or playing safe by making no mention of Tipu Sultan, Kovind said what is historically accurate.
His words: "Tipu Sultan died a heroic death fighting the British. He was also a pioneer in the development and use of Mysore rockets in warfare. This technology was later adopted by the Europeans", are the same which non-aligned historians to place the Mysore ruler indisputably in the ranks of anti-colonialists. As historian Irfan Habib phrases it, Tipu Sultan was "a very important figure in the Indian resistance to Britain."
Attempts have been made to pin blame on the president's media managers and thereby show the president in poor light — someone who reads out whatever is handed out to him. Efforts were also made to apportion blame on the Congress government but this too depicts the President's secretariat poorly and is part of durbar politics. It is imperative to believe, if only for the dignity of the office he holds, that Kovind chooses words that reflect his views.
Besides select few words on Tipu Sultan, there was another remark that point towards Kovind not eventually remaining a rubber stamp President. Early into the speech, Kovind asserted everyone is "aware of the three D's of the legislature, that it is a place to debate, dissent and finally decide. And if we add the fourth D, decency, only then does the fifth D, namely democracy, become a reality." His formulation has takeaways for the BJP as well as the opposition. While the Treasury Benches only bemoan the decline of 'decency' in parliamentary and legislative functioning, opposition — also civil society — claims repetitively that "dissent is being murdered" by this regime.
Kovind stirred political controversy with his maiden speech on 25 July when he avoided mentioning Jawaharlal Nehru. Additionally, the Congress criticised his speech for mentioning Mahatma Gandhi and Jan Sangh leader Deendayal Upadhyaya in almost the same breadth. Sangh Parivar votaries who considered his inaugural speech as 'just the beginning' were in for surprise when the president's address to the nation on the eve of Independence Day brought Nehru back into presidential speeches.
The first premier was mentioned as someone who "emphasised that India's age-old heritage and traditions — so dear to us – could co-exist with technology and a quest to modernise our society." Coming from a regime that demonises Nehru at every opportunity, recognising one of his positive attributes was significant. Yet, because negative news makes greater splash, this small insertion went unnoticed.
On 20 September, Kovind spoke at the inauguration of the golden jubilee celebrations of Jesus and Mary College in the capital which "prepared young girls – young women, I should say – to break glass ceilings." More significantly, the president remarked that it is of importance to "note that the Christian community – whose history in India goes back 2,000 years and which has contributed so much to our shared culture – has carved a special role for itself in education. Missionary institutions such as this one have become symbols of scholarship, dedicated teaching and academic excellence."
For the past many decades, Christian missionaries have been attacked by the RSS and its affiliates and their motive in the field of education has been questioned. Christian-run educational institutions are episodically vilified and a presidential certificate of "scholarship, dedicated teaching and academic excellence" will certainly not be to the liking of activists who carry out the threats. Worse still, Kovind quoted the Gospel and drew parallels with the Upanishads.
It is not that the president referred to India's shared spiritual heritage just once. On 8 October, while in Kollam to launch programmes at the Mata Amritanandamayi Math, Kovind stressed on the state's pluralistic tradition:
"Kerala's spiritual consciousness is well beyond faith and religious distinctions. The Christian community here is one of the oldest not only in India, but anywhere in the world. The first mosque to be built in India is in Kerala...Kerala also has a rich Jewish heritage...These historical instances reflect the mutual accommodation and understanding of different faiths and religious communities in Kerala. This is a state where one community has willingly given space to another. This is a history that we cannot forget and must learn from. And this is an accommodation and understanding that is at the essence of spiritualism."
Certainly the assertion was not what the Sangh would like to become the signature of the first 'purebred' Rashtrapati!
If this was not enough, there was more in store. Twenty days after his first visit to Kerala, Kovind visited the state again for two days. In this first address on arrival, Kovind glowingly referred to former President KR Narayanan and attributed his "scholarship and learning" which played a role in his "rise from a humble background to the highest office" to the "best legacies of Kerala and its people". In recent months Kerala has been the venue of street fights and political exchanges between the RSS-BJP combine and the CPI(M) and the former has had few kind words for the state's traditions.
The same afternoon, Kovind reiterated that Kerala had "been the home of some great religions. Hindu, Muslim, Christian and Jewish cultures are age-old and have existed in close proximity here. They have given space to each other. It is important to keep that tradition of harmony alive even today. It is vital that our cultural traditions continue to draw from the heritage of Kerala and of India. Kerala's traditions and your very thinking have been humanistic, people-oriented and democratic."
Further, while addressing the valedictory function of the diamond jubilee function of the Kerala High Court, Kovind once again treaded into awkward territory by lavishing praise on Justice VR Krishna Iyer, often called conscience keeper of justice. In spite of turning a Modi admirer in his last years, Iyer headed a Concerned Citizens Tribunal which severely indicted Modi and his government for complicity in riots.
Moreover, the president championed the high court for its " sensitivity to people's rights and civil liberties", issues that are not bywords for Sangh Parivar's activists. He also appreciated the Court for judgements that "contributed to deepening the traditions of democracy and civic freedom."
Many in the ruling circle may like to dismiss the President's observations as ritualistic platitudes, but the issue is not so simple. Admiring Narayanan's attributes cannot be coincidental because Kovind, as member of Rajya Sabha, had ringside view of the former President's time in office when he disagreed with the Vajpayee government's attempt to review the Constitution. Narayanan ensured that the move was restricted to simple assessment of the Constitution's functioning.
Narayanan also wrote after demitting office that though initially he was unaware of the power his oath conferred on his office, he later comprehended the weight of the operative part: "I will devote myself to the service and well-being of the people of India". Narayanan said during his tenure he exerted "indirect influence" on state affairs because he understood this responsibility.
Kovind could not have been unaware of the responsibility of his office, as Bihar's Governor he had sworn to more or less the same words save the commitment being to people of Bihar and not the entire country. Nitish Kumar backed Kovind when the BJP nominated him. Kumar had not yet split with the UPA and it was speculated that this was payback for support on imposing prohibition when state BJP leaders were opposed.
But possibly, the Bihar chief minister saw something more in Kovind which we are now seeing albeit in his ginger steps beyond the Sangh's dogma on certain contentious issues. These however, are yet early days to say if we are witness to the making of a Sabka Rashtrapati.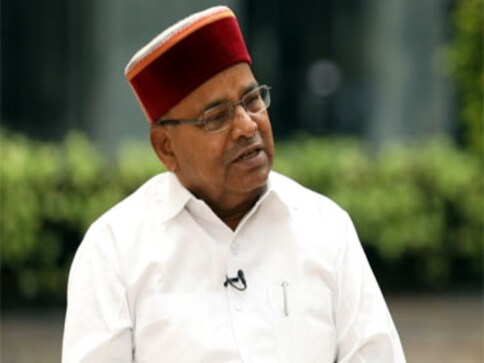 Politics
From governors to tribal leaders and even a former Lok Sabha speaker, the BJP has a glut of candidates to choose from and much to ponder while making its choice
Politics
He, however, thanked the opposition leaders for proposing his name as their candidate for the polls next month
Politics
Gandhi was the consensus opposition candidate for the post of Vice President of India in 2017 but had lost to M Venkaiah Naidu in the election