The Accidental Prime Minister row: BJP's cheap shot, Congress' shortsighted attitude signs of immaturity towards biopics
The latest conflict in this war on freedom of expression is the release of the trailer of The Accidental Prime Minister.
We love to attack issues we know nothing about and one such recent manifestation is assaults on films we haven't even seen. We have begun to do it consistently, going merely on hearsay. We go berserk even before the release, as was done with Padmaavat. That was for historical and caste reasons.
We do it for caste and community reasons, from religious zeal, even state parochialism and because we conclude what is filmed will not do our icons and demigods justice. Our approach is frozen at the level of adulation and anything critical feeds outrage.
The latest conflict in this war on freedom of expression is the release of the trailer of The Accidental Prime Minister. The teaser was picked up this week long before the 11 January opening of the film and converted into a political football. The BJP ran with it first, tweeting most unnecessarily that the trailer was hardcore evidence of the draconian ten-year dynastic rule by the Gandhis.
Clearly, a flinty finger pointed at Sonia Gandhi for allegedly holding and controlling Manmohan Singh's puppet strings, that presumably being the theme of this film.
It is a cheap shot at best and likely to boomerang. If singular power is the issue, the current incumbent could well be seen as one such competitive repository.
That aside, Singh has little traction as a riveting subject of a biopic as far as the masses are concerned. His tenure is passé and it is no great revelation that he took his cue from Mrs Gandhi. All of it is water under the bridge. Nor was his tenure memorable. Also, Singh projects a certain quiet and avuncular dignity in that no one dislikes him, and before they lampoon him after the release of the film, the BJP frontline would do well to keep this factor in mind. It won't go down well with the majority of India, who will see it as profound bad form.
By the same token, the Congress agitation is also knee-jerk and shortsighted. You are a political party, not the censor board and you cannot demand a special screening of the film in advance. Stop with this holier-than-thou indignant attitude.
While we do not have a very strong track record in the biopic genre and immediately confuse cinematic licence with insult and prejudice, the sudden introduction of such films depicting the lives of those still on earth is an uneasy new area, where our defamation laws under Sections 499 and 500 of the Indian Penal Code are concerned. Their mettle will be tried.
Defamation can be both a criminal and civil case and is predicated to any person or persons believing their reputation has been harmed by the material in question. In this case, if the actors portraying living personalities have caricatured them in character or mocked their speech or physical limitations or made them look foolish to themselves, their families and their community, a case could well be made.
Indeed, if their onscreen persona is devious or anti-national or corrupt without evidence, the filmmakers cannot find relief in the Supreme Court exception of the greater public good being paramount. Ironically, praise for fine acting could also have major blowback. Since there is also no harbour in the customary denial of resemblances being purely coincidental, the filmmakers are vulnerable to legal action.
Logically, as we mature in our cinematic and TV content, we should be able to take these life story sorties in our stride...it is the tax you pay for being a public figure. Regrettably, we haven't yet reached that stage of tolerance. But before passing judgement and raising heat and dust, at least watch the film.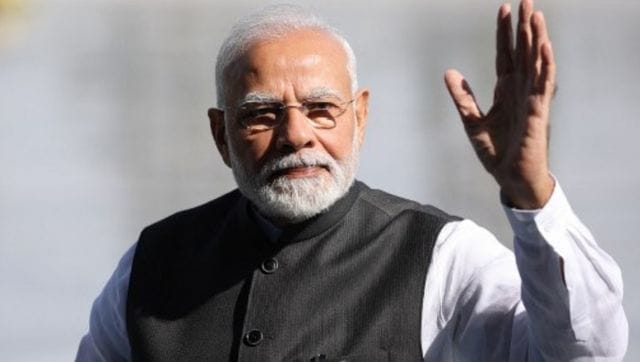 Opinion
Interventionist forces will always find fertile ground to exploit and pose a challenge to India's integrity
World
The twice-impeached Republican, whose party lost the White House and both chambers of Congress during his term, makes his case for another four years with appearances in New Hampshire and South Carolina
Politics
Badal joined the party at the BJP headquarters in the presence of several leaders, including Union Minister Piyush Goyal. Recently, his absence from the Punjab chapter of the Congress' Bharat Jodo Yatra had been noticed by state unit leaders