That the Nehru-Gandhi family produced three PMs, one super-PM and one PM-in-waiting is an ode to India, not the family
Even admirers of Jawaharlal Nehru found it quite baffling when Indira Gandhi ascended as the Congress president in 1959. And a corollary of her ascension was the sacking of a democratically elected Communist government in Kerala.
As terror mastermind Hafeez Saeed walked free in Pakistan, Rahul Gandhi tweeted to ridicule Prime Minister Narendra Modi's diplomacy, and in response BJP spokesperson GVL Narasimha Rao called him a Lashkar-e-Taiba (LeT) sympathiser. Suitably chagrined by the BJP's counterattack, the Congress once again played the emotional card. Congress leader Anand Sharma recalled the contribution of the Nehru-Gandhi lineage in making the nation what it is.
Sharma came out with all guns blazing in support of Rahul and said, "It is shameful. It deserves to be condemned. The BJP leaders have lost their mental balance in arrogance. Mr Gandhi is the leader of Congress, which has made sacrifices in fighting terrorism and for the integrity of India. For them to say such a thing, I will say it has hit a new low," he said. If Sharma is to be believed, Rahul deserves unqualified adoration on account of his lineage.
Of course, Sharma belongs to a generation of leaders who drew their political sustenance by clinging to a lineage and allowed it to monopolise and pervert an indeed outstanding and glorious political movement called the Congress. To call today's Congress a continuum of that past is worse than a lie.
Even admirers of Jawaharlal Nehru found it quite baffling when Indira Gandhi ascended as the Congress president in 1959. And a corollary of her ascension was the sacking of a democratically elected Communist government in Kerala. Nehru prevaricated when Indira prevailed. That showed the signs of Nehru's filial weakness. Stalwarts of those times found Nehru's vulnerability quite unacceptable and many of them fell out with him.
This history bears out in today's political context when the Congress has been desperately trying to clutch a straw to save a sinking ship. Nothing is more ill-timed than the promised ascension of Rahul Gandhi to the post of Congress chief. And nothing could be as bad a political strategy as projecting him as the son of a family who contributed a great deal to the nation.
Let us put the record straight to see what is the contribution of the family. Granted, Nehru was an exception whose contribution cannot be undermined. He was a unique political figure whose strengths as well as failings were many and could be discussed historically, but that hardly diminishes his stature. But what about Indira Gandhi? Though trained by her father and other stalwarts of the freedom struggle, she got the position of the prime minister through matchless guile and exploiting the fact that she was Nehru's daughter. Reeling under tentativeness and overawed by Nehru's personality, a fledgling nation was quite ready to forgive this indiscretion.
The argument that Indira's heart bled for the poor is quite akin to arguing that industrialist puts up industries only to give jobs to the poor.
Is it not a fact that in her second longest stint as the country's prime minister (after Nehru), the 'garibi hatao' slogan was as much a political "jumla" as the Congress now accuses the BJP of deploying? It does not require the perspicacity of a scientist to unravel that the democratic values and institutions destroyed under Indira Gandhi's watch were enormous.
Now, take the case of Rajiv Gandhi. He was happily leading a life of a pilot before he was para-dropped into a "cesspool of politics" (to use the phrase of his friend Amitabh Bachchan) after the death of Sanjay Gandhi. Sycophancy once again reigned supreme in the Congress when even VP Singh, of all people, entreated in a party session, "Mera Krishna mujhe de do (give us our Lord Krishna)". After Indira Gandhi's tragic assassination, the nation overcame its shock by electing Rajiv as her successor. Once again emotion came to the Congress' rescue. After a phase of virulent insurgency in Punjab that saw Operation Bluestar, the killing of the prime minister and subsequent anti-Sikh riots, people of the country chose the son of the assassinated prime minister in order to give out a definite message of unity and cohesion.
We are perceived to be a society that glorifies the past. Those who eulogise Rajiv today would do better to look at the newspapers clippings of 1987-89 when VP Singh turned against him and painted him as "chor" in the Bofors pay-off scandal. And the allegations were not without substance. Rajiv Gandhi exited as the prime minister who supervised India's biggest corruption scandal till date. And that led to the emergence of VP Singh though he had no party organisation of his own. Bofors became the sobriquet for corruption in high places, to be replaced by 2G, CWG and Coal scam under the benign supervision of former prime minister Manmohan Singh who danced to the tunes set by 10 Janpath and 12 Tuglaq road (Sonia Gandhi and Rahul Gandhi to the uninitiated).
Now, take the case of Modi's emergence as the most powerful leader since Indira Gandhi. It happened against the background of Sonia Gandhi running the office of the country's prime minister through an "appointee". The manner in which the Congress leaders amended the party's constitution to bestow the sole right of appointing the leader of the house (in effect, the prime minister) to Sonia Gandhi just before Manmohan Singh was appointed the prime minister, spoke eloquently about who was holding the power strings.
Luckily for Manmohan Singh, in his first term as prime minister, he had an adversary in LK Advani who could not weave a new narrative except for calling the former the weakest prime minister. Advani's formulation was rejected outright as, by then, he had lost the halo of a strong leader after a series of humiliations at the hands of the RSS-BJP leadership.
In sharp contrast to Advani, Modi spun a new narrative in 2014. After his unqualified dominance within his own party, he campaigned on themes that resonated with people across the country. There may be many shortcomings in his three and half years so far. But one thing is certain, he dominates the political narrative.
If one looks at the recurrence of his favourite themes at frequent intervals, it is indeed mind-boggling. And it would indeed be naïve to describe them as mere rhetoric. Ujjwala and Jan-Dhan are impacting people's live in rural areas positively. Swachch Bharat is still a project in the works, but it is also changing mindsets, lifestyles and the health of rural populations across the country.
In such an innovative political conversation, do you find any new idea from Rahul Gandhi to counter Modi? He instead resorts to adolescent rants against Modi which may gain traction in social media but are unlikely to resonate with people. Perhaps it would be instructive for Rahul to carefully study the manner in which Nitish Kumar outwitted Modi in the Bihar assembly polls in 2015. Nitish carefully weaved his own narrative and forced the BJP to respond to it. Rahul is doing none of it. A bigger problem is that leaders like Anand Sharma are trying in vain to evoke sympathy where none exists.
There is nothing special about one family's selfless service to the nation. If three prime ministers, one super prime minister and a prime-minister-in-waiting were to emerge from my family — or yours for that matter — I would be singing paeans to the Indian voters' magnanimity, not to the alleged greatness of one family. Anand Sharma's protestations notwithstanding, Rahul's only qualification is that he is the son of Sonia and Rajiv, that they are the daughter-in-law and son of Indira Gandhi and that she is the daughter of Jawaharlal Nehru.
Bereft of it, he seriously lacks the credentials for high office.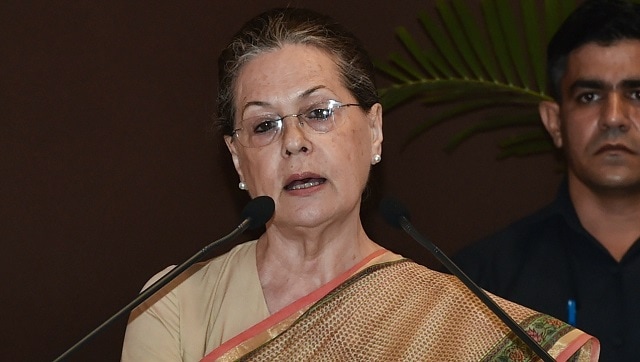 Politics
Adhir Ranjan Chowdhury will be the leader of the Congress in the Lok Sabha, while Mallikarjun Kharge will be lead the party in the Upper House
Politics
Sidhu's elevation as the president of the Punjab Pradesh Congress Committee (PPCC) may position him as a succeesor to Captain
Politics
Rawat also informed Singh that three to four working presidents of the chief minister's choice would also be appointed along with Sidhu, sources said