Telugu land's dream merchants: Live in AP, Telangana, think Chicago, London
Flamboyant ideas and brazen commitments with no means to fulfill them appear to be the flavour of the season in the Telugu land.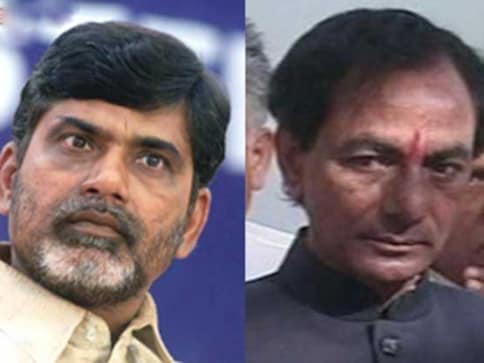 They are selling the moon to the masses. Perhaps, it is no accident that both chief ministers – Chandrababu Naidu and K Chandrasekhara Rao of Andhra Pradesh and Telangana respectively – carry the moon (note the Chandra) prominently in their names. In a show of great - call it pompous if you please - competitive spirit, the heads of the cash-strapped states have been announcing grandiose plans in breathless succession. Flamboyant ideas and brazen commitments with no means to fulfill them appear to be the flavour of the season in the Telugu land.
Take a look at the major promises made by the two chief ministers, you get an idea.
Let's begin with KCR, the Telagana chief minister, who has already done his first round of foreign visit to Singapore and Malaysia.
1. He has promised to develop Karimnagar, from where he was elected to the Lok Sabha for the first time in 2004, into London, complete with ring roads and ultra-modern hospitals and dinner cruise in Lower Maneru Dam reservoir among other facilities.
2. In Hyderabad, he wants to drain out the historic Hussain Sagar Lake, clean the lakebed and fill it with fresh water. He also has plans to build the world's tallest tower – taller than the 2,722-foot-tall Burj Khalifa in Dubai – close to Hussain Sagar and ring it with similar skyscrapers.
3. He has also promised three more airports in Hyderabad, several skyways in the city and two more outer ring roads making them concentric circles around Hyderabad-Secunderabad. The new city would be close to New York in look and feel. He plans to develop the Old City on the lines of Istanbul.
4. KCR has been telling people that his party, TRS, will not come back to people seeking votes, if it fails to provide drinking water to every household in the state in the next four years. The government would establish a one lakh-km-long water grid with 80 tmc feet of water costing more than $5 billion. Aside from this, the government proposes to reclaim and rejuvenate all the vanished and occupied lakes and connect all of them as part of 'Mission Kakatiy' at a cost of Rs 22,000 crore.
5. He has promised 2 BHK dwelling units for weaker sections each at a cost of Rs 3 lakh. While rural housing requires six lakh dwelling units, urban housing requires 22 lakh tenements. The cost of rural housing alone comes to Rs 18,000 crore.
And the long list goes on.
N Chandrababu Naidu could be called the original dreamer of Indian politics. His first stint in power in undivided Andhra Pradesh witnessed many grand ideas going nowhere; his second is turning out to be a repetition. He has already done two foreign jaunts in quick succession with a team of politicos, bureaucrats, industrialists and publicists. He is currently in the last leg of his Japan tour, the second country he is visiting after assuming the reins of the residual Andhra Pradesh. He is on an agreement-signing spree with several companies in Japan right now.
Here are his promises:
1. Naidu, known as the power-point prophet, is actually contemplating building his new state's capital on the lines of numerous ultra-modern cities in the world. It was Putrajaya annexed to Kuala Lumpur first, later Chicago and now it is back to good old Singapore. He expects an investment of over Rs 1.50 lakh crore in the state capital.
2. He wants to build 13 seaports, three international airports and 14 airports across the coastal state. Some of the seaports are already in place and also make use of the nearly 1,000-km-long coastline to make the state a gateway for South-East Asia and Asia.
3. The state will have three megacities – Visakhapatnam, Vijayawada and Tirupati -- and 14 smart cities. If Visakahapatnam is developed into a smart city, as this is one of the three cities signed up for such status, in collaboration with the USA, by Prime Minister Narendra Modi, which other city in the state would assume the status of a megacity becomes puzzling.
4. Naidu is mulling the idea of having five grids crisscrossing the state for gas (LPG), water (drinking water), fibre-optic (to connect every household), power grid (to supply power to all) and road grid (to connect all villages). His promises also include 24-hour electricity in Andhra Pradesh for domestic consumers and an IT corridor between Kakinada and Visakahapatnam at an investment of Rs. 30,000 crore.
There's nothing wrong with thinking big though. The only problem is both the states do not have the financial resources to keep the promises and the basic requirements of people need quick attention first.
India
A Telugu passenger was asked to vacate her seat at the exit as she reportedly failed to understand security procedures explained in English and Hindi
India
Telangana IT minister KT Rama Rao and Trinamool Congress MP Mahua Moitra came out in support of the woman. KTR requested the airlines to respect local languages and passengers
India
Communication gadgets have become a veritable nuisance as employees are wasting their working hours on their mobile phones, thereby hampering the day-to-day office work, CPDCL stated