Telangana Live: Rajagopal had moved a bill against unruly behaviour
Tracking live updates from Parliament and across the country as the contentious Telangana bill is expected to be tabled today.
7.53 pm: Rajagopal had once moved a bill in Parl against unruly behaviour
In what has to be the irony of ironies, the expelled Congress MP L Rajgopal--the man who shot to infamy after he unleashed a can of pepper spray in Lok Sabha--once wanted stringent steps to curb unruly behaviour in Parliament.
Rajgopal had successfully introduced a private members bill in the Lok Sabha in 2009 to deal with disruptions by MPs and even suggested a mechanism to penalise them.
Rajagopal, a two-time Congress MP from Vijaywada, had on 31 July, 2009 moved the bill and the motion for its introduction was adopted by the Lok Sabha.
The Disruption of Proceedings of Parliament (Disentitlement of Daily Allowance to Members and Termination of Membership) Bill, 2009 proposed that if a member or a group of them disrupt the house for the third time during the same session, the House may resolve to terminate the membership of such member or a group of members, as the case may be.
The membership of a member or a group of members referred to in the motion shall stand terminated from the day of adoption of the motion by the House, according to the bill's statement of objects and reasons,
The bill also proposed that if proceedings of the House are disrupted by any member or a group of members, as the case may be, leading to its adjournment for a substantial part on that day, no member shall be entitled to receive daily allowance for a day.
"...it is being observed that the proceedings of both the Houses of Parliament are disrupted due to pandemonium and the Houses have to be adjourned for substantial part of the day without transacting any business.
This not only results in loss of precious time of Parliament and public money but also dents the image of Parliament," the bill said.
It said if the proceedings of either House are disrupted and Parliament is not permitted to function and transact the listed business on account of pandemonium, the legislative scrutiny over the Executive is diluted since debates on issues of public importance are withheld.
7.06 pm: Pepper spray row has diminished all MPs, says Ramesh
Union minister Jairam Ramesh today came down heavily on anti-Telangana MP L Rajagopal, who used pepper spray in the Lok Sabha, saying his action "has diminished all MPs" and demanded that he be debarred from Parliament.
"His (Rajagopal) action in Parliament has diminished all MPs and made us feel very small. He should be debarred from Parliament and debarred from contesting elections," Ramesh told PTI reacting to the Seemandhra MP's role in creating ruckus in Lok Sabha over introduction of the Telangana bill.
The Rural Development Minister, who was a key member in the Group of Ministers (GoM) on Telangana, said he respects Rajagopal's right to have different opinion on the issue.
"He may have his differences on Telangana. That is his democratic right. He can protest. But the manner of his protest was an assault on dignity of Parliament and for that alone he should not just be censured but he should be debarred from Parliament," he said.
Ramesh said he had a chat with the Vijayawada MP 10 minutes ahead of the "assault" in the Lok Sabha.
He also said he never expected such an action from Rajagopal who is his friend. Rajagopal was recently expelled from the Congress along with five other Seemandhra MPs for pressing for non-confidence motion against the UPA government.
"The strictest possible action under all sections of the law... whatever law has to be (taken against Rajagopal)... It is unacceptable, what he did. He has assaulted the dignity...," Ramesh added.
6.09 pm: We are all ashamed, but Cong to be blamed, says Rajagopal
After vehemently defending what he did in the Parliament, L Rajagopal told CNN-IBN, "As Parliamentarians we are all ashamed of what happened today."
Repeating that he used pepper spray for self defence he said, "The Congress government should be blamed for the ruckus in Parliament."
He also accused the government of staging the ruckus, "Congress tried to manhandle one of the TDP MPs... Congress had stage managed the ruckus in Parliament."
"I have a right to defend myself in Parliament," he argued.
He also blamed Meira Kumar of being worried about only the Congress's future.
6.01 pm: Three MPs rushed to hospital
Three MPs were today rushed to a hospital here after they complained of choking and burning eyes following a pepper spray attack by a member during introduction of Telangana Bill in Lok Sabha while another MP was admitted for a heart condition after he collapsed during the fracas.
The pepper spray assault by Congress MP L Rajagopal left several MPs and parliamentarians coughing and teary-eyed and three MPs had to be rushed to the nearby Ram Manohar Lohia hospital.
Telugu Desam Party (TDP) MP Narayana Rao, who was opposing the Telangana bill, collapsed in the Lok Sabha and was rushed to the same hospital.
"He came to the casualty with complaints of palpitation and uneasiness following which he was examined by a team of physicians and cardiologists. His blood pressure and pulse rate was found to be very high. He was resuscitated in the RR room and has now been shifted to coronary care unit (CCU)," said Dr H K Kar, medical superintendent of RML hospital.
He said Rao had undergone angiography a week back at a hospital in Hyderabad and was advised bypass surgery.
"He was advised bypass surgery. Now based on the report we are yet to decide whether we should give him stents or do a bypass surgery on him.
"His condition is being constantly monitored by a team of cardiologists," said Kar.
Doctors at RML attended to the three MPs, Vinay Kumar Pandey, MP of Uttar Pradesh, Ponnam Prabhakar, Congress MP from Karimnagar, Andhra Pradesh and Union Minister Porika Balram Naik, MP of the Mahabubabad Constituency who were rushed to hospital from Parliament.
"The MPs were brought to the hospital casualty. They complained of burning in the eyes, difficulty in breathing and skin irritation. A team of doctors comprising doctors from opthamology and dermotalogy examined them. Medications were given and they were discharged 2.20 pm," said Dr Kar.
At around 4 pm, Telegu Desam Party president N Chandrababu Naidu met Rao at the hospital and spoke to the doctors.
5.51 pm: Cong responsible for pepper spray row, says Jaitley
Holding Congress "solely responsible" for today's fracas in Parliament, BJP leader Arun Jaitley today said the incident has given a bad name to Indian democracy as the Congress leadership has lost control over its members and it could have been avoided.
Terming the events as a "theatre of the absurd", the Leader of the Opposition in Rajya Sabha said it could have been avoided had the Congress leadership done adequate home work and were able to control the members.
"What has happened in Parliament has brought a bad name to Indian democracy....The Congress alone is responsibile for bringing a bad name to Indian democracy," he said.
Training his guns on the Congress leadership, Jaitley said as it has lost control over its members, they are out to create unpleasant scenes in the House. "The worst of what has happened today is by Congress members," he said.
He said the incident in Lok Sabha is a "serious blow" to India's parliamentary democracy as dangerous and prohibited devices were used to block the proceedings.
Jaitley said the present crisis is directly on account of UPA's failure on the issue of creation of Telangana while simultaneously addressing legitimate concerns of people there.
"It is Congress and Congress alone which must take the responsibility for completely mishandling the situation.
4.14 pm Used pepper spray in self defence, says Rajagopal
L Rajagopal after being suspended said that he used pepper spray for self defence because he was attacked by other MPs.
"If women can use pepperspray to defend themselves, then why can't I use it to defend myself. I used it when I saw the TDP MP being attacked" Rajagopal asked.
On his suspension from Parliament he said, "If I am suspended, then all the Congress MPs should be suspended."
He said that he always carried pepper spray to protect himself.  "I have to do something if people attack me. Pepper spray is not an offensive instrument, but a defensive one. "
3.45 pm: Telangana bill to be introduced after vote on account
What with all the drama today that accompanied the tabling of the Telangana bill in the Lok Sabha today, it now turns out that the government is planning to introduce the bill only post the vote on account.
CNN-IBN quoting sources, reported that the bill would be only taken up for consideration once the vote on account was over. The vote on account is scheduled to take place on Monday.
Earlier, Home Minister Sushilkumar Shinde said that the bifurcation of Andhra Pradesh bill was now the property of the house, as it had been tabled inside parliament before the house was adjourned thanks to expelled Congress MP L Rajagopal using pepper spray to disrupt the proceedings of the house.
Leader of the opposition in the Lok Sabha, Sushma Swaraj, said that she highly doubted that the bill had even been tabled, saying she never saw anything of the sort happen. However Shinde said that speaker Meira Kumar had accepted the bill, and therefore it was considered to be tabled.
3.40 pm: MPs call for screening of politicians at Parliament
After unprecedented pandemonium marked by fisticuffs, pepper spraying and the breaking of a mike in the Lok Sabha over Telangana, several MPs cutting across party lines today advocated a screening system for representatives of people at Parliament gate.
Congress MP Sukhinder Reddy said, "There should be a system to prevent MPs carrying these kinds of materials into the House."
Members in the House felt suffocated and were seen coughing after expelled Congress MP L Rajagopal used pepper spray to prevent the introduction of the bifurcation of Andhra Pradesh bill.
M Venugopal Reddy (TDP) first damaged a mike on the table of the Secretary General and later snatched papers from the Speaker's podium, while Rajagopal broke the glass on the table and used the pepper spray.
JMM MP Kameswar Baitha said a system like frisking of MPs before entering Parliament should be in place to stop these violent incidents in the House.
"Temple of democracy was polluted because of this and the guilty should be punished," he said.
Congress leader Bhakta Charan Das went a step ahead and called the incident "terrorist-type" of behaviour and an insult to democracy.
"Screening of MPs before entering Parliament is necessary after the incident. Some system should be in place at the entrance to screen the MPs," the Odisha Congress MP
said.
Terming the incident as "disgusting", SP MP Jaya Bachchan said the issue of screening MPs needs to be discussed.
3.10 pm: Full list of suspended MPs
Cracking the whip, Lok Sabha Speaker Meira Kumar suspended 18 MPs from Andhra Pradesh for rest of the session after unprecedented pandemonium broke out in the House over the Telangana issue.
Kumar announced the decision soon after the House met at 2 PM after being adjourned in the wake of the ruckus created at noon by pepper spraying and fisticuffs among members opposing and supporting Telangana.
She named the members and said they had been suspended under Rule 374 A which says that a member can "be suspended from the service of the House for a period not exceeding the remainder of the session" for disregarding "the authority of the Chair or abusing the rules of the House by persistently and wilfully obstructing business".
"They may forthwith withdraw from the precincts of the House," Kumar said.
Those suspended include L Rajagopal, expelled Congress member who had earlier sprayed pepper gas from a canister in the House, causing chaos. TDP member M Venugopala Reddy, who broke the mike, was also among the MPs suspended.
Others suspended are Sabbam Hari, Anantha Venkatarami Reddy, Rayapati Sambasiva Rao, SPY Reddy, M Sreenivasulu Reddy, V Aruna Kumar, A Sai Prathap, Suresh Kumar Shetkar, KRG Reddy, Bapi Raju Kanumuri and G Sukhender Reddy (all Cong), Niramalli Sivaprasad, Nimmala Kristappa, K Narayana Rao (all TDP), and Y S Jaganmohan Reddy and M Rajamohan Reddy (both YSR Cong).
2:40 pm: Andhra Pradesh chief minister condemns incident, Congress
Kiran Kumar Reddy, who has been opposed to the creation of the new state, said that the incident that took place in Parliament was unfortunate and opposing opinions need to have been discussed.
"The way the bill was introduced is the most undemocratic way. Cabinet ministers have never come in the well, but now they have, which indicates how the high command bulldozed its way," Reddy was quoted as saying by CNN-IBN.
He questioned why the Congress was having "lunch and dinner" with a party that they deem communal and said there was no need to get the opposition on board when the Congress's MPs were opposed to the legislation.
He's also not ruling out his resignation just yet.
"Resignation is one of my options, but will discuss with all my MLAs and MPs. It has to be a collective decision," he said.
2.00 pm: Speaker suspends L Rajagopal, other Seemandhra MPs 
The Lok Sabha commenced for all of two minutes during which time speaker Meira Kumar read out a list of Seemandhra MPs who were creating a ruckus, and said that they were all suspended.
Here is the list of suspended MPs:
From TDP: Kristappa Nimmala (Hindupur), Konakalla Narayana Rao (Machilipatnam), Nama Nageswara Rao (Khammam), Ramesh Rathod (Adilabad), Modugula Venugopala Reddy (Narasaraopet), Naramalli Sivaprasad (Chittoor)
Suspended YSR Congress MPs: Mekapati Rajamohan Reddy (Nellore) and YS Jagan Mohan Reddy (Kadapa).
The house will meet again at 3pm.
1.22 pm: BJP blames Congress for uproar in the house
The BJP has squarely blamed the Congress for the events in the house, which saw dissenting MP L Rajagopal use pepper spray to disrupt the house soon after the Telangana bill was tabled in Parliament.
"Congress is solely responsible for what has happened in the House", Swaraj said, while other MPs added that the ruling party should have anticipated this turn of events.
"I do not think the Telangana bill was introduced, no papers were tabled. Papers should have been tabled before the session commenced... there was also no supplementary agenda. They have broken all Parliamentary norms while trying to introduced Telangana bill. We had told them we would support the bill, still they went about it in this manner. We suspect a Congress conspiracy behind what happened in Parliament today", Swaraj added.
However Parliamentary Affairs Minister Kamal Nath defended the party, saying that with Parliamentary privilege dictating that no MP could be frisked before entering the house, there was very little that could have been done.
12.55 pm: Shame, cries speaker after pepper spray attack
"I'm too anguished and I'm too much in pain. I am going to have consultation on what has to be done. This has shamed us. Our Parliamentary democracy is admired across the world. Today what has happened is a blot", speaker Meira Kumar said.
Meanwhile CPI member Gurudas Dasgupta has demanded the arrest of L Rajagopal, who used pepper spray inside the Lok Sabha. Many other MPs are also demanding his immediate suspension.
12.42 pm:  This is anarchy, says Nath after pepper spray attack
Kamal Nath has called the incident a blot on democracy.
"The Telangana bill has been introduced and the incidents that took place in the house are a big blot on Parliamentary democracy. Parliamentary democracy is a space for dissent  but not this kind of disruption or violence."
"I have been asked by many members to tell the speaker to take action against those who indulged in such action. In my 33 years of Parliamentary years, I feel ashamed that such an incident has taken place. Members tried to use gas, gas the house. You can voice dissent and the only answer lies in the house taking a decision. Either accepting or rejecting it. You cannot suppress MPs from making a decision. This is anarchy".
Nath also confirmed that apart from the gas, there was also a knife that was carried into Parliament.
"We have never expected such kind of behaviour from sitting MPs", he said.
MoS Parliamentary Affairs Rajeev Shukla has said that action will be taking against errant MPs trong action will be taken against the erring MPs as it was an attempt to "kill" MPs in the house.
12.37 pm: Not just pepper spray, knives too?
The news that is trickling out of Parliament is getting weirder and weirder. As if the pepper spray attack was not bad enough, now it turns out that TDP MP Venugopal had a knife on him as well, but had been held back by MPs.
Meanwhile BJP MP Tarun Vijay tweeted, "Still inside the House, Members shocked, bewildered, stunned and feel sad. Will govt take action against L Rajagopal, very very rich MP?"
Another tweet read, "L Rajagopal is said to have  given blows in side House  to a fellow Cong MP Yakshi from Andhra, a highly sophisticated gentleman, he is."
12.32 pm: At least four MPs taken to hospital
Four MPs have been taken away in an ambulance for immediate medical attention following L Rajagopalan's unprecedented pepper spray attack. Among the injured are the pepper spray wielder, L Rajagopal himself. PTI reported that he had been injured after breaking a glass inside the house. He may have been injured in the ensuing melee, says CNN-IBN. Marshalls had been used to overpower the Lok Sabha MPs.
12.07 pm: Suspended Congress MP used pepper spray in Lok Sabha
The mystery over the hurried adjournment of the Lok Sabha has been solved. Suspended Congress MP L Rajagopal who was standing in the well of the house, took out a bottle of pepper spray and had sprayed it all around the house, leading to the adjournment of the house. This has got to be a first. Meanwhile Firstpost editor Sandip Roy had this perspective:
Staid decorum at #IPLAuction. Pepper spray in Parliament. Wonder that is India — Sandip Roy (@sandipr) February 13, 2014
12.00 pm: Shinde tables Telangana bill in LS, House adjourned
  Home Minister Sushilkumar Shinde tabled the Telangana bill in the Lok Sabha, which was immediately adjourned for the day. This was most likely done in view of concerns that Seemandhra MPs would try to commit suicide inside the Parliament premises. The discussion and the voting of the bill will likely take place next week. The drama continues in the Rajya Sabha however, where Seemandhra MPs are trying to break the chairman's microphone.
11.56 am: Cong Andhra MLAs resign
Four Congress Seemandhra MPs have resigned, minutes before the Telangana bill is scheduled to be tabled in Parliament.
11.45 am: Pro and anti-Telangana supporters clash outside Parliament
The drama it seems, is not just limited to inside the Lok Sabha. Groups of pro and anti Telangana supporters are clashing outside Parliament premises. In the middle of it all are some beleagured members of the Delhi police. You have to feel for them. This has not been an easy year for them, what with dharnas and what not. Tensions are running high, with the bill expected to be tabled at noon. Whether any business will be done after that, is anyone's guess. The biggest fear right now however, is that the Seemandhra MPs try to kill themselves.
11.15 am: Telangana bill to be tabled at noon
The Telangana bill will be tabled at noon, amid what is sure to be high drama. CNN-IBN quoting sources said that the government would not move to suspend agitating Telangana MPs and nor would it use marshalls to remove them from the floor of the house. A wise move perhaps, given how badly the Congress got burned the last time they tried to suspend Andhra MPs. A smug Sushma Swaraj got up, slammed the Congress for the way it was handling the bifurcation of the state, and then refused to support the motion. That has still got to hurt.
11.03 am: Both houses of Parliament adjourned
The Rajya Sabha was functional for roughly a minute before being adjourned over protests over Telangana. The Lok Sabha on the other hand, functioned for a full five minutes before being adjourned till 12.
10.49 am: MHA officials say that bill will be introduced
In the midst of all this back and forth, a number of MHA officials have only added to the confusion.  They have arrived at Parliament and have told CNN-IBN that they have been called to Parliament because the bill will be introduced in Parliament. So will it be introduced or not? At this point, we can only wait and see.
10.36 am: Not yet decided on days agenda, says Kamal Nath
Parliamentary Affairs Minister Kamal Nath has said that the days agenda has not yet been decided, adding that there were still concerns over tabling the Telangana bill. The bill has not been listed in the days agenda, and the speaker may have to take a final decision on whether to introduce it or not.
Speaking to reporters outside Parliament, Nath said that while a majority of Congress MPs wanted the bill introduced, there were others who still had concerns. Most of these concerns appear to be centred around safety, with very real concerns that some MPs would immolate themselves inside the Parliament premises to protest the division of the state.
A decision in this regard will have to be taken before 11am when Parliament convenes for the day. Meanwhile reports from Seemandhra say that the entire area is in a state of total shutdown. The TDP, YSRCP activists and other united Andhra supporters held rallies at several places in the two regions against the state's division. Schools, colleges and other educational institutions remained shut at many places with pro-united Andhra employees also taking part in the agitation.
10.09 am: Waiting for political nod to introduce bill, says MHA
MHA sources have told CNN-IBN that the ministry is prepared to introduce the Telangana bill in Parliament today, but are still waiting for political approval. They are reportedly also waiting for speakers consent to introduce the bill. Meanwhile in Andhra Pradesh, the assembly has been adjourned for an hour despite it being the last day of the vote on account session. All eyes are on CM Kiran reddy and his resignation threat. The Chief Minister has not arrived yet.
9.40 am: Will Cong bite the bullet and table bill today?
Will they? Won't they? That seems to be the biggest question surrounding the controversial Telangana bill that has seen Parliament continuously disrupted over the last two sessions. The bill is all ready to go, but the Congress has so far refrained from tabling it in the Lok Sabha.
Prime Minister Manmohan Singh is expected to hold talks with senior ministers at around 10.30 am Thursday to take a final call on whether to table the Bill or not. The bill is likely to be pushed through by the Centre despite the fact that it has been advised that a constitutional amendment was needed after the law ministry said the bill could be moved in its current form, reported the Hindu.
If Home Minister Sushilkumar Shinde rises to present the bill in the Lok Sabha he could be surrounded by party MPs to prevent opposing MPs from targeting him. The MPs from Seemandhra region who are opposed to the legislation have already finalised their strategy to disrupt the bill from being pushed through.
The BJP, while supporting the bill and the creation of the state, has said that the Congress needs to take note of the projects.
Ministers and MPs from the region, including the six legislators expelled by the Congress, held a meeting on Wednesday night and almost all of them are likely to protest against the introduction of the Bill in the well of the House.
One of the expelled MPs is also expected to move a notice for no-confidence against the UPA government. An MP claimed that they have already mobilised the support of 37 MPs in the last two days.
According to a report in the Times of India, a serious worry of the Congress government is that some of the protesting MPs could go through with their threats of attempting suicide either in the well of the House or on Parliament premises.
The report points out that since MPs cannot be patted down it has been made sure that CCTVs, metal detectors, and full body scanners are all functional. Fire extinguishers have been kept across the premises, there are additional fire engines and security outside the Parliament building has also been ramped up to prevent MPs from doing anything in Parliament premises.
Find latest and upcoming tech gadgets online on Tech2 Gadgets. Get technology news, gadgets reviews & ratings. Popular gadgets including laptop, tablet and mobile specifications, features, prices, comparison.
India
Kumar, who was speaking during the BJP's campaign for the civic elections, alleged that TRS president and Chief Minister K Chandrasekhar Rao was trying to win the polls through "incorrect means"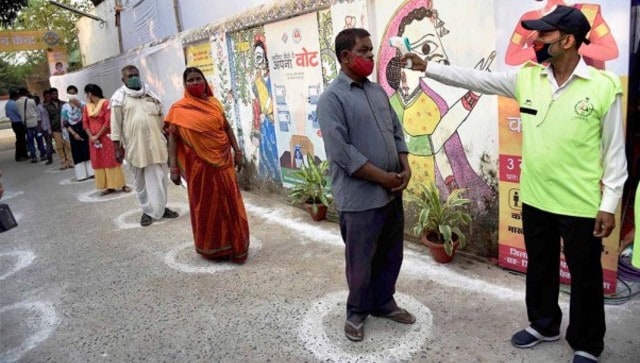 Politics
The polls for the civic body are considered prestigious as it decides who rules the Hyderabad region, the crown jewel of Telangana. At least 20 assembly constituencies fall under the GHMC limits
India
History is replete with biases and politics is pregnant with contradictions. Thus, the pursuit of innocuous history and pristine politics is not only factually erroneous but also intellectually untenable