Telangana land scam likely to go off radar as politicians across party lines look to serve self interest
Telangana chief minister K Chandrasekhar Rao government had itself handed over the probe to the CID besides asking the Anti-Corruption Bureau to probe into the irregularities.
Till a week ago, Congress, Telugu Desam Party (TDP) and BJP leaders were gloating over how they had caught the Telangana Rashtra Samithi (TRS) by the scruff of the neck over the land scam which they had estimated was worth over Rs 15,000 crore. This week, the three Opposition parties have gone into a silent mode, arousing suspicion on why they chose to shut the tap of their allegations.
BJP leaders had in fact, planned to put pressure on the Centre for a Central Bureau of Investigation (CBI) probe into the land scam. The K Chandrasekhar Rao (KCR) government had itself handed over the probe to the Crime Investigation Department (CID) besides asking the Anti-Corruption Bureau to probe into the irregularities committed at the level of sub-registrars. Its leader, former minister N Janardhan Reddy was at the forefront of mounting pressure on the state government in cases of shady land deals, like the one involving the family of senior TRS MP Kesava Rao.
The BJP's Telangana howitzer is no longer booming, a fallout of the support that has been extended by KCR to the NDA presidential candidate Ram Nath Kovind. On Monday, Prime Minister Narendra Modi personally called KCR to request him for support. To target someone who is extending support was deemed inappropriate and so the state unit has reportedly been instructed to go easy on the land scam till the presidential elections are over. The BJP leadership does not want a land deal to land its arithmetic for Kovind in Parliament and the state Assemblies in a soup.
However, the Congress backing out from its belligerent position is not a case of quid pro quo. Ever since irrigation minister Harish Rao adopted a belligerent tone and threatened to name Congress leaders who too have their hands in the till, it is like the cat got their tongue.
PS Prasad of the Goldstone group is accused of being the kingpin in this land scam. He is believed to have links with several Congress leaders, both in Hyderabad and in Delhi. In fact, he is known to be close to both the TRS and the Congress. He also had a role to play in the now defunct Praja Rajyam Party, which was floated by actor-turned-politician Chiranjeevi in 2008.
Prasad made his contacts in Hyderabad, Mumbai and Delhi in the 90s and had a role to play in land deals involving several influential politicians. Sources say that he even played a part in forging political relationships in united Andhra Pradesh, especially after 2009.
The lid was blown off the scam only after an internal audit of the Registration department in March revealed the sale of 693 acres of government land in Miyapur on the outskirts of Hyderabad. That land parcel was believed to be worth Rs 587 crore. The allegation is that Prasad and his accomplices created forged documents to take away large tracts of government land and sold it off, with sub-registrars being bought for a price. This was corroborated by raids at the properties of several sub-registrars that revealed disproportionate assets in their name or benami names.
Most of the land sales in and around Hyderabad were traced back to Prasad. Two of his associates were arrested but he is still absconding. The duo secured bail last week with the counsel for the accused, thanking KCR for announcing publicly that no hanky panky took place. The accused in fact argued that when the chief minister of the state is claiming no loss to the exchequer, there are no grounds to arrest them. It was rather strange for KCR to announce that the stables are clean because the CID has not even conducted a thorough probe yet.
The TDP is caught in a bind as well. One of its MLCs, Deepak Reddy was arrested on charges of land grabbing. Owners of Mustafa Hills society in Hyderabad accuse Reddy of intimidating and forging documents in an attempt to grab their 60 acres of land. TDP chief Chandrababu Naidu tried to do damage control by suspending him from the party.
Apart from this, the TDP itself is embroiled in a land scam in Visakhapatnam district of Andhra Pradesh. What makes it more embarrassing is that the roads and buildings minister Ayyanna Patrudu has accused the human resource minister Srinivasa Rao, without naming him, of having a hand in the land scam. An incensed Rao, realising the jibe was directed at him, asked Chandrababu Naidu to order a CID or CBI probe. Several land records in Vizag have either allegedly been tampered with or are missing, pointing to a political-official nexus.
The TDP realises that those who live in glass houses in Andhra Pradesh should not throw stones at others in Telangana.
What this means is that the Telangana land scam is likely to get a quiet burial, with politicians cutting across party lines realising that their interests are best served this way.
Because dead cases don't tell tales.
India
Last week, the Uttarakhand High Court, directing the state government to frame a standard operating procedure for the Char Dham yatra, had warned it against any laxity as seen during the Kumbh Mela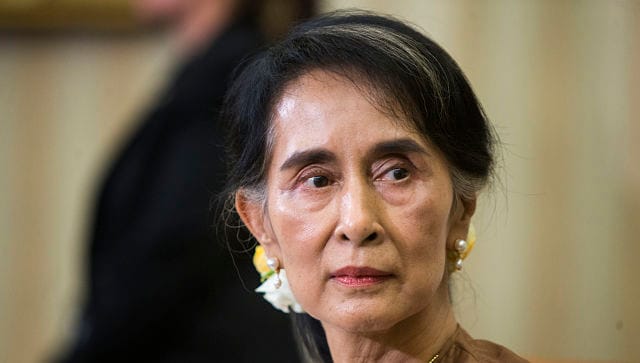 World
The sedition charge calls for up to two years' imprisonment for anyone found guilty of causing fear or alarm that could cause an offence against the State or public tranquility
World
A signed coalition agreement was formally presented to the Knesset secretariat Friday, the last step before a vote and the swearing-in of the new government