Tejashwi Yadav breaks silence on corruption charges: Lalu's son rules out resignation, says BJP scared of a 28-year-old
Storming at the 'BJP minded media,' Tejashwi said that he was glad to be disappointing those who were hoping that the Bihar grand alliance would break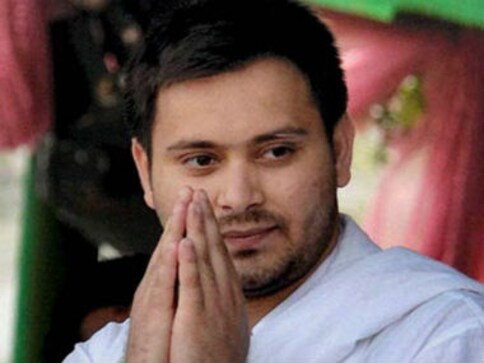 A day after Bihar chief minister Nitish Kumar gave a four-day deadline to Rashtriya Janata Dal (RJD) to come clean on the corruption charges against its top leaders, deputy chief minister Tejashwi Yadav lashed out at the Bharatiya Janata Party (BJP) for the 'politically motivated attacks against him and his family.'
Shortly after Bihar chief minister Nitish Kumar concluded a meeting with his Cabinet ministers, Tejashwi took the opportunity to brace the press regarding corruption allegations shrouding him and RJD chief Lalu Prasad Yadav.
"The allegations against me are nothing more than a political conspiracy hatched by the BJP. Nobody expected me to work like I did and that is why Amit Shah and Modi ji are are trying to malign my image," Tejashwi, whose name figured in an FIR filed by CBI for amassing Benami properties, said.
He also sought to recount the work done in Bihar during his tenure as a cabinet minister and deputy chief minister. He claimed that, at just 28, he had laid down and repaired the most roads in one-and-a-half year as a minister. He said that no one could point a finger at his work as a minister in the Bihar government.
"My party and I have always worked for the people of Bihar, irrespective of their caste or religion. We have spoken about the poor and the marginalised, which is why some people are jittery about our style of politics."
Storming at the 'BJP-minded media,' Tejashwi said that he was glad to be disappointing those who were hoping that the Bihar grand alliance would break under the BJP's conspiracy.
"Bihar mahagathbandhan is rock solid, and it will continue to rule in Bihar in the time to come," the Bihar deputy chief minister said.
Ruling out any possibility of tendering resignation on 'moral grounds', Tejashwi said that the political conspiracy was poorly curated. "When we got power, when I became a minister, I did nothing wrong. When I was 13-14 (the time during which irregularities in tendering railway contracts are alleged against Tejashwi's family), would I have done anything wrong? I didn't have a post. I didn't even have a moonchh then. I was a child," Tejashwi told reporters. How can I indulge in corruption as a teenager when I haven't done anything wrong now when I am in power," Tejashwi asked.
He said that he knew the BJP feared his father, Lalu Prasad Yadav, but he was amused to find out that the saffron party was intimidated by even a 28-year-old.
Tejashwi vowed continue to fight against anti state forces, adding that he will not rest until he roots out BJP from the country. Tejashwi announced his party would go in people's court and expose BJP. He alleged that the saffron party was trying every trick in the book to break the mahagathbandhan (grand alliance) since the start. He added that the graft case against him and his family was only am extension to the BJP's efforts to destabalise the Bihar government.
Lalu Prasad, his wife and former chief minister Rabri Devi and son Tejashwi have been named as accused in a CBI case relating to transfer of three acres of prime land in Patna to the family by two businessmen allegedly in return for licences to run two IRCTC hotels in Ranchi and Puri when the RJD chief was railway minister.
Politics
The home minister's public meeting assumes political significance as BJP is making a bid to emerge as an alterantive to the ruling TRS in next year's Assembly elections in the state
Politics
In his address at his party's 'Chintan Shivir" (brainstorming camp) in Udaipur, Rahul had claimed that regional parties cannot fight the BJP-RSS as they lack ideology
India
Many of these houses have been under construction since 2015 and got financial approval in 2012-13