Tejashwi Yadav accuses Nitish Kumar of maintaining 'criminal silence' over Muzaffarpur shelter home rape case
RJD leader Tejashwi Yadav on Saturday attacked the Nitish Kumar government in Bihar over the Muzaffarpur shelter home scandal.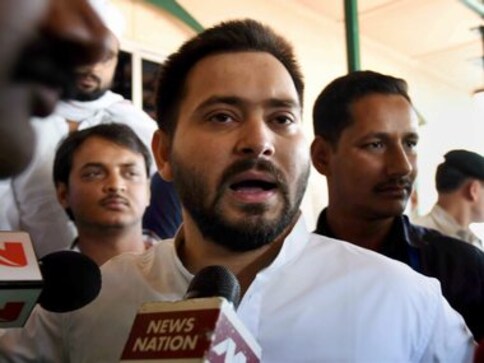 Gaya: RJD leader Tejashwi Yadav on Saturday attacked the Nitish Kumar government in Bihar over the Muzaffarpur shelter home scandal and slammed the chief minister for maintaining a 'criminal silence' over the issue.
The leader of the Opposition in the state Assembly, whose over 100-km-long cycle march titled "NDA Bhagao Beti Bachao" began in Gaya, alleged that women in Bihar were feeling increasingly unsafe and insecure but the government was busy 'protecting' the accused instead of bringing them to justice.
"The situation in Bihar today is reminiscent of the horrific episodes in Ramayana and Mahabharata wherein Sita was kidnapped by Ravana and Draupadi was disrobed in public at the instance of Duryodhana. The women of the state are never going to forgive this government", the RJD heir apparent said.
"We cannot remain a mute spectator to the travails of our women folk and that is why this cycle rally, which will conclude in Patna on Monday, is being taken out. We are thankful to the support that our campaign has received from allies like Congress and Hindustani Awam Morcha (HAM) and like-minded parties like Samajwadi Party, BSP and NCP," Yadav said while cycling through the streets of the town, clad in T-shirt and trousers.
Pointing to former chief minister and HAM president Jitan Ram Manjhi, who joined the cycle rally for some distance, Yadav said "I fully agree with his view that the amendments to the prohibition law passed in the Assembly earlier this week were insufficient."
He said that thousands of people, mostly poor Dalits, have been sent to jail in the past couple of years under the draconian prohibition law. "Nitish Kumar has come up with the amendments realizing his folly, but it is too late and too little," the former Deputy Chief Minister said.
Training his guns at LJP president Ram Vilas Paswan, Yadav charged the Union minister for having "capitulated before the agenda of the BJP-RSS" and questioned his party's "belated outbursts on the issue of SC/ST Act".
"He looked the other way while Dalits of the country suffered untold miseries under the Narendra Modi regime. The next general elections will make him realize that Dalits of the country do not want leaders who take orders from Nagpur (RSS headquarters)," Yadav said.
Earlier, the Yadav went to Bodh Gaya and paid obeisance to Lord Buddha at the Maha Bodhi Temple before embarking on his 115-kilometre-long cycle rally.
Heavy rainfall forced the cancellation of a public meeting which the RJD leader was scheduled to address at the Gandhi Maidan in the town. Scores of party supporters, on bicycles, accompanied the RJD leader who cycled through the streets of Gaya braving the downpour.
India
To qualify for the Bihar Police SI Main exam, applicants need to score at least 30 percent marks in the preliminary exam
India
As per the Niti Aayog's Multidimensional Poverty Index, 51.91 percent population of Bihar is poor, followed 42.16 percent in Jharkhand and 37.79 percent in Uttar Pradesh