Team Anna's critics are barking up the wrong tree
The ritual abuse of Team Anna by its critics overlooks the fact that the corruption that wracks our political system is the bigger evil.
Feminist activist and writer Gloria Steinem once observed that the pedestal, on which we tend to hoist our heroes before knocking them off it, is as much a prison as any small and confined space. In that sense, it's probably half-true that Team Anna, yesterday's anti-corruption heroes who are now being mercilessly knocked off the pedestal and subjected to savage criticism, have just been liberated from their 'prison'.
Barely a year ago, Team Anna could do no wrong. So palpable was the sense of widespread revulsion over the monumental corruption scandals that had the country in its grip, that we anointed Anna our   Gandhi-capped crusader against political corruption. Much of the media, except for stray cynical voices, amplified Team Anna's voice and sang paeans to them. Even when they were not doing it out of personal conviction, they felt compelled to tap into the popular yearning for a 'hero' who would harness the widespread angst and hold politicians and bureaucrats accountable.
Today, barely a year later, it appears that Team Anna can do no right. With the same fickleness of mind with which we valorise our sporting heroes when they're on a winning streak and pile on them like a ton of bricks when they falter even momentarily, media commentators - and much of the lay public as well - are now writing obituaries to Team Anna's anti-corruption movement.
Suddenly, it appears, Team Anna's many faults have become blindingly apparent: they are arrogant, too preachy, too inflexible, too shrill, too unnuanced in their sab-chor-hain criticism of politicians. Even their kindest critics want Team Anna to fold up its tent and disappear into the rural hinterland - where they can, as Mani Shankar Aiyar put it crudely last year (here), "go back to flogging drunkards."
What's lost in all this gratuitous rubbishing of Team Anna is a perspective on the larger picture of  how we got here - and, more important, of what the way ahead is if Team Anna were to be driven away. Will we, for instance, have a better instrumentality to deal with the mega-scandals that drove us to embrace the demand for a strong and independent anti-corruption agency? Has anything that the political establishment, and the UPA government, done in the past year elevated our faith that our leaders are earnest about combating political corruption?
The movement against corruption was (and remains) a struggle against formidable odds, in which Team Anna was (and is) merely the momentary vehicle that channelled the widespread revulsion. By speaking out publicly and forthrightly against corruption, they were effectively taking on strong and entrenched forces that have a stake in the perpetuation of the system and who are unafraid to fight dirty. Absolute power vests in these forces, not in Team Anna or his band of followers. Which is why in the year gone by, we've heard a lot of hot air from politicians about bringing forward a strong Lokpal Bill, but in the end we have only a watered-down version of a Bill that, even if it becomes law, will not make the slightest dent on corruption.
It is this that the excessive and disproportionate criticism of Team Anna misses. Team Anna may not have been without faults, and the vision that they offered - of a corruption-free India when the Jan Lokpal is institutionalised -  may have been utopian. But their failings are minuscule compared to the failure of the political establishment over the past year to show even the feeblest progress in changing the rules of the game for the better.
As columnist Pratap Bhanu Mehta observes in a powerful commentary in the Indian Express (here), "in the year since the (anti-corruption) movement began, the political establishment has been close to shameless in using the weaknesses of the movement to avoid confronting some basic issues." And while Team Anna may be rightly faulted for perpetuating the sab-chor-hain mentality and for gross disrespect to democratic institutions, the other side isn't entirely innocent, he points out. There is no effort at a minimal clean-up job, and in fact "power brokers" have been elevated to higher stations in life. And as for the institutions, they have not exactly commanded the respect they demand of their critics.
And if Team Anna is guilty of playing the holier-than-thou "politics of virtue", so is the Congress, which uses the Prime Minister's personal incorruptibility as a shield to deflect criticism of his government's ducking of institutional responsibilities.
Mehta writes: "The imperiousness with which the top leadership — the Congress president and general secretary and the prime minister — has hidden behind a cloak of virtue, avoiding a political confrontation with the problem, is breathtaking." It isn't easy for anyone to take on the state, which comes after its critics with full might, sometimes bordering on thuggishness. "If nothing else, the Anna movement is trying to do something that is easier said than done: take on the state," he adds.
Which is why all this public evisceration of Team Anna, and the commentaries picking on its minuscule failings, while remaining silent to the far graver failings of the political establishment to change its  corrupt ways, is patently absurd. It represents an inadequate understanding of the fact that the corruption that wracks our political system is the bigger evil.
It's easy to drive Team Anna back into the wilderness: we may already have achieved it by knocking them off the pedestal and amplifying their failures. But if we reckon that the corrupt system, which Team Anna was challenging, will correct itself after we've sent Anna packing to Ralegaon Siddhi, we may be in for a kick in the teeth.
As Selina Kyle, the Catwoman in The Dark Knight Rises, says:  There's a storm coming... You and your friends better batten down the hatches.
Find latest and upcoming tech gadgets online on Tech2 Gadgets. Get technology news, gadgets reviews & ratings. Popular gadgets including laptop, tablet and mobile specifications, features, prices, comparison.
Politics
The party, meanwhile, announced in Delhi that Sundar was removed from her post of All India Congress Committee spokesperson with "immediate effect"
India
Controversy erupted on Thursday after state police allegedly pulled off a man's turban during a BJP rally. The police, however, claimed he was carrying a firearm and that his headgear "fell off in the scuffle"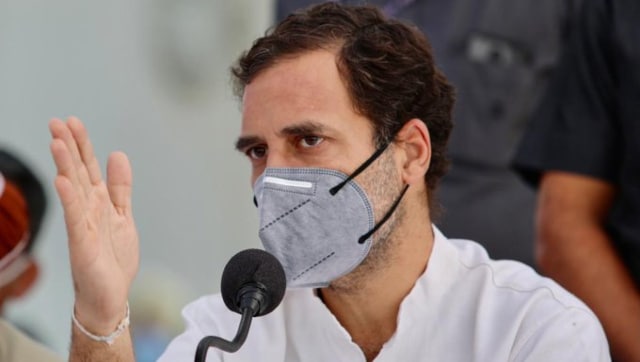 India
"The real danger to India isn't that our prime minister doesn't understand. It's the fact that nobody has the guts to tell him," Rahul said on Twitter, attaching a video clip of Narendra Modi suggesting use of wind turbines to produce oxygen