Vote 'auction' in Tamil Nadu as parties lure voters with premium price tags
Parties in Tamil Nadu have been dangling cash at voters for far too long to stop doing it in a hurry.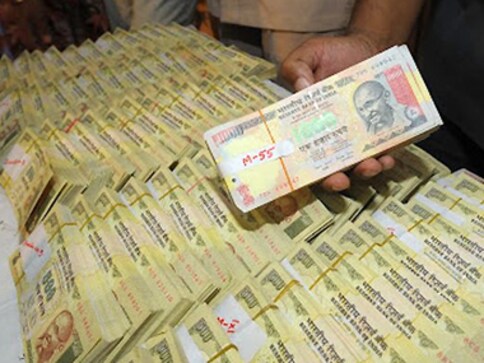 In the business of notes-for-votes, Andhra Pradesh is always the clear leader. Of the Rs 331 crore of black money seized during the 2014 Lok Sabha elections, nearly half came from Andhra Pradesh. And Tamil Nadu, neck-and-neck with other states like Karnataka and Maharashtra, came next.
It's not surprising that in the current round of assembly elections, with potential competitors not on the scene, Tamil Nadu is at the top of the heap. Of the Rs 62 crore confiscated till 18 April, Rs 24.9 crore came from Tamil Nadu alone with the rest coming from West Bengal (Rs 12.84 crore), Assam (12.33 crore), Kerala (Rs 11.73 crore) and Puducherry (Rs 60.88 lakh).
The seizures were made by "special flying squads" and surveillance teams appointed by the Election Commission (EC) and by officials of the Income Tax Department. With the election process only midway through, the final tally is expected to be higher.
The Rs 62 crore that the officers seized is not even the tip of the iceberg, if you consider that the tip is one-seventh of an iceberg. Two weeks ago, RBI Governor Raghuram Rajan came up with the astonishing figure of Rs 60,000 crore which, he said, is now additionally in the "people's hands".
"Around election time, cash with the public does normally increase... You can guess as to reasons why, we can also guess," Rajan said.
But not all the money that Rajan is talking about is doled out to voters as price for their votes, usually paid a day or two before polling. A lot of it goes into sundry things which include:
— temporary offices
— full-time party workers that a candidate employs
— hiring taxis or helicopters
— ferrying people to rallies in buses or trucks
— payments made (usually small amounts) and food supplied to people attending rallies
— posters, banners and sound systems
— getting techies to manage the social media
— fielding dummy candidates to cut into a rival's votes
— and even employing musclemen
But what parties and voters refer to as the "price of the vote" is what is paid out in hard cash during the 48 hours before polling. According to officials, politicians and activists, the average price in the current Tamil Nadu elections is expected to be Rs 1,000. Some say that the price goes up to as much as Rs 2,000 or more in constituencies where senior leaders are contesting or where the candidates are super-rich.
Nobody can say with any certainty how much money all the parties together will spend on these final pre-poll payouts to voters in Tamil Nadu. Estimates vary wildly between Rs 5,000 crore and Rs 10,000 crore.
States like Andhra Pradesh, Karnataka and Tamil Nadu lead the pack in this most venal of election malpractices, because a majority of politicians in these places either belong to or are backed by lobbies which are flush with black money. And a good part of the money that companies and businessmen contribute to election kitties of parties across India always comes in black.
Aazhi Senthilnathan, noted Tamil writer and critic, told Firstpost that Tamil Nadu's pre-eminent status in the notes-for-votes business can be attributed to the fact that most of the state's politicians, down to the village level, are from sectors like mining, granite, quarrying and liquor, where black money thrives.
"Most of them are not well-established people in any sphere, but they just happen to be doing businesses which thrive on tonnes of black money," he said. According to him, it all began some 25 years ago, when the DMK began to pay Rs 2 each to voters in Panchayat elections.
With inflation catching up fast, the price has risen by more than 500 times. It's not surprising that the announcement of elections is always good news to the people in general and the poor in particular in Tamil Nadu.
And the voters, of course, take money from every party that gives it to them but finally vote for a candidate of their choice, depending on a range of other factors topped by caste.
According to officials and politicians familiar with this practice, the distribution of money across a state as big as Tamil Nadu with 5.8 crore voters on rolls demands organisational skills of a high order. But undaunted, the Dravidian parties use their impressive, grass-root cadres to the optimum to undertake this task.
Even before the EC announces the elections and forms its "flying squads" to confiscate unaccounted cash, parties transport huge amounts of money to many nodal points across the state to be disbursed to voters later. In the end, the EC's effort only manages to seize a very small fraction of the cash that is actually spent by parties.
Parties have been dangling cash at voters for far too long to stop doing it in a hurry. Each party is wary of ending it for fear that the others will continue with it and take advantage.
But Senthilnathan hopes that the notes-for-votes evil will be on the wane in future because parties are increasingly seeing the futility of paying cash to voters with no guarantee of getting votes in return. "With every party offering cash to voters, the very purpose of doing it is not being served, and parties have become victims of their own games," he said.
The author tweets @sprasadindia
also read
Business
No id proof, shaded waiting space, drinking water and mobile vans are some of the measures banks are putting in place to help customers exchange currency
India
The total value of such banknotes in circulation has declined from Rs 6.73 lakh crore at its peak as on March 31, 2018 (37.3 per cent of notes in circulation) to Rs 3.62 lakh crore constituting only 10.8 per cent of notes in circulation as on March 31, 2023.
Business
The option to deposit funds into accounts and exchange Rs 2,000 banknotes will be accessible at all banks until 30 September 2023