Take a New Year resolution not to disrupt Parliament, Modi urges Congress
While blaming the Congress for obstructionism and sending across a message of development in UP, Modi setting the tone for upcoming UP Assembly election
Prime Minister Narendra Modi on Thursday implored India's principal opposition party, the Congress, to take a New Year resolution of a different kind.
Speaking on the eve of the New Year, Modi urged India's Grand Old Party, which has ruled the nation for 60 years, to "understand its responsibilities" and not "destroy" the institution of Parliament, standing as an impediment in nation's growth, development, creation of jobs and welfare of poor.
"I can understand the anger of those who have not got a chance to rule the country but a party (Congress) which has enjoyed power of all kinds and ruled the country for 60 years has no right to destroy the Parliament.
"Today as 2015 comes to a close and we are ready to usher in the New Year, Congress should resolve that they will allow the Parliament to function...They know what the Parliament is, what the government is and how it works…
"With the passage of time some old laws have become redundant and it is necessary that we make new laws conversant with the changing times. But the Parliament, where laws are made, is being stalled.
"Those whom people have rejected are not allowing the Parliament to function. People elect parliamentarians to discuss, debate and sit together and arrive at a decision", Modi said at an official function in Noida.
The Prime Minister was laying the foundation stone for a 14-lane Delhi-Dasna-Meerut expressway project. It will pass through the fertile sugarcane belt of Western UP and will be connected to Hardwar, Rishikesh and Dehradun in Uttrakhand.
Additionally, a road expansion plan is being mooted for "Char Dham Yatra" — Badrinath, Kedarnath, Gangotri and Yamunotri.
By blaming the Congress for its obstructionism and talking at length about various developmental projects that his government is working on specially for this region, Modi sought to underline four themes:
One, the PM clearly intends to send a message that his government and his party (present on the dais were a number of Union ministers and BJP MPs from the region) are actively working for the development of Uttar Pradesh of which is an MP. If Modi had the 2017 UP assembly 2017 polls in mind, he amply let it show.
He also invoked Atal Bihari Vajpayee's legacy in laying highways and rural roads through the Pradhan Mantri Gram Sadak Yojna, Pradhan Mantri Krishi Sichai Yojna. He also vowed to take up the plight of sugarcane farmers.
Second, the venue for the official function has its own significance. No UP Chief Minister ever comes to Noida despite it being the second-most important city after Lucknow because of a curious superstition that the Chief Minister who visits Noida loses the next election. Modi perhaps wanted to convey that he has no time for such beliefs and was only guided by the urgency of governance.
Third, Modi seems to be indicating that instead of waiting for the Parliament to be functional, he would speed up executive action in areas where he could. This is in line with his earlier directive to ministers that they should expedite executive action and reach out to people in their constituencies and tell them about the obstructionist policy of the Congress.
His announcement on Thursday that henceforth no interview would be required for 'Class III' and 'Class IV' jobs in central government should also be seen in this light.
He also made an appeal to all Chief Ministers (read UP CM Akhilesh Yadav) that they too should abolish the practice of interviews for lower-level jobs because it will promote merit, eliminate corruption and other associated malpractices.
Fourth, Modi's indirect message towards the vehicular-pollution debate is that an expressway of this kind would bring some much-needed relief by diverting a considerable amount of the traffic.
It remains to be seen how the Congress reacts to Modi's barb. They surely won't be amused.
World
The proposed law, which is still in its early stages, would apply to any organisation that receives more than 20 percent of its funding from abroad, requiring it to register as a foreign agent or else face a fine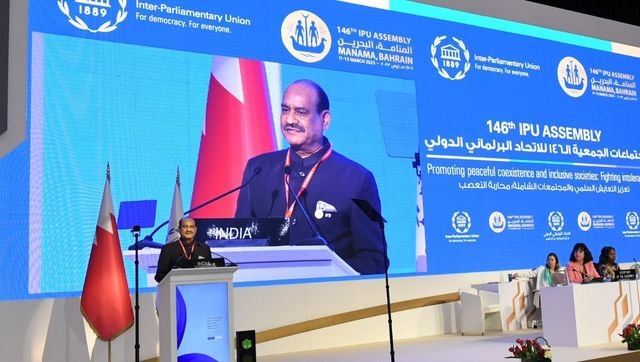 World
UNSC reforms cannot be stopped forever and the reforms are on India's global agenda, Om Birla said
Opinion
Empowering women in agriculture will have a lasting impact on the vitality of rural India