Swami Aseemanand fallout: Hindu Sena protests outside Caravan office
Caravan Executive editor Vinod K Jose tweeted the latest development a short while ago
The Caravan magazine, which has created a furore with its latest cover story on jailed RSS activist Swami Aseemanand, is seeing protests outside its New Delhi office, with workers from the RSS and Hindu Sena shouting slogans and burning copies of the magazine's latest issue. 
Earlier Caravan Executive editor Vinod K Jose tweeted  that both its Delhi and Mumbai offices have been receiving threatening calls.
Threat calls to @thecaravanindia in the Delhi and Bombay offices

— Vinod K. Jose (@vinodjose) February 7, 2014
In the story, Aseemanand is quoted as saying that some of the worst recent terror attacks in India, including the bombing of the Samjhauta Express in 2007, which collectively killed more than 100 people, were sanctioned by the RSS. And even worse, he says that RSS chief Mohan Bhagwat was in the know and had given the plans a tacit nod of approval.
The report says:
According to Aseemanand, both RSS leaders approved, and Bhagwat told him, "You can work on this with Sunil. We will not be involved, but if you are doing this, you can consider us to be with you."
Aseemanand continued, "Then they told me, 'Swamiji, if you do this we will be at ease with it. Nothing wrong will happen then. Criminalisation nahin hoga (It will not be criminalised). If you do it, then people won't say that we did a crime for the sake of committing a crime. It will be connected to the ideology. This is very important for Hindus. Please do this. You have our blessings.'"
Both the BJP and RSS have completely denied the veracity of the report. The BJP has called the story a Congress sponsored plot to take votes away from the party ahead of the upcoming Lok Sabha elections, and the RSS have said that the interview never actually happened as claimed by the Caravan journalist.
Aseemanand for his part has issued a handwritten statement in which he has claimed that he did not give any interview to the Caravan magazine. He claimed that a reporter disguised as a lawyer came to meet him on a few occasions but he never took the names of Mohan Bhagwat name or RSS leader Indresh Singh, reported CNN-IBN which has accessed the letter.
Aseemanand in the letter has described the sequence of events and said that she had approached him on various occasions, but he had always denied speaking to her. He also said that she approached him to talk about the social work he was involved in.
Caravan magazine has stood by its article and released two audio recordings of the interview, both of which can be accessed here, where Aseemanand recollects the discussion he had held with the top RSS leaders when they came to visit him in Shabari Dham, Gujarat.
Executive editor Jose has also strongly defended the post. He tweeted, "4 interviews. 9 hr 26 mint long interviews. no sting. no entrapment. genuine, meticulous, persuasive, old-school investigative journalism. Aseemanand has over 20 lawyers in 5 terror cases in 5 states. I hope TV journalists are vetting these lawyers enough. Interviews are genuine. Check our records. Check the jail register. And listen to our tapes.No entrapment/sting. We believe in the real old-fashioned methods of going to people and documents without hiding our identity."
People attributing motives to @thecaravanindia should know the Cong is so guarded to even commit to an investigation http://t.co/taDezkYVx0

— Vinod K. Jose (@vinodjose) February 6, 2014
Politics
Several BJP leaders downplayed the impact of Mukul Roy's return to TMC, with Dilip Ghosh saying Roy himself wasn't sure whether the BJP 'gained anything'
Politics
A recent visit to Delhi by state tourism minister CP Yogeeshwara and MLA Arvind Bellad had led to reports claiming that efforts were underway to unseat Yediyurappa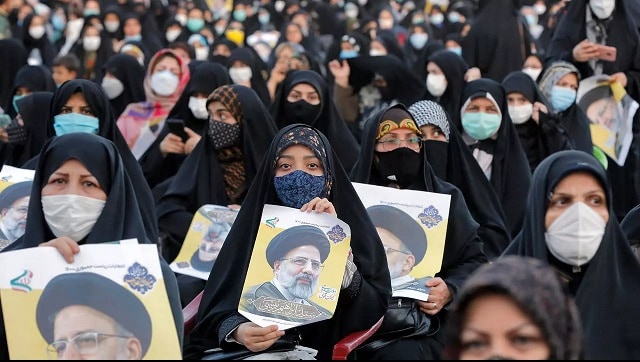 World
Ebrahim Raisi, who heads Iran's judiciary, is the clear favourite from an all-male field of seven candidates to replace President Hassan Rouhani, a moderate elected on promises of social and cultural reform.