Sushma Swaraj says she's opposed to two new BJP allies
Swaraj has flagged two potential alliances and said she had nothing to do with either of them.
Senior BJP leader Sushma Swaraj took to Twitter to raise objections to two potential alliances that the BJP could be forging in the states of Karnataka and Haryana.
Tweeting about the BJP's merger with the BSR Congress in Karnataka, Swaraj said she was strongly opposed to it. BSR Congress founder B Sreeramulu, who was reportedly supported by alleged illegal mining baron Janardhana Reddy, on Wednesday announced the merger of his almost two-year-old party with the BJP.
She also tweeted that she was opposed to Venod Sharma of the Congress joining the Haryana Janhit Manch, an ally of the BJP in the state of Haryana. Her clarification came in response to a report in the Indian Express which stated that she had played an important role in forging the Congress leader switching sides.
"It was not an easy decision to break such a long association. But I was pained to see that the Congress failed to maintain the democratic values and transparency in its own structure," Sharma was quoted as saying in the report.
The report also claimed that Sharma was promised a union cabinet berth in the event of the NDA coming to power.
Sharma, father of prime accused in the Jessica Lal murder case Manu Sharma, has business interests in the media and other business ventures.
This is what Swaraj had to say on Twitter:
I am strongly opposed to this. I have conveyed my views to Shri Kuldeep Bishnoi. Venod Sharma set to join HJC | http://t.co/clVaUiEtij

— Sushma Swaraj (@SushmaSwarajbjp) March 6, 2014
I have conveyed to Shri Raj Nath Singhji in writing that BJP must not permit this. http://t.co/Y8UGZPrfdA

— Sushma Swaraj (@SushmaSwarajbjp) March 6, 2014
I am opposed to the BSR alliance or merger with BJP in Karnataka. @mukeshirs

— Sushma Swaraj (@SushmaSwarajbjp) March 6, 2014
The BJP leader's statements may prove to be embarrassing for the leaders who have engineered the two alliances. While Swaraj has taken the high moral ground on the issue, other leaders are left being accused of dealing with the political leaders accused of corruption.
Karnataka BJP leader Jagadish Shettar has shrugged off the criticism saying that the decision was one taken by the state unit and Swaraj had merely expressed her personal opinion. The Haryana Janhit Manch has also not offered any reaction to the leader's comments yet. While the alliances may not change because of Swaraj's objections, the senior BJP leader seems to be dissociating herself from the two allies well in advance.
Find latest and upcoming tech gadgets online on Tech2 Gadgets. Get technology news, gadgets reviews & ratings. Popular gadgets including laptop, tablet and mobile specifications, features, prices, comparison.
India
Girls have performed better than boys in the exam. Of the total, 55.96 percent girls qualified the exam, while the pass percentage of boys was 48.56 percent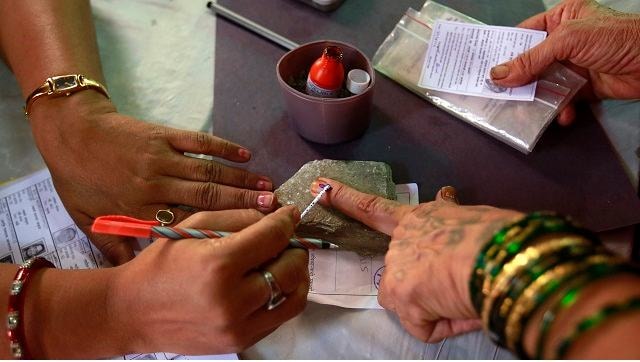 Politics
The 14, who resigned from the Congress and their Assembly membership earlier this year and joined the BJP, are contesting the upcoming by-elections in the state
Politics
In her resignation letter to Sonia Gandhi, Sundar wrote that people like her who want to work for the party are being 'suppressed' by 'a few elements seated at higher levels within the party'