Sushil Kumar Modi alleges that RJD MLA bought five flats from Rabri Devi through shell companies
In a fresh attack on Lalu Prasad Yadav's family, Sushil Kumar Modi alleged that RJD MLA Arun Yadav had bought five flats for Rs 2.56 crore from Rabri Devi, the party supremo's wife, at Marchhia Devi complex
Patna: In a fresh attack on Lalu Prasad Yadav's family, Bihar Deputy Chief Minister Sushil Kumar Modi on Friday alleged that RJD MLA Arun Yadav had bought five flats for Rs 2.56 crore from Rabri Devi, the party supremo's wife, at Marchhia Devi complex in Patna in June this year.
"On 13 June, 2017, two sand mafias — namely, Subhash Yadav and Arun Yadav — purchased eight flats worth Rs 3.28 crore from Rabri Devi," Sushil Modi told reporters.
Arun Yadav, the RJD MLA from Sandesh in Bhojpur district, had purchased the five flats through his shell company — Kiran Durga Contractors Pvt Ltd — which claims to be engaged in the construction field, Sushil Modi alleged and wondered why a company would buy five flats.
Reacting to the allegations, Mrityunjay Tiwari, State RJD spokesperson said, "Nobody takes note of Sushil Modi's allegations. He is targeting Lalu Prasad Yadav's family to divert the attention of the people from the fact that his name has cropped up in a scam involving an NGO in Bhagalpur."
Modi alleged that the RJD MLA's shell company was set up to convert black money into white which was why it purchased the five flats.
"Lalu Prasad has learnt or devised ways and means to acquire properties that would put even Robert Vadra to shame," he said.
Asked what was wrong in Rabri Devi selling her properties (flats), he conceded that there was none. "But it generates suspicion when five flats are purchased by a single company owned by an RJD MLA who is a sand mafia also."
Modi produced copies of what he claimed were the sale deeds of the five flats.
Modi said Rabri Devi, who owns 18 flats in the complex, had sold eight of them while he (Sushil Modi) was making one expose after another on the family's benami properties.
"I am making charges along with the documents and I dare him (Lalu) to reply to my allegations. Or he should disown that Subhash and Arun did not buy the flats," he said.
Sushil Modi also sought to establish a relation between Subhash Yadav and Arun Yadav. He showed a purported bank agreement in which Subhash Yadav was made a guarantor for a loan taken by Arun Yadav to purchase a sports car worth Rs 24.31 lakh.
"There is no strength in Sushil Modi's allegations at all as there is nothing wrong in selling and buying properties. With regard to the question as to from where Arun Yadav got the money, it is up to him to say," RJD's Bihar unit spokesman Shakti Singh Yadav said.
He alleged that Sushil Modi is trying to create a kind of fear among those in the sand business by painting everyone as mafia. "Rather (Sushil) Modi should tell people as to how much money he had received in the allotment of lease for sand mining when he was the mines minister.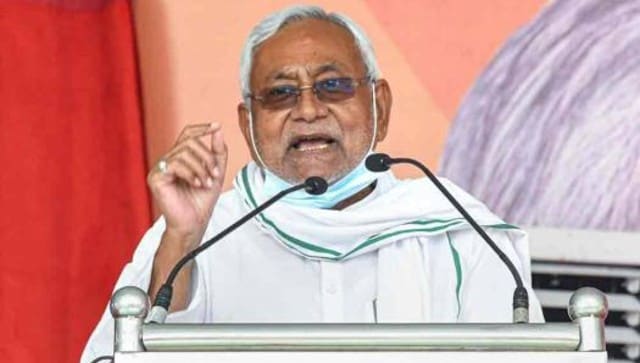 India
The Bihar chief minister said the state Assembly has passed unanimous resolutions twice in 2019 and 2020 in favour of a caste-based census.
India
People blocked roads, pelted stones in Jehanabad district, after a man arrested in liquor trade died in judicial custody in Aurangabad