Suresh Prabhu manipulated poll results in Kharagpur: Congress Leader
Prabhu came here and manipulated the railway officers, staff, contractors and the administration, said Bhunia, an ex state Congress president.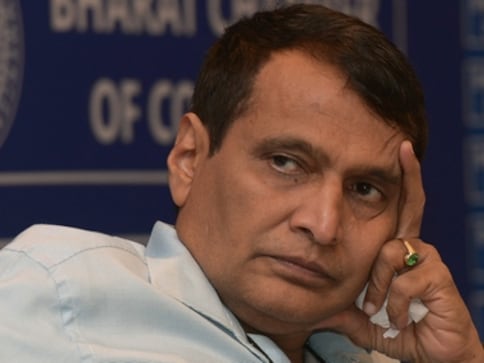 Kolkata: A senior Congress leader in West Bengal on Wednesday accused Railway Minister Suresh Prabhu of "influencing" the election results in an assembly constituency where a BJP candidate got elected.
Referring to the Kharagpur (Sadar) seat in West Midnapore district, from where state BJP president Dilip Ghosh emerged winner, former Bengal minister Manas Bhunia said Prabhu had done the "manipulation" during his visit to the railway town.
"Prabhu came here and manipulated the railway officers, staff, contractors and the administration," Bhunia, an ex state Congress president, told IANS.
Ghosh pulled off a surprise victory, getting the better of nonagenarian Congress candidate Gyan Singh Sohanpal, who had won ten terms from the constituency, and was undefeated since 1982.
Bhunia termed Sohanpal's defeat as "unfortunate" from the railway town.
Kharagpur is a bustling divisional headquarters under the South Eastern Railway.
Bhunia claimed that lack of time was a major reason for the Congress-Left Front alliance in the state coming a cropper in the polls.
"The LF and the Congress have conflicting political ideology. But we did not get enough time for proper assimilation and synchronisation to ensure reciprocal transfer of votes," he said.
Although Bhunia himself retained his seat from Sabang, the LF-Congress could secure only 77 seats (Congress 44, Left Front 32 and an independent backed by the alliance). The Trinamool Congress emerged victorious by capturing 211 seats in the 294-member assembly.
However, Bhunia said an in-depth study and analysis was needed to comprehensively identify the reasons for the debacle.
But the Congress leader did not buy the argument by a section of the Left that the Congress failed to transfer its votes as per expectation to the Left candidates in some of the constituencies.
"Congress also has the same allegation against them," Bhunia said.
He said the future of the alliance would depend on the decisions by the Left and the Congress, both at the national and state level.
Blaming the Bharatiya Janata Party (BJP) and the Trinamool Congress for striking an "under the table deal" Bhunia said: "Seven per cent votes of the BJP went to the Trinamool, through scientific manipulation of transfer of votes by the RSS machinery."
Politics
The 78-year-old Lingayat strongman said he had offered to resign two months ago with an intention to make way for others and asserted that he won't name a possible successor even if asked to
India
The BJP national general secretary said that Karnataka must also think about bringing a policy to control population like Uttar Pradesh and Assam
Entertainment
Vaazhl falls especially flat when it suddenly takes itself seriously in the second half