Sumitra Mahajan defends rescheduling of Winter Session, says Gujarat Assembly polls was not sole reason for delay
Amid the row over the 'delayed' Winter Session of Parliament Sumitra Mahajan said the Gujarat election was not the only reason for rescheduling the session
Indore: Amid the row over the "delayed" Winter Session of Parliament, Lok Sabha Speaker Sumitra Mahajan on Wednesday said the Gujarat election was not the only reason for rescheduling the session, but that it was difficult to hold discussions in the House when the polls were underway.
Talking to reporters, Mahajan said, "It is being said that the Winter Session was delayed due to the Gujarat election. Gujarat was not the only reason. It was also my suggestion, because I have to sit on the (speaker's) chair. I know that when there is an election, there will be some commotion every day.
"Let it (the election) happen, everybody is busy with the polls. I thought we should hold (the session) later, so that we would be able to have some discussions. It was, however, the decision of the cabinet committee. We ensured that the duration of the session was not curtailed. Earlier too, the schedule of the sessions was changed."
The Winter Session would commence on 15 December and conclude on 5 January, she said.
"There are rules as to when the House is to be convened. The cabinet committee takes these decisions when the House is to be convened, what will be the subjects on any particular day...they also consult me," Mahajan added.
Click here for detailed coverage of Gujarat Assembly Election 2017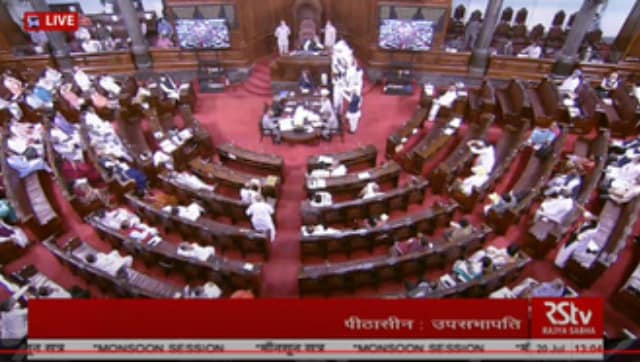 Politics
Meanwhile, Congress leader Rahul Gandhi on Monday drove a tractor to Parliament along with other party MPs and demanded that the three contentious farm laws be repealed
Politics
Parliament Monsoon Session LIVE Updates: The Rajya Sabha was adjourned for the day after the Opposition continued to protest over the Pegasus row and farmers' issues
India
The vote to decide whether Susana Diaz, the former regional president, can be elected as a senator for the region was halted as the rodent disrupted proceedings