At last: Subramanian Swamy secures MP berth, gets NDA nomination to Rajya Sabha
Subramanian Swamy is finally about to get a berth in Parliament, as his name is expected to feature among Presidential nominations for the Rajya Sabha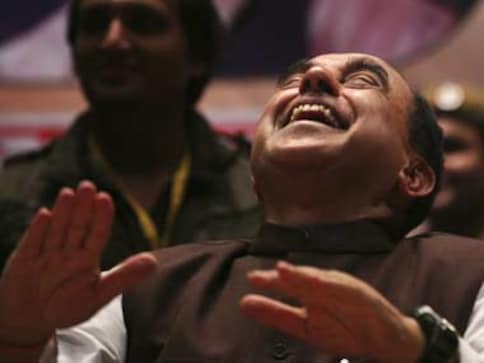 Subramanian Swamy is finally about to get what he has always wanted from the Modi government — a berth in Parliament. His name is expected to feature among the list of Presidential nominations for seven 'nominated' member seats of the Rajya Sabha.
Swamy has never shied away from making his expectations public. He wants to start afresh in active politics by being an MP first, and then by becoming a minister in Narendra Modi's cabinet — holding finance or any other economic portfolio.
In September last year, when there was a great deal of media hype suggesting that the Modi government was considering to offer the Jawaharlal Nehru University vice chancellor post to him, Swamy had told Firstpost that, "My mind is focused. I will be in politics. If they have to give me something then they could offer me a ministerial berth in the Union Cabinet."
He had declined to accept the JNU VC's post. By doing so, he had refused five offers in total made by the Modi government or by his sympathisers in the Sangh Parivar.
Swamy had earlier stated, ahead of 2014 Parliamentary elections, that he had been promised the finance minister's job by someone at the top. But after the elections, he said that the same person told him that due to certain compulsions, Swamy could no longer have the finance minister's post.
Then came an offer for the post of a governor, which he refused because he didn't want to go into "retirement mode". This was followed by the offer of an ambassadorial post in the US or some Western country. A UN posting was also offered, after which the job of BRICS Bank chairman was also offered to him. He didn't take either.
Swamy's nomination to Rajya Sabha in days to come would stand out for more reasons than one.
Despite the fact that Swamy has been credited with many legal cases, including the 2G spectrum case — which landed the erstwhile UPA government in deep soup and the most celebrated of his legal fights against Sonia Gandhi and Rahul Gandhi — the National Herald case, he is still not taken to be an in-house nominee of the BJP.
He surely is part of the BJP though, but for Rajya Sabha nominations, he is taken to be a nominee of the 'Parivar' — an euphemism for the BJP's ideological fountainhead, the RSS.
Through a tweet, Swamy let the world know that he would soon be seen in Parliament:
I thank PTs for the consistent support through the last two years. As MP I will get the most important forum speaking on nation;s issues

— Subramanian Swamy (@Swamy39) April 22, 2016
The BJP leadership had so far not been offering him what he actually wanted, because nobody knew how to tame his fiercely independent streak and his tendency to speak his heart irrespective of the political consequences it might have.
Now that he is about to be made an MP, a ministerial berth could still elude him for the simple reason that Swamy is now 76-years-old, a year older than the maximum age the RSS has prescribed for holding such posts.
Yashwant Sinha had famously described the 75-plus age as "brain dead" in the party. Swamy can, nevertheless, count himself to be an exception.
Article 80 of the Indian Constitution lays down the maximum strength of Rajya Sabha as 250, out of which 12 members will be nominated by the President from amongst "the persons having special knowledge or practical experience in respect of such matters as literature, science, art and social service."
Currently, there are seven vacancies due to retirement of industry expert Ashok Ganguly, HK Dua, Mani Shankar Aiyer, Javed Akhtar, B Jayashree, Mrinal Miri and Bhalchandra Mungekar.
Technically, Swamy would be a nominated member but for all practical purposes, he and some others on the list will be an addition to the BJP's strength in the Upper House.
Four months ago, Swamy was allotted a bungalow in Lutyens' Delhi due to "security" reasons during the peak of the National Herald hearings, filed by him against Sonia, Rahul and four other senior leaders of Congress. He will now be entitled to retain in that house as an MP.
But there is a problem, Swamy's equation with other leaders of the upper house and Finance Minister Arun Jaitley is not kosher. He has not minced his words in letting people know about his discomfiture with Jaitley.
Another BJP leader whose name is doing the rounds for nomination is Navjot Singh Sidhu. Once, he was considered close to Jaitley but subsequent to 2014 parliamentary elections, their equations changed. It was suspected that Sidhu had not supported Jaitley for the Amritsar parliamentary seat, which the former had held for two terms.
There are many in the BJP ranks who consider Sidhu as an asset, and the only Sikh leader in the party with significant stature and following in Punjab. There have been reports that suggest that Sidhu is being pursued by the Aam Admi Party. His prospective nomination to Rajya Sabha would be an indication that the BJP values his talent.
Journalist Swapan Dasgupta too is expected to figure in the list of nominated members. Interestingly, it is not his first nomination as his name was first recommended for the position 13 years ago. In 2003, he missed the Rajya Sabha nomination by a whisker. His name was recommended by the then Deputy Prime Minister LK Advani, but the then Prime Minister Atal Bihari Vajpayee raised objections against him.
It was said that Vajpayee had held a grudge against Swapan because of a line reference made by him in one of his signed articles. Swapan is also close to Modi, Amit Shah and Jaitley. Since the time the Modi government came to power, there have been numerous speculations about Swapan's potential progression, most recently about the Nehru Memorial Museum and Library.
Malayalam actor Suresh Gopi is another interesting name on the list. He is BJP's prime campaigner in Kerala and by making him an MP, the BJP is sending a message across that the party is promoting the southern most state's interests.
Kerala so far, has been unrepresented by the Modi government. The BJP hopes to open its account in Kerala Assembly elections and win a few seats. If that is to happen, Gopi's contribution will be significant. In fact, it was the confirmation of Gopi's nomination to Rajya Sabha that gave way for other names to be leaked to the media.
If Gopi is to represent the southern tip, then World Champion and Olympic medallist Mary Kom's nomination to the upper house would emphasise the fact that the Modi government cares for the North-East. By virtue of her grit, perseverance, determination and ambition to be the number one boxer in the world, she has acquired the status of a national icon. Her nomination would be a well deserved one.
Another name doing the rounds is Narendra Jadhav. His name has evoked a great deal of curiosity and debate in the political circle. He belongs to the Dalit community and had been a member of the Sonia Gandhi led National Advisory Council from 2010 till the time it was dismantled by the Modi government in 2014.
He was also appointed as a Planning Commission member by the Mamomohan Singh Government. He has strong credentials, both as an economist and an administrator. He has also served in the RBI, held top IMF positions and held prime positions with some foreign governments.
Jadhav's possible nomination is being attributed to PM Modi taking a fancy for his credentials, not just as a Dalit but as an economist.
Journalist turned media baron Rajat Sharma, actor Anupam Kher, and script writer Salim Khan's names are also in contention. One or two of them could make it to the final list.
By the time Parliament opens for the second half of the budget session, Rajya Sabha may see the faces of seven newly appointed members.
Politics
US President Joe Biden will be in Canada's capital Ottawa on Thursday and Friday to address Parliament and meet Prime Minister Justin Trudeau
Sports
Rio Olympics gold medallist Estelle Mossely is in India for the Women's Boxing World Championship.
Politics
A bench of Chief Justice D Y Chandrachud and Justices P S Narasimha and J B Pardiwala took note of the submissions of the BJP leader who mentioned the matter saying the government has not taken any decision till date