State-sponsored vigilantism on beef ban allows gau rakshaks to further their 'business'
This state-promoted cow vigilantism is dangerous for it licences or outsources the implementation part to people who would potentially further the 'business' Modi spoke about.
There are some double standards about cows. We call it the mother and treat its urine and dung with respect.
There is also a delicacy known as kharwas in Marathi, junnu in Telugu, and ginnuin in Kannada made from the colostrum, which is the first milk produced by the cow on calving. Rich in protein, minerals and antibodies, this is a thick secretion from the mammary glands which gives the calf, which is no more in the protective confines of the cow's womb, a leg up to face the world as it boosts its immune system. 
This delicacy, a kind of pudding, is much-favoured and available easily at some sweetmeat shops. This implies that the much-needed colostrum is denied to the calves. Further, if these calves grew up to be healthy will provide plenty of milk (and if male, draught). And for those with a taste for it, they could even be used for beef.
So far, I have not heard even once a word of regret from anyone, including the gau rakshaks, who Prime Minister Narendra Modi described as "70 – 80 percent will be those who indulge in anti-social activities and try to hide their sins by pretending to be cow-protectors". Media reports have shown that he is right, mostly.
To families, which have cajoled me to savour it, I have not flinched to mention that even Hindus, who revere cows as mother, ought to know that they are depriving a whole new generation of bovine animals their right to a good start. That a good cow or bull is as important as a mere undernourished set.
This is a matter of concern because not all cattle-rearing, even for milch purposes is a primary profession, and to many who do, it is a secondary occupation. These animals feed from the shrubs and whatever edible they come across when they are left to graze, which may or may not be adequate to nourish and nurture them optimally.
Hitherto, the word gau rakshak was hardly heard except in some instances where people ran a few shelters – not all of them non-profit or charitable – which were few and far between. Now Google the word and you would come up with nearly half a million links in three-quarters of a second. It is suddenly in vogue.
If they are anti-social, and made him "angry" as Modi said earlier this month at his town hall event, and asked state governments to prepare dossiers, the states apparently haven't taken him seriously. If they did, they haven't shared the details with the public yet, making me suspect that it was a lot of sound and fury signifying nothing.
On the contrary, according to The Indian Express, Maharashtra has called for "volunteers" to help enforce the beef ban. The prime minister had described cow vigilantism as a "business" and he was not off the mark. They are supposed to be people with "no political affiliations" but it also reported officials as saying "there are many religious and political affiliations."
This state-promoted vigilantism is dangerous for it licences or outsources the implementation part to people who would potentially further "business" Modi spoke about. There never has been a campaign to save cows, or "protect" them from plastic.
Animal husbandry departments in any state have not sought the support of people to ensure that plastic is minimised if not entirely avoided, for it is apparently not its business. There is as much plastic flying and lying around the countryside as is discarded in the city drains by reckless citizens.
But it is the same department's officials in Maharashtra who have to vouch for the character – integrity, if you please – of the applicants who want to be the eyes and ears of the authorities. It is not that they have the means to ensure due diligence about the men and women who want to volunteer and get an identification card. These officials are not like the former justices of peace.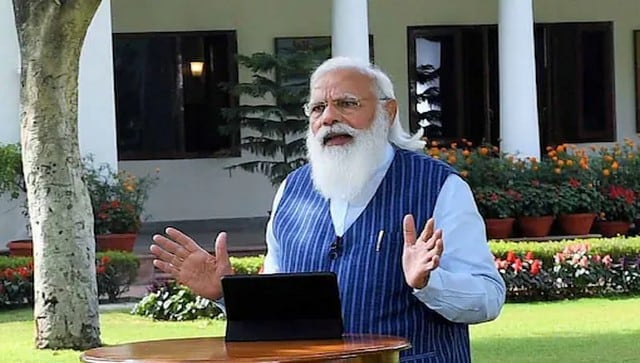 World
The CEOs were appreciative of India's reform trajectory and closer economic linkages between India and USA will benefit the people of both the nations, Modi later tweeted
Arts & Culture
What brings the show back from the precipice of unbearable wokeness is that it stops short of cancel culture. It portrays heterosexuality without sneering at it.
India
The four-day hectic visit saw PM Modi effectively using the time available and making the most of it and has a busy Sunday ahead of him as well on landing back in the capital