Stage set for Maharashtra Legislative Council bypoll as BJP's Prasad Lad takes on Congress' Dilip Mane
BJP announced its Maharashtra unit vice-president Prasad Lad as its candidate for the Legislative Council bypoll.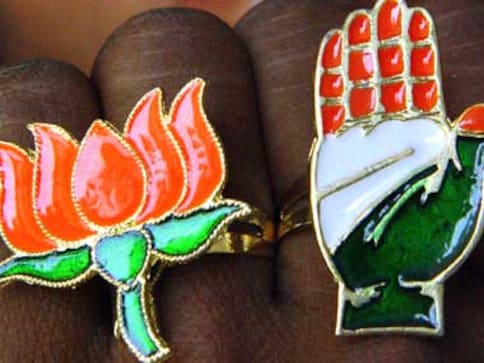 Despite rumours that BJP may field former chief minister Narayan Rane for the Legislative Council bypoll slated for 7 December, the saffron party on Monday announced its Maharashtra unit vice-president Prasad Lad as its candidate.
Soon after his candidature was announced, Lad, who joined BJP last year, filed his nomination papers at Vidhan Bhawan.
The bypoll is being held for the seat vacated by Rane who quit Congress in September. On 1 October, Rane had formed a new political party called Maharashtra Swabhiman Paksha, saying he would support the BJP-led NDA.
The candidature of Lad, said to be close to Fadnavis, has come as a disappointment for some in the BJP who felt the party's state unit chief spokesperson Madhav Bhandari deserved the Council bypoll nomination.
Lad is a former NCP leader who had defected to the BJP last year. The businessmn-turned-politician is said to have wide-ranging contacts and has deep pockets, according to DNA.
In December 2015, Lad had contested as an independent to the state council and lost to Congress nominee Bhai Jagtap.
On the other hand, Congress has fielded former legislator from Solapur Dilip Mane to take on Lad.
The winner will need votes of at least 145 MLAs in the 288-member Lower House.
In the Assembly, the BJP has 122 members, followed by Shiv Sena (63), Congress (42), and NCP (41).
Though the Congress-NCP alliance is behind the ruling combine in the Assembly in terms of number of members, MPCC chief Ashok Chavan had told reporters that Mane will emerge victorious due to an 'invisible arrow'. The bow and arrow is the symbol of Shiv Sena.
"Sena is unhappy over issues like farmers loan waiver. It recently repeated its threat to pull out of the government. Going by the political situation, the 'invisible arrow' will help Congress win the poll," Chavan had said.
With inputs from PTI
Politics
Several BJP leaders downplayed the impact of Mukul Roy's return to TMC, with Dilip Ghosh saying Roy himself wasn't sure whether the BJP 'gained anything'
Politics
Before his death, Prasada Sr who had contested and lost against Sonia Gandhi for the leadership of Congress was totally disillusioned with the Congress and Gandhis, in particular