Spontaenous, less-filtered, no media interference: PM Modi's townhall idea was a masterstroke
The technology-savvy Narendra Modi's first experience of a 'townhall meeting' with Facebook CEO Mark Zuckerberg at Menlo Park, California in September 2015 came handy for the Prime Minister on Saturday evening.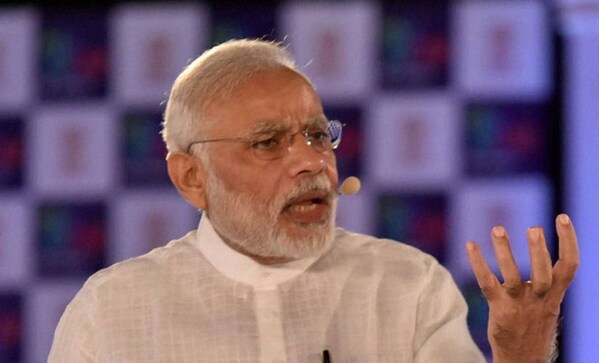 Prime Minister Narendra Modi is a good learner.
The technology-savvy Narendra Modi's first experience of a 'townhall meeting' with Facebook CEO Mark Zuckerberg at Menlo Park, California in September 2015 came handy for the Prime Minister on Saturday evening. He chose the second anniversary of the government's digital platform initiative to engage with the citizens —'MyGov' — to introduce the townhall concept in politics and governance in India for the first time.
Modi, who has a strong presence on social media, has been a pioneer in mastering the art and science of communication with the help of technology. During the 2014 Lok Sabha elections, he addressed his voters through 'virtual presence campaign using big LCD screens'.
Even four years ago in November 2012, Modi, who then was the Gujarat chief minister, had delivered a public address simultaneously at 26 different locations in the state using '3D holographic volumetric projection technology'. At the first ever townhall meeting on Saturday, the PM had public interaction on a wide range of issues like grievances redressal system, governance, preventative healthcare, boosting economy and agriculture sector, and promotion of Khadi and Smart cities, among others. He also eventually spoke on gau raksha (protection of cows), a topic on which he has been maintaining a stoic silence.
Many would like to know why Modi chose to address a townhall.
"Townhall is an evolving concept. It's more spontaneous, less filtered and more widened. That's why, Narendra Modi, who is looking for a change, has chosen to communicate with citizens directly by making use of this interface, which minimises the interference of media and political parties. In fact, Modi has become a pioneer by using it in India in governance," says MD Nalapat, a political analyst and professor, Geopolitics, Manipal University.
"Our administrative system, which continues to function on the colonial pattern of bureaucracy, has to change. It needs to be more transparent, accountable and citizen-centric, with horizontal mobility. And here, Modi has recognized the fact that citizens are more empowered now than in the past, and politicians need to devise to cope with additional empowerment," adds Prof Nalapat.
A townhall meeting — a western concept — is an informal public meeting between citizens and public figures. It is often used by politicians during campaigns or when important issues arise. It dates back to the 17th century, when government officials held these meetings for the purpose of discussing issues related to budgets and laws related to the community. The meetings were often held in the local townhall and thus, the name.
During his townhall with Zuckerberg, the PM had acknowledged the power of social media and technology, and had said during interaction with the public, "When I joined social media, I never imagined I will become Prime Minister one day. Social media brought a big change in my thought process. The power of social media today is that it can tell governments where they are going wrong...social media allows governments a chance to fix their mistakes."
A townhall meeting of his own was an obvious next step for Modi, whose penchant for technology is well-known. That is an important qualification in a country which has been clocking the highest yearly growth rate of Internet penetration.
Find latest and upcoming tech gadgets online on Tech2 Gadgets. Get technology news, gadgets reviews & ratings. Popular gadgets including laptop, tablet and mobile specifications, features, prices, comparison.
News & Analysis
While some initially thought the hack was the work of professionals, it turns out the "mastermind" was a 17-year-old recent high school graduate from Florida,
World
India has joined a long list of countries in which concerns have been raised about whether such institutes are propaganda arms of the Chinese State
News & Analysis
The twin executive orders that will take effect in 45 days, cited national security concerns.