Sonia's salvo: Why Congress president's 'emotional outburst' is a clever political ploy
Vajpayee underestimated her political acumen and paid heavily for it. Going by her surefooted performance in Kerala yesterday, Sonia showed that under her, Congress still remains a force to be reckoned with.
"Phir kabhi kisi Salim se mat kehna… yeh mulk uska ghar nahi," said Salim in Aamir Khan's blockbuster Sarfarosh.
Emotion always wins in India. Heart dominates over the mind in our popular culture. The Bollywood scriptwriters always knew that. Some of our most memorable dialogues are a syrupy concoction of melodrama. Like this cult exchange in Deewar:
Vijay: Aaj mere paas paisa hai, bangla hai, gaadi hai, naukar hai, bank balance hai, aur tumhare paas kya hai?
Ravi: Mere paas maa hai!
Sonia Gandhi is a far more astute politician than critics give her credit for. Her elastic ability to bounce back from adversity and give it back while on the ropes, is a remarkable quality for a politician. It was no sudden outpouring of sentiment during an election rally in Thiruvananthapuram on Monday that forced open the floodgates to her heart.
The Congress president's "outburst", where she dramatically admitted to her well-documented Italian origins and proclaimed India as the place where she would like to breathe her last was a political masterstroke, aimed at blunting the jibes made by Narendra Modi a day earlier.
Working the electorate with supreme confidence, Sonia was making an emotional pitch to tap into Indian cultural mores which puts total submission on the highest pedestal and lends its practitioner an instant moral infallibility.
This wasn't the Congress president at her weakest, replying with a stifled sob to the unkind cuts her adversary had inflicted the day before. This was Sonia at her strongest, calculating that how most Indians 'feel' about an outcome may overrule their purely cognitive rationality.
On Sunday, Modi had attacked Sonia over the AgustaWestland chopper scam.
"Madam Soniaji, aap ki yeh himmat? You are spreading lies… about the helicopter deal," Modi said. "Our government has not mentioned your name or your party's name in the last two years. The names have come from a court in Italy."
"Do you have anyone you know in Italy? Do you have relatives in Italy? Have you been to Italy? Does anyone know you in Italy? Everyone knows who has an Italian connection," a sarcastic Modi had asked the crowd in Thiruvananthapuram.
Backed into a corner, Sonia sought to fight this legal and political challenge with an emotional response.
She replied that the Prime Minister can "sink to whatever depths he wishes to challenge my integrity, but he cannot take the truth away from my commitment and love for India, my country".
"It is here that I will breathe my last and it is here that my ashes will mingle with those of my loved ones. I cannot expect the PM of India to understand these feelings, but I know, I'm sure you will," she said, choking on tears. The sole objective of the Modi government is to indulge in "character assassination" of political opponents and "spread lies", she suggested.
A culture that puts emotion above cognitive reasoning may ignore facts and let sentiment play a major part in persuasion, social influence and attitude change. As a politician, Sonia understands this perhaps better than her peers.
The UPA government was mired in scams during its decade in power, the long shadow of which continues to haunt her but Sonia sought to turn that into an advantage. Though an Italian court judgement has put her in the centre of the controversy, the Congress president insinuated that those were "all lies" and part of "character assassination".
She was, importantly, also laying the groundwork for charges of political vendetta, should the investigative process reach her doorstep in the future.
As the denouement approached, Sonia made a total surrender before the electorate.
"Yes, I was born in Italy. I came to India in 1968 as the daughter-in-law of Indira Gandhi. I have spent 48 years of my life in India. This is my home. This is my country. For all of my 48 years here, the RSS, BJP and other parties taunted me to shame me for my birth. I was born to proud and honest parents. I will never be ashamed of them. Yes, I have relatives in Italy. I have a 93-year-old mother and two sisters."
Sharad Pawar, who along with PA Sangma and Tariq Anwar was shown the door by Congress for raising the matter of party chief Sonia Gandhi's Italian origins in 1999, recalls in his book 'On My Terms-From the Grassroot to the Corridors of Power' how at a function in Mumbai a university girl had asked him "in a country of one billion people, why can't the Congress find a leader of Indian origin?"
"The fact that the question was posed by a member of the younger generation indicated that the issue had reached far and deep. This means the foreign origin issue (of Sonia Gandhi) would take centre stage in election," Pawar, who floated Nationalist Congress party (NCP) the same year, says in the book.
In 2002, Tamil Nadu Chief Minister J Jayalalitha had attacked the Congress president by raising the issue of her foreign origin saying that having her as India's Prime Minister would be a "disaster."
So, it isn't just RSS and BJP who have targeted her Italian origin. However, every time the issue has been raised, Sonia has turned it into a political opportunity. In 2004 after freshly beating Atal Bihari Vajpayee, Sonia had famously obeyed the dictates of her 'inner voice' in "renouncing the Prime Minister's chair" and handing it to Manmohan Singh instead. The narrative then was shaped around how Sonia had dipped into the core element of Hindu philosophy and practice of "renunciation".
Vajpayee underestimated her political acumen and paid heavily for it. Going by her surefooted performance in Kerala on Monday, Sonia showed that under her, Congress still remains a force to be reckoned with.
India
What is needed is transparency, clear guidelines, and the merciless crushing of personal agendas peddled as "facts"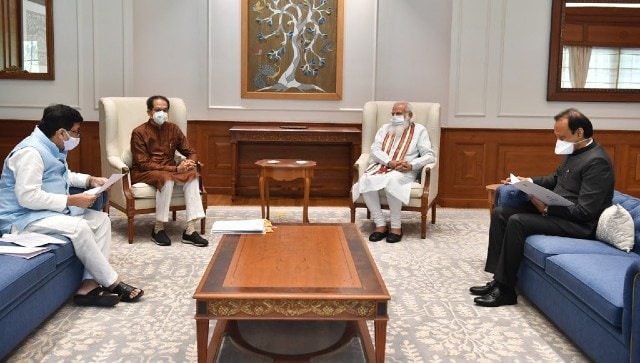 India
Maharashtra deputy chief minister and senior NCP leader Ajit Pawar and senior Congress leader Ashok Chavan also accompanied Thackeray during the meeting with the prime minister
Politics
Before his death, Prasada Sr who had contested and lost against Sonia Gandhi for the leadership of Congress was totally disillusioned with the Congress and Gandhis, in particular