Sonia Vs Modi: Who is the real divisive leader?
Modi may or may not be divisive, but the critical question is 'divisive for whom?' Has Sonia's Congress been any less divisive?
The emergence of Sonia Gandhi on the electoral maidan in Chhattisgarh in the final stages of campaigning allows us to examine two larger questions that everyone has been talking about: who is India's really divisive leader, and what is the real successful model for an Indian politician?
Her aggressive language against the BJP and Narendra Modi in a state which has actually implemented her pet food security project competently is part of a well-thought-out plan to hide who the really divisive leader in India is: Sonia herself. She attacked the BJP for its "greed for power" - as though political parties are somehow supposed to abjure power - but the last 10 years show who has shown real greed for power.
While it is fashionable for a hypocritical liberal elite to convince themselves that Sonia's foreign origins do not matter in "secular" India, the truth is large sections of Indians are privately uncomfortable with her emergence as India's most powerful politician on the basis of patronage and Congress sycophancy.
Her origins are not merely the pet peeve of the Sangh Parivar. Sharad Pawar left the Congress on this issue. Mulayam Singh Yadav did not back her for PM in 1999 for the same reason. Jayalalithaa made Sonia Gandhi an issue in the 2009 elections. Mamata Banerjee fell out with the Congress because Sonia would not allow her party supremacy in Bengal. Pranab Mukherjee would never have gotten to be President if Sonia Gandhi had had her way, but fear of a Mamata-Mulayam deal on APJ Abdul Kalam drove her to back him. Mukherjee knows that Sonia has no love lost for him.
Put another way, discomfort with Sonia is more widespread that we assume it to be. It is another matter that many of these politicians need her today for their own reasons, but that is another story.
The reality is that a huge number of Indians and Indian politicians find Sonia an affront to their own search for nationalism in post-colonial India but are afraid to speak up for fear of being labelled narrow-minded or communal. In her own intuitive way, Sonia Gandhi sensed this in 2004 and that is why she chose to keep away from the prime ministership an nominated an ineffectual yes-man to do her job.
Today, she realises that the same divisiveness her origins generated earlier may stick to her ineffectual son too, and in order to neutralise this the Congress strategy is to build up the bogey of Narendra Modi's divisiveness so that the Dynasty's own inherent divisiveness is glossed over. This project would have died an unsung death if Vajpayee had won in 2004 and LK Advani in 2009, but fate decreed otherwise, and it is in Sonia's interest now to foster further divisiveness by demonising Modi.
Thanks to 2002, it is not difficult to paint Modi as a "divisive" figure. Let's assume for a moment that that is true, but the real question is: divisive for whom? If you line up all the critics of Modi and his alleged "divisiveness" you will find that it is the Congress-Left-Secular Delhi "liberal" elite that finds him "divisive". If some of the regional parties are today parroting this same story of Modi's divisiveness, it is because it suits their short-term electoral purposes.
I would define a divisive leader as one against whom diverse and inimical political interests are willing to temporarily band together to dislodge him/her from power. Independent India's first divisive ruler was Indira Gandhi, to dislodge whom the entire range of opposition parties banded together in the late 1960s and 1970s. The consensus over her "divisiveness" ended after the basic objective was achieved. Modi too fits this definition, but as I will show later, he is not the exception, but the rule, for successful politics in India.
Another characteristic of a "divisive" leader is the ability to act decisively and achieve something by neutering those opposing him/her. Again Indira Gandhi and Modi fit the bill. Both neutralised those who could place roadblocks in their path and acted decisively - Indira Gandhi on Bangladesh and Modi in the fields of governance and economic growth. Decisive leaders stand for something, and by definition all those who dislike this "something" will oppose them. This makes them naturally divisive.
However, there is a third and vital element that should be a critical benchmark for separating truly divisive leaders from those who are merely assertive and powerful: politicians who actually seek to divide for their own narrow interests. If you leave out 2002, the cap fits the Congress party and assorted "secularists" better than Modi. Modi may have been divisive once in 2002, but the Congress has been divisive all through after Nehru.
Here's why. The real cause of divisiveness in India stems from the Dynasty's monopoly on power and our first-past-the-post electoral system which puts a premium on divisiveness. Our system enables huge victories on the basis of a small minority of votes - which makes it important for politicians to encourage divisiveness in order to consolidate smaller caste and communal vote banks.
When small minorities of rulers have to consolidate power over diverse majorities, they have to divide to rule. The Brits ruled over us by sharpening our natural diversities and converting them into major faultlines of caste and religion. The Congress governments that ruled after independence followed suit. The successful regional parties of today (Samajwadi, BSP, Trinamool) have also chosen to do the same – though on a smaller scale.
The Congress party's success depends on dividing the so-called majority and then using scare-mongering techniques to give the minorities a stake in using their votes as vetoes in elections. This is what kept the Congress in power for so long. This divisiveness did not matter when Nehru was around, because he was a towering leader, and had natural stature and popularity after the freedom struggle. But once he was gone, Indira Gandhi found that in order to consolidate power, it was even more important to divide to conquer.
She was India's first divisive leader. Rajiv Gandhi was India's second. He won 1984 by polarising the Hindu vote against the Sikhs after the assassination of his mother. VP Singh was the third, for he felt the need to divide the majority community again to come to power. A pure anti-corruption platform in the wake of the Bofors controversy was not enough, so he decided to divide society on the basis of forward castes and OBCs.
It was in reaction to this repeated effort to divide that the Sangh Parivar and the BJP decided that fighting divisiveness needed bringing in a divisiveness of their own – a consolidation of the so-called majority vote. This is what the elite has chosen to label as "divisiveness", forgetting the history of divisiveness we have seen all through.
To fight the natural divisiveness fostered by our electoral system, both national and regional parties needed to create unifying factors beyond caste and religion – and this formula was first discovered by the regional parties, which saw the importance of building parties based on charismatic personalities who could appeal across narrow divides and win a majority. The formula is this: create a small coalition of big castes, and then use the power of personality to draw in the floating vote to win.
Whether it is Jayalalithaa or Mamata Banerjee or Mayawati or Naveen Patnaik or the late NTR or Nitish Kumar or the Abdullahs of Kashmir, Indian political parties have used a combination of caste factors and overarching personality power to build viable majorities based on a minority vote.
In short, even though India's system is first-past-the-post and parliamentary, our successful political parties are all presidential and personality-driven.
It is this successful regional model that the BJP has now adopted by projecting Modi. The regional model is going national now. Modi is no more divisive than Jaya or Maya or Mamata, but the Congress needs to project him as one in order to retain its tenuous hold on power by frightening the minorities.
Modi's divisiveness is part myth; but it needs fostering in order to allow genuine divisiveness to cleave the polity. 2014 will show whether the electorate will respond once more to Sonia crying "wolf" once more. Or show her the door.
Politics
Modi came down hard on the chief minister, accusing her of instigating people against central forces on election duty in the state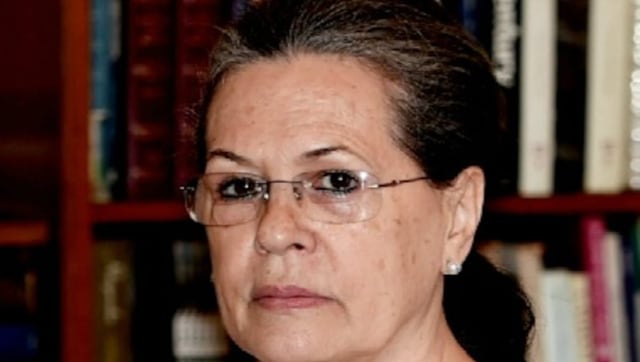 India
The Congress interim chief also called for exemption from Goods and Services Tax for all equipment, instruments, medicines being used in the fight against the COVID-19 pandemic
Politics
Forty-four assembly seats are going to polls in the fourth phase of the Assembly polls in Bengal on 10 April