Sonia Gandhi's Women's Reservation Bill is a bad idea which disregards merit, hurts democracy
The Women's Reservation Bill tries to tackle a serious problem through a supposedly morally superior way but instead hurts democracy.
In a widely shared letter to the Prime Minister, Sonia Gandhi recently pitched for the passage of the Women's Reservation Bill in the Lower House (it has already been passed in the Upper House). She described this as "significant step forward in the empowerment of women" and that "the Congress Party has always supported and will continue to support this legislation". The Bill which mandates reservation of one-third seats for women in Parliament and Legislative Assemblies has caught the attention of others in the opposition (CPM, TRS) and it is reported that the BJP government is actively considering passing it in the Winter Session in the Parliament.
Unsurprisingly, the demand has generated some enormously good coverage and many commentators have urged the Prime Minister to heed and follow Sonia Gandhi's advice. Why would anyone, they argue, not be in support of a Bill that encourages women's participation in politics? After all, the percentage of women in the Lok Sabha has gone up by only a small margin from 4.4% in 1951 to 11% in 2014 and at this pace, it will take another 180 years to reach the gender balance that the Bill seeks to create.
To be sure, our country will be better off with a lot more women engaged in politics and many genuinely want to see that happening quickly. The fact that we only have 62 women in the Lok Sabha is a statistic that should depress us and move us to make genuine effort to make political participation more accessible to women. But in our quest and urgency to rectify this serious problem, are we moving forward by using a wrong approach? Do we really need a law that discriminates between individuals on the basis of gender? Are we right in forcing voters to choose between men & women rather than pushing them to vote on how meritorious the individual candidate is? The solution often matters as much as the real problem and the solution here—the idea of quotas for women—suffers from serious flaws and limitations.
First, there is a growing temptation among the bill's most vociferous supporters to disregard any opposition to the bill as sexist. No one is making the case against increase in women's representation in legislative bodies but the argument is against the chosen instrument or method to achieve that goal. The tendency to paint all those opposing it as anti-women is a mistake. One can raise a demand for greater women's representation while arguing against a state-backed mandated quota. In fact, opposing quotas based on gender isn't sexist, but is actually about standing up against discrimination on the basis of gender.
Second, there are several issues with the way the bill has been drafted. For instance, how did the politicians who drafted the bill decide on the quantum of representation of women in the Parliament or legislative assemblies? Why block only one-third of theseats? Why not a figure close to 50%? After all, if you wish to achieve gender balance, then why not go the whole hog and reserve seats proportionate to the population of women (48%)? If Sonia Gandhi really wishes to "empower women" then she is only doing a half decent job at it. On the other hand, the bill fortunately contains a sunset clause—the relevant provision herein states that such reservation will end "on the expiration of fifteen years after the commencement of the Act". However, this seems implausible and far-fetched. Political parties in all likelihood will amend it so that it extends beyond this timeline. It is difficult to imagine that any politician will have the guts to oppose such trickery and scheming. Essentially, the policy is that once reservation is granted, it will not be withdrawn.
Third, such a measure is the wrong way to deal with the problem of under-representation of women in politics. It disregards the choices that voters make in elections, distrusts them and tells them what is right for them. It erroneously concludes that we need more women to raise women-centric issues, it focuses on numbers rather than merit and it fails to understand why few women run for office in India (only 640 out of 8205 candidates in 2014 union election were women). Our politicians instead need to have a real conversation with the masses on issues such as patriarchy, cultural stigmas and social pressures which act as barriers of entry for plenty of women.
Fourth, it creates a serious conflict for many activists who consider themselves as staunch feminists. For years, they have argued that there are essentially no differences between men & women and that roles can be easily switched between the two. On the other hand, they demand special quotas for women because they feel women will otherwise not be allotted tickets and be able to win elections on their own. This is a strange contradiction and this obsession with gender-friendly policies will only end up harming the intended beneficiaries: women. If our politicians do indeed care about equality—they need to publicly build up their case for greater women representation (maybe by offering reservation in their own political parties first or making political funding more transparent) rather than super-impose their wishes upon the rest of us through legislative mandates.
Fifthly and finally, this sets a bad precedent. Rather than incentivising women to enter politics naturally, this uses a complex, coercive method. Where does the politics end for reservation of seats? We have 131 seats reserved for SC/ST's and we are now clamoring for reservation for women. What next? The ripple effects of such policies are often multi-fold and the unintended consequences are substantial.
The bill tries to tackle a serious problem through a supposedly morally superior way but instead hurts what we should care about the most—our democracy. Our politics these days is often seen through the lens of what is fashionable or morally correct rather than what is logical. That must change. Women should be treated as individuals allowed to pursue what they want and voters should have the freedom to choose their representatives. That is what a real, strong democracy looks like.
Find latest and upcoming tech gadgets online on Tech2 Gadgets. Get technology news, gadgets reviews & ratings. Popular gadgets including laptop, tablet and mobile specifications, features, prices, comparison.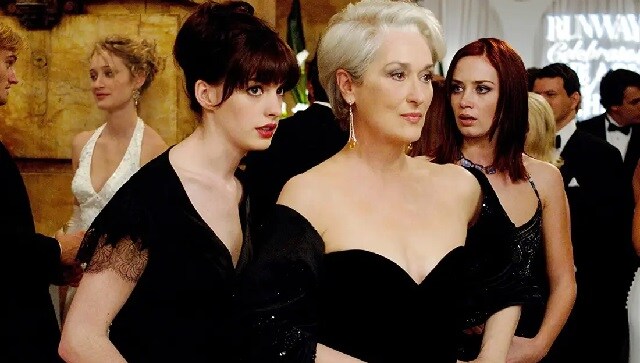 Entertainment
Despite having two women at its centre, The Devil Wears Prada ended up reaffirming and perpetuating harmful gender stereotypes for the most part.
World
Nawaz Sharif remains the most popular leader in Punjab, the province that functions like the controlling authority of Pakistan
World
The decomposing corpses of ideas feed and sustain the toxic cesspool our intellectual and social life has become