Sonia Gandhi's dinner politics: Exclusion of Andhra-Telangana parties shows Congress' failure to mend ways
It seems that for Sonia Gandhi, the number of parties at her dinner table is more important than what they bring to the 'Opposition unity' move against BJP.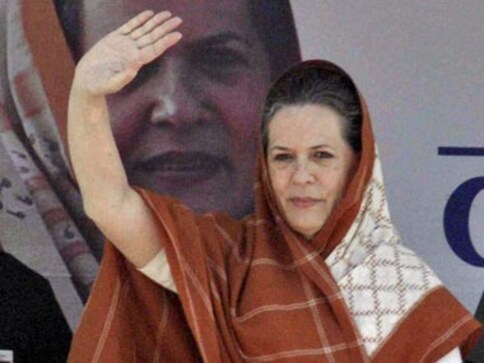 It seems that for Congress' Sonia Gandhi, the number of parties represented at her dinner table is far more important than what substance they bring to the 'Opposition unity' movement against the BJP-led NDA, ahead of the 2019 General Elections.
For nothing else can explain her decision to not invite parties that matter in the states of Andhra Pradesh and Telangana. The two states taken together account for 42 MPs in Parliament. Right alliances in these very states could help swing fortunes in Congress' favour in 2019.
While the Grand Old Party is boasting of the possible presence of representatives of 17 parties at Sonia's dinner, no political party of import in Andhra and Telangana – Chandrababu Naidu's TDP, K Chandrashekhar Rao's TRS, Jaganmohan Reddy's YSR Congress and Asaduddin Owaisi's AIMIM – has been considered 'worth' an invite by the former party president.
In 2004, it was Andhra Pradesh that had contributed the most in scripting a historic win for Congress – and defeat for Atal Bihari Vajpayee-led NDA. Out of the 42 seats available of the then united Andhra Pradesh, Congress on its own had won 29. With allies, which included TRS, it won 34 seats. The party, under the charismatic leadership of YS Rajasekhara Reddy (YSR), further increased its tally in 2009 to 33 on its own, enabling the Congress-led UPA to return to power with an improved overall tally.
Things changed for Congress in the state after YSR died in a chopper crash in September 2009 and then ahead of 2014, when Congress strategists went for a hurried bifurcation of Andhra Pradesh to create the new state of Telangana. Telangana was a long-standing demand championed by TRS and the Congress under the leadership of Sonia thought that bifurcation would help boost its electoral prospects, which otherwise had dwindled. The manner in which the Manmohan Singh government chose to create Telangana out of united Andhra left people and parties in both the states complaining of marginalisation.
The parliamentary poll results of 2014 proved that the bifurcation of Andhra Pradesh made Sonia and Congress hated figures in both the states. The Congress scored zero in 25 seats of Andhra and could manage to win only two of 17 seats in Telangana. Things have not improved for the Congress since. In fact, a number of party leaders over the last four years have deserted to other parties in the two states.
The list of invitees for Sonia's dinner shows that Congress leadership has not learnt its lessons, nor is it inclined to take a step forward to mend its ways.
Why Sonia didn't invite Naidu is understandable to an extent – though, the TDP has pulled out two of its ministers from the Narendra Modi government at the Centre, it continues to be a part of the NDA. The Congress looks up to Naidu as its prospective ally post-2019 elections, just as it was eyeing Nitish Kumar in Bihar as its prospective ally in 2013-14.
But then, there is a difference. While Nitish was still part of the NDA and was running the coalition government with the BJP, the Congress had started sending overt feelers to him since 2012. Whereas, in Naidu's case, the Congress' prospective alliance with him and his party TDP is only in the minds of Congress leaders.
Party president Rahul Gandhi's support for TDP's demand of special category status to Andhra Pradesh means nothing. Optics apart, the TDP realises follies of his promise for the Congress was the party in power when the state was bifurcated – the then Prime Minister Manmohan Singh in his statement had mentioned special category status to Andhra but was never mentioned in the Act.
It is indeed difficult to understand why Sonia left out TRS, YSRCP and AIMIM. Let's take up the possible reasons one by one. Reddy's YSRCP has a huge support base in Andhra Pradesh and also in parts of Telangana. Reddy, the son of YSR, was essentially a Congressman and parted ways with Congress to form his own party when he thought the party his father nurtured in the state would not give him his due. Reddy though is sympathetic to Modi but is not part of the NDA. The Congress could have persuaded him to join hands with the party where his political DNA rests.
Telangana chief minister and TRS chief Chandrashekhar has openly come out against Modi and the BJP. He is also an old ally of the Congress. In fact, in the UPA-I government, Manmohan had called him "a Yogi in politics". Perhaps the Congress is wary of the independent posturing Chandrashekhar is now trying to create – by reigniting his proposal for a Third Front as an alternative to both BJP and Congress, and his desire to lead that prospective formulation.
Yet another erstwhile Congress ally, Owaisi, has also not been invited. Owasi has a substantive following in Muslims in the state and amongst the younger Muslim community across the nation. But the Congress is perhaps wary of aligning with him again. It should be noted that at the recently held India Today conclave, Sonia had suggested that Rahul was visiting so many temples to dispel the notion that Congress was a "Muslim party".
Interestingly, the Indian Union Muslim League has been invited but not Owaisi. This is perhaps because Owaisi evokes a much stronger response from the Hindu community, which is why Congress is wary of inviting him to the high table photo-op.
The list of leaders and parties invited include one-member-MLA parties and a one or even zero-member-MP party; but, for wider public perception, the headcount makes an impression.
Sonia's previous bid for Opposition unity or her 'lunch diplomacy' during last year's presidential and vice-presidential elections didn't have any lasting impact. In fact, while that so-called Opposition unity move was in motion, Nitish deserted the Sonia camp to rejoin the NDA.
Since then, the Congress' alliance with the Samajwadi Party has fallen apart. Samajwadi Party realised that its alliance with Congress was detrimental to its electoral health and dumped the party in the recent in bypolls to two parliamentary constituencies to join hands with the BSP.
also read
Politics
Congress leaders Rahul Gandhi, Priyanka Gandhi and Deepender Hooda targeted the central government for shielding BJP MP and WFI chief Brij Bhushan Sharan Singh.
Opinion
It's on the Congress leader to decide if he wants to fall into this dubious, dangerous Western trap. For, he may gain power but lose the nation. Worse, he may lose both power and the nation — after all, what's bad for the nation cannot be good politics either
Politics
Rahul Gandhi claimed, 'What is happening to the Muslim community in India today, happened to the Dalit community in 1980s'