Sonia Gandhi hosts dinner for Opposition parties; Congress says meeting organised for friendship, amity
Leaders of 20 opposition parties tonight got together at a dinner hosted by where possibilities of putting up a united front to defeat the BJP in the next general elections were discussed.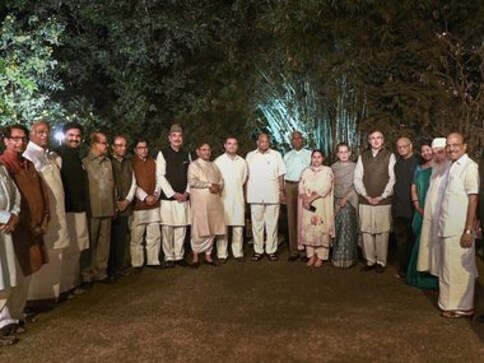 New Delhi: Leaders of 20 Opposition parties got together at a dinner hosted by Sonia Gandhi where possibilities of putting up a united front to defeat the BJP in the next general elections were discussed.
The move is being seen as an attempt to forge Opposition unity to defeat the BJP-led NDA.
According to sources, leaders of NCP, RJD, Samajwadi Party, Bahujan Samaj Party, Trinamool Congress, DMK and Left parties attended the dinner among others.
The prominent leaders in attendance were NCP's Sharad Pawar, SP's Ram Gopal Yadav, BSP's Satish Chandra Misra and former chief ministers Omar Abdullah, Babulal Marandi, Hemant Soren and Jiten Ram Manjhi, besides JD(U)'s Sharad Yadav and RLD's Ajit Singh.
The RJD was represented by both children of party chief Lalu Prasad -- former deputy chief minister Tejashwi Yadav and Misa Bharti.
The others present included TMC's Sudip Bandyopadhyay, CPI's D Raja and CPM's Mohammad Salim, DMK's Kanimozhi, AIUDF's Baddrauddin Ajmal and leaders of Kerala Congress, besides Kupender Reddy of the JD(S).
Sonia, Rahul Gandhi, former prime minister Manmohan Singh, Ghulam Nabi Azad, Mallikarjun Kharge, Ahmed Patel, AK Antony and Randeep Surjewala were among the Congress leaders present.
According to sources, leaders of Andhra Pradesh's ruling Telugu Desam Party, which recently pulled out its ministers in the Modi government but continues to be a constituent of the NDA, the BJD, and the TRS were not invited. The BJD and the TRS rule Odisha and Telangana respectively.
The dinner was hosted at the 10 Janpath residence where the leaders discussed the possibilities of all Opposition parties getting together on one platform to defeat the BJP in 2019 Lok Sabha elections, sources said.
Sonia Gandhi had earlier called for Opposition unity, saying parties should set aside their minor differences to get together in the larger interest of keeping the BJP out of power.
Congress communications incharge Randeep Surjewala said the dinner was not organised for politics, but for amity and friendship among Opposition parties.
He claimed at a time when the government was not allowing Parliament to function, it was obvious that leaders of various parties, who wanted to raise issues in national interest, would get together to discuss the current political situation.
"This dinner was not hosted for politics, but for amity and friendship. The intention is not political, but to hold discussions in family-like setting at a time when the nation is confronted with a number of issues and thousands of crores being taken out of the country," Surjewala told reporters after the dinner.
He said Opposition leaders got together to discuss issues in national interest, create bonhomie in the Opposition and exchange views. He also accused the government of running away from a debate on key issues such as banking frauds.
Find latest and upcoming tech gadgets online on Tech2 Gadgets. Get technology news, gadgets reviews & ratings. Popular gadgets including laptop, tablet and mobile specifications, features, prices, comparison.
Politics
This comes in the backdrop of a heated debate that reportedly ensued at a closed-door meeting of Congress Rajya Sabha MPs
India
Congress leader Rahul Gandhi tweeted that the removal of the document from the website would 'not change facts.'
Politics
Rahul said this while participating in the Congress' online campaign to expose what it called the BJP's designs to topple the Ashok Gehlot government.