Sonia Gandhi and the art of mystery branding
The key to Sonia's success is the mystery quotient about her. The less you know about her, the stronger her brand value.
Who is Sonia Gandhi? Do we the citizens of this country really know her? What are her views on various things? What does she think about the current state of the Indian economy? What does she think of the government which she runs on "remote control", like Balasaheb Thackeray once did? When she went abroad recently for medical treatment, what is it that she was suffering from? Does it bother her that her only son Rahul is in his forties now and is still unmarried? Does she find time to be with her two grandsons? Are her Hindi speeches written in Roman script?
Pardon me for being rhetorical, but I am just trying to make a broader point. The citizens of India don't have answers for any of the questions asked above. They need not have answers for every question. But they definitely need to know her views on the Indian economy, the government she runs on remote control and the medical illness that plagues her.
The other questions are personal and answering them would just satisfy some curiosity and nothing else.
The fundamental question that arises here is why is there so much mystery surrounding Sonia Gandhi? Nobody currently influences the economics and politics of India more than she does. But when was the last time you read an interview with her and heard her interacting with the media?
The answer behind all her mystery might very well lie in the art of branding a product. As brand guru Martin Lindstrom writes in Buyology – Truth and Lies About Why We Buy, "Mystery is a fascinating component as many brands leverage this in order to make us pay more for a brand."
And so many big brands make mystery their selling point.
Ye PSPO nahi jaanta, went the catch line of an advertisement of Orient Fans. Towards the end of the advertisement it was revealed that PSPO stands for "Peak Speed Performance Output." Now what does that mean?
Or take the case of ZPTO yukt naya clinic All Clear. What does ZPTO stand for?
Or take the case of Tata Xenon XT, the new car from Tata Motors. What does XT stand for?
Or Johnson's natural baby oil with aloe vera? What is aloe vera?
Or products like Ariel Oxyblue and Opti-ThickTM Harpic?
All these abbreviations and terms stand for something. PSPO is a technology that uses lesser electricity to deliver more air, over a larger area. ZPTO is a microbiocide, which is supposed to kill microbes which cause dandruff. But dandruff can happen for a lot of other reasons as well.
The XT in Xenon XT stands for Cross Terrain. Aloe Vera is a plant with supposed medicinal qualities and has been often cited as being used in herbal medicines. It is even mentioned in the New Testament (John 19:39–40)
Do most consumers understand what do these terms mean? The answer in most cases would be no. But do these terms matter to consumers when they make a buying decision? Yes, they do. The mystery associated with such terms, makes the product more appealing to consumers.
"Take the Sony Trintron TV for example. What is Trintron? No idea. It's some technical mystery, which claims that the TV is better - it sounds technical and fancy and seduces us to believe this is something very special. This is mystery in action," says Lindstrom.
The case with Sonia Gandhi is very similar. The "mystery" associated with her along with her foreign origin makes her very appealing to the Indian voter.
And she goes out of her way to maintain the mystery. The recent "circus" in the run up to the presidential election is a good case in point. Mamata Banerjee, the Chief Minister of West Bengal, went to meet her to discuss who would be the presidential candidate of the United Progressive Alliance (UPA). Banerjee came out and told the waiting press that Finance Minister Pranab Mukherjee, and Vice-President Hamid Ansari, were the two candidates on Sonia's mind. No one officially knew till then what was Sonia Gandhi's take on the issue. The cat was suddenly out of the bag.
Banerjee then went to meet Mulayam Singh Yadav and put out three candidates of her own, former president APJ Abdul Kalam, the current Prime Minister, and suspended CPI(M) member and former speaker of the Lok Sabha, Somnath Chatterjee.
But pretty soon Yadav had backed out of the so-called deal he had struck with Mamata. It is said that Sonia Gandhi had secret meetings with Mulayam Singh Yadav, and soon he was ready to support the UPA's candidate for president.
There are a couple of interesting points that come out here. One is, of course, that you don't play games with the president of the Congress party, who comes from the Nehru-Gandhi family. But more importantly it was a lesson to everyone about what happens when you talk to the press about what Sonia Gandhi is thinking on a particularly important issue. The "mystery" is important to her being and it must be maintained.
Maintaining the mystery behind a good brand goes a long way in maintain the selling point. Lindstrom provides a very good example of a shampoo launch to explain what happens when the mystery associated with a brand goes.
"When Unilever was getting to launch a shampoo in Asia, a mischievous employee with time on his hands wrote on the label, just for the hell of it, Contains the X9 Factor. This last-minute addition went undetected by Unilever, and soon millions and millions of bottles of the shampoo were shipped to stores with those four words inscribed on the label. It would have cost too much to recall all the shampoo, so Unilever simply let it be."
"Six months later, when the shampoo had sold out, the company reprinted the label, this time leaving out the reference to the non-existent X9 Factor. The company was in for a surprise. 'None of the customers had any idea of what the X9 Factor was, but were indignant that Unilever had dared to get rid of it. In fact, many people claimed that their shampoo wasn't working anymore, and that their hair had lost its luster, all because the company had dropped the elusive X9 Factor'," writes Lindstrom.
With the mystery gone, consumers thought that the brand wasn't simply good enough as its earlier version. Sonia Gandhi seems to be working on the same principle in keeping her mystery going and keeping her publicity to the minimum.
She is rarely seen speaking unless it's an election meeting, where her speeches are largely prepared in advance, unlike Atal Bihari Vajpayee who spoke impromptu on a lot of occasions. I don't remember ever reading an interview of hers. Even the few biographies written on her are largely about the days when she first came to India and was put up at the house of Teji and Harivansh Rai Bachchan. Her initial struggle to adjust to Indians ways. Her strong relationship with her mother-in-law Indira Gandhi. Her reluctance to allow Rajiv Gandhi to enter politics, after the death of his brother Sanjay. And so on. None of them get into the political side of Sonia Gandhi.
And so the mystery continues. That's what great brands are all about. If that means that Indian democracy is run out of a 'backroom' with a 'remote-control', then so be it.
Vivek Kaul is a writer and can be reached at vivek.kaul@gmail.com
Find latest and upcoming tech gadgets online on Tech2 Gadgets. Get technology news, gadgets reviews & ratings. Popular gadgets including laptop, tablet and mobile specifications, features, prices, comparison.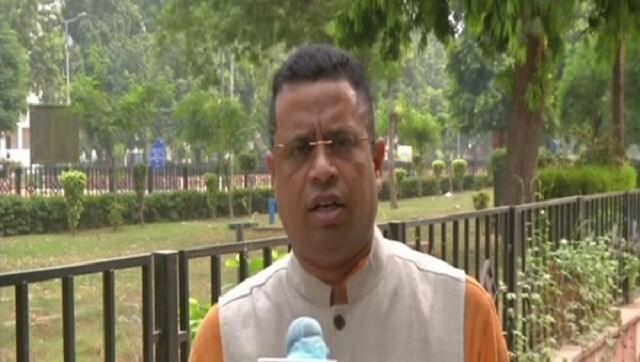 Politics
The ruling TMC has been trying to keep its flock together, as several key leaders, including Suvendu Adhikari, have, of late, openly aired their grievances against the dispensation
India
The Constituent Assembly of India had adopted the Constitution on 26 November, 1949, with the day coming into effect in 1950
India
The modalities of anti-coronavirus vaccine delivery, distribution and administration were also discussed during the meeting