Soft Hindutva hypocrisy catches on in Congress: Not just Rahul Gandhi, Siddaramaiah too harps on being a Hindu
For a Congress leader, at least for now, soft Hindutva means hopping from temple to temple with the speed of Mark Twain's Notorious Jumping Frog of the Calaveras County and shouting he is a Hindu with a tilak on his forehead
Forget Vande Mataram. The new political pop song of the Congress is:
I am a Hindu
Ha ha ha
Me too, me too
Ho ho ho
This is called soft Hindutva, if you didn't already know it. And Congressmen are clutching at soft Hindutva with the desperation of a thirsty man in a desert reaching for a soft drink.
For a Congress leader, at least for now, soft Hindutva means hopping from temple to temple with the speed of Mark Twain's Notorious Jumping Frog of the Calaveras County and shouting he is a Hindu with a tilak on his forehead. The I-am-a-Hindu chorus is sure to get louder across India soon, and you can already hear it in Karnataka, which will have its Assembly elections in five months.
First, of course, it was Rahul Gandhi, the Congress president-elect, who was forced to announce in Gujarat last week that he was a Hindu after the BJP questioned his faith. Some even circulated a foreign newspaper profile that claimed he had been brought up as a Catholic Christian. "I am a Shiv bhakt," he hurriedly announced, drawing more amused smirks than understanding nods.
Then came the confirmation from Karnataka chief minister Siddaramaiah, for the second time in five months, that he was indeed a Hindu. "Even my name has Bhagwan Ram's name," Siddaramaiah said. An impending election can even make you remember the spelling of your name, apparently.
From the very same dais where Siddaramaiah declared his devotion to Lord Ram, his public works minister HC Mahadevappa too came clean and confirmed he is a Hindu. Then followed industries minister RV Deshpande, who said, "By birth, I am a Hindu. All other people are my bandhu (relatives)."
A backward Kuruba, Siddaramaiah had first realised the need to proclaim his Hindu faith in July this year. But his earlier declaration sounded somewhat tentative and provisional, while this time around, it was bold and categorical, coming as it did after Rahul's switch to soft Hindutva.
Spot-the-real Hindu contest?
As if the I-am-a-Hindu burlesque wasn't funny enough, Siddaramaiah went a step ahead this time and turned the upcoming state Assembly election into a spot-the-real-Hindu contest. "The real Hindu is one who loves all religions," he said, "You judge who the real Hindus are. Us or BJP leaders."
As in the case of Rahul, Siddaramaiah's announcements were followed by a rant by BJP leaders in Karnataka that he was anti-Hindu.
The BJP, of course, doesn't see just Rahul and Siddaramaiah as anti-Hindu; it paints the whole Congress as an enemy of Hinduism. The Congress can only blame itself for this.
The vote bank politics of the Congress, intended to please minorities without in effect improving their lot, worked well for the party before Narendra Modi stormed onto the scene in 2014. After losing 15 elections in the past three years, the Congress has at last found that being perceived to be anti-Hindu and pro-minorities makes no sense in the election algebra of a Hindu-majority nation where the BJP thrives on Hindutva, sometimes soft, sometimes hard and depraved. The Congress finds that the soft version is the best way out, and it's natural that its soon-to-be president should lead the way.
In the past, Siddaramaiah had also led many to wonder whether he knew who he was. He seemed confused whether he was a rationalist or an atheist or an agnostic — he randomly dropped all these words. But before declaring his Hindu credentials, he set to rest all speculation on this score too, by announcing that he was not an atheist. But, he said, he believed god didn't live just in temples.
For the sycophancy-ridden Congress, Rahul is one such god who doesn't live in a temple even if he foxtrots from one shrine to another — and if not a god, at least a godsent king to vanquish the BJP. And when a pearl of divine wisdom drops from the king's wondrous lips, the minions must genuflect and repeat it after him. Siddaramaiah is not just any minion. He is no longer the same chief minister who was about to lose power a year ago after a Cabinet reshuffle that left partymen demanding his sacking. He is among the most important regional satraps of the Congress today.
In the flotsam and jetsam of the wrecked Congress ship, he shines like a lifejacket, a source of hope for the party at a time when the BJP is working towards a Congress-mukt Bharat, and the Congress itself is accused of helping that process.
Karnataka's own Captain Amarinder Singh
So it's not surprising that Siddaramaiah is called the "Amarinder Singh of Karnataka" who can buck the national anti-Modi trend and win the state for the party. Unlike Amarinder, who won Punjab for the Congress in March this year despite Rahul's allergy to him, Siddaramaiah has his full backing.
But one of Siddaramaiah's first tasks now is to rid himself of the anti-Hindu image, and he knows it. What he may not know is that it isn't as easy as it looks. That's because it isn't an image that the BJP thrust on him. It's something he seems to have diligently cultivated for himself with what could only be seen as frequent barbs against Hinduism in general and upper castes in particular. His move to empower the government to take over Hindu mutts and his enthusiasm for idolising Tipu Sultan, seen by many rightly or wrongly as an anti-Hindu king, didn't help him.
What also didn't help was his attempt to fashion himself as an 'Ahinda' leader. Ahinda is the Kannada acronym for Alpa sankhyatara, Hindulida, Dalit (minorities, backward castes and Dalits). While cosying up to minorities, he also openly supported the demand from upper caste Lingayats for a separate religion status, seen as a conspiracy to divide Hindus.
It's almost as if Siddaramaiah thought it was a great honour to be considered anti-Hindu. Or like most of India's Left-leaning intellectuals — he would like us to believe he is one, he mistook attacking the majority for true secularism.
But all this may have changed now. Rahul's tap dance of soft Hindutva shows the way.
The author tweets author tweets @sprasadindia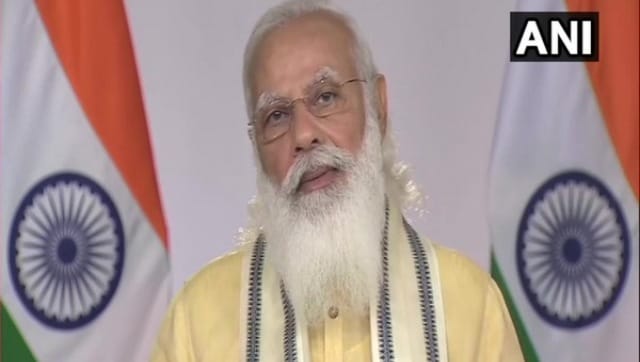 India
While the prime minister's address was no doubt a full-frontal political attack, it was in retaliation to sustained politics of slander
India
Unity in diversity is the fundamental ethos of Indian culture, land and people but the education system seems to be heading in the opposite direction
Entertainment
Lupin exploded out of the gate, becoming a global phenomenon instantly and eventually Netflix's most-streamed non-English-language original.