'Snooping' row: Congress trying to use it as an excuse to relaunch Rahul Gandhi
Congress thinks it has found an issue it can use against the Modi government, which it can also use as a platform to re-launch its missing leader, Rahul Gandhi.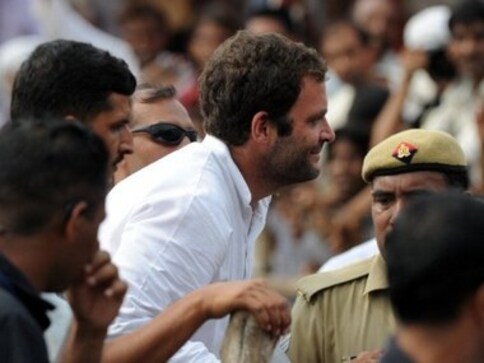 The Congress party thinks it has finally found an issue it can use against the Modi government, which it can also use as a platform to re-launch its missing leader, Rahul Gandhi.
Though the party is not sure of its leader's whereabouts or when he is going to resurface, the issue surrounding him is certain to be the latest incident to rock proceedings of both Houses of Parliament on Monday.
Congress spokesperson Abhishek Manu Singhvi was perfectly right to term the unannounced visit of Delhi Police ASI Shamsher Singh at Rahul Gandhi's official residence with a security review proforma "theatre of the absurd". But he is however stretching the matter a bit too far when he says it amounted to "political espionage, snooping, surveillance", et al.
By arguing that the party was not concerned with the actions of the Delhi Police, but instead more concerned about what the incident showed about how Prime Minister Narendra Modi wanted to deal with all his political rivals, the Congress has shown that it is too keen to try and make political capital out of an absurd act by the state police.
The party's intention in this regard was more than clear, when Singhvi said, "This kind of political espionage, snooping, surveillance and intrusion into a political opponent's life may be the Gujarat model but not the Indian model…We demand a detailed explanation from no less than the home minister and Prime Minister because this issue has far reaching implications and cuts through the very roots of democracy."
The issue could potentially shift public attention or criticism from the perpetually missing Rahul Gandhi, and is clearly aimed at portraying him as a victim who is being singed out by the Modi government for whatever reason.
The party has so far not given any convincing reason  on as to why it chose to be silent on the issue for so long and why it only decided to launch an attack on the Modi government after a news report, quoting top Congress sources was published in Times of India.
Delhi Police Commissioner BS Bassi said, ASI Shamsher Singh had gone to Rahul Gandhi's residence with a blank proforma on 3 March and had duly contacted the SPG and his staff members there to fill it up.
The ASI was asked by the Congress vice-president's personal staff members to leave it there. It's not known yet whether that performa has got filled, because it is still at Rahul Gandhi's office. Singhvi said since Congress was a "responsible political party", it first wanted to make some inquiries on its own.
But lets face it. In politics, you don't need to be convincing or on a strong factual footing to make a political issue out of an event.
Twenty-four years ago, on 2 March 1991 to be precise, two Haryana Police constables were spotted at Rajiv Gandhi's residence, 10 Janpath by security personnel. The Haryana constables were accused of snooping or spying on Rajiv Gandhi, and Congress found this to be a strong enough reason to withdraw support from the then Chandrashekher government. Chandrashekher was thus forced to resign on 6 March 1991.

The Congress's numbers have now been hopelessly reduced in Lok Sabha and as such they can't inflict any real damage on the Modi government. However the party clearly hopes to gain public sympathy by claiming that under the current dispensation, India has turned into a "Police state" and Rahul Gandhi thus could be the only hope for the future.
The Delhi Police has conducted a similar proforma exercise with regard to leaders like LK Advani, Amit Shah, PC Chacko and several others. But the Congress does not want to take any cognizance of that. Any mention of that would potentially dilute their case against the Modi government.
The party already made one case of "snoopgate" an issue against Modi during the parliamentary elections in 2014, but as results showed, it simply boomeranged on them.
This time it is making a similar shrill pitch against Modi. There are no elections this time around, but the party will be hoping that the issue will paint Rahul Gandhi in a good light, and portray Modi as a habitual wrong doer.
Singhvi cried himself hoarse in levelling conspiracy charge after charge against the Centre, but didn't offer any argument on what the possible conspiracy could be in filling a proforma that sought to record Rahul's father's name, his height, colour of eyes and hair, phone number etc. Nor did he explain what kind of Jasossi (spying) that policeman could have been doing at a place swarming with SPG, other central military forces, and hoards of Delhi police constables and officers.
This question becomes all the more significant, given that the entire world knows that Rahul has gone into some kind of hiding and will not be traceable, until he chooses otherwise.
Delhi Police Commissioner BS Bassi definitely looked a bit foolish in defending the actions of his staff but that's the way Indian police system functions, in archaically outmoded ways. It's "laughable", as Singhvi says", that the police force of the world's largest democracy's capital conducts a sensitive exercise like the security review of one of India's most powerful people in such a ridiculous and outdated fashion. Bassi was candid enough to admit that the content of the proforma, "in this age" was laughable.
But then the Congress, which ruled the nation till eight months back and for a better part of 67 years of its Independence, is also to be blamed for keeping the Police Force so backward and ill equipped.
The Congress knows that it will not get anything by hitting out at the Delhi Police and is thus blaming Modi and the Home Minister Rajnath Singh for snooping on Rahul Gandhi.
Politics
Congress leader Rahul Gandhi has brought up 'mercy' petitions written by Hindutva ideologue VD Savarkar to the British when he was in jail. It's not the first time that the petitions have triggered a row. But what is the truth? Did Savarkar ask for clemency?
Politics
In his first election rally in poll-bound Gujarat, Gandhi while addressing a gathering of tribals at Mahuva in Surat district said they are the first owners of the country and claimed the BJP was working to take away their rights
Politics
Rahul Gandhi grew his beard during the Bharat Jodo Yatra, about which Assam Chief Minister Himanta Biswa Sarma commented that Rahul Gandhi now looks like Saddam Hussain