Smriti Irani hits out at Rahul Gandhi, says he has increased his popularity through bots from Uzbekistan, Russia
Amid the raging controversy over data privacy, Union Minister Smriti Irani on Thursday launched a scathing attack on Rahul Gandhi and the Congress.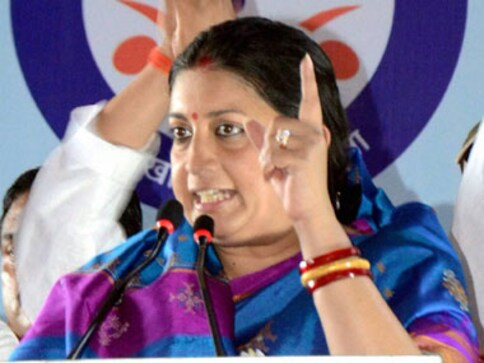 New Delhi: Amid the raging controversy over data privacy, Union Minister Smriti Irani on Thursday launched a scathing attack on Rahul Gandhi and the Congress, alleging that he had increased his popularity by using bots from Uzbekistan and Russia while his party was using technology to divide the country on caste lines.
The Information and Broadcasting Minister, who spoke at length on the debate around data theft, users' privacy and the controversy surrounding Cambridge Analytica, said it was time India had a policy for digital broadcasting and news, and that she would make some announcement in this regard "very soon".
Replying to queries on Rahul Gandhi, Irani claimed that his own constituents don't want to give him a chance, and for the first time in the past three years, all the local body elections and Assembly seats have been lost by the Congress in his constituency.
"That means that the people, he has been so-called serving for over a decade, know that this is a gentlemen who does not deliver on promises of governance, on promises of progress, on promises of prosperity.
"So when his own people have certified that he is not acceptable to us as a leader, how do you presume that I have a chip on my shoulder," Irani said at the India Economic Conclave here.
In another jibe at Gandhi, she called herself a "self-made woman" and said her identity is not defined by who her father is.
Amethi had witnessed a high-pitched electoral battle between Gandhi and Irani in the 2014 Lok Sabha elections which the latter had lost.
Asked if she will take on Gandhi again in 2019 in Amethi, Irani shot back saying that when one loses the local body and assembly elections, "the electorate is telling you not to come back".
Asked about the Congress chief gaining more traction in social media, Irani said, "Well for a gentleman who has increased his popularity on the basis of bots, that too from Uzbekistan and Russia, I am sure he will do well when he goes to those countries. So far as his own Lok Sabha constituency, one must understand that you want to give him a chance but his own constituents do not".
Bots are fake automated accounts that use artificial intelligence to influence discussions and promote specific ideas or products.
On whether she will challenge Gandhi to a debate, Irani said: "Well for a guy who has somebody else to handle his Twitter handle, will he debate me?... I need to throw out a challenge to an equal."
Talking about Congress and its alleged links with Cambridge Analytica, Irani said: "Here is a political party that is so desperate to retain power that it will analyse the caste of every voter and then engineer a communications strategy so that it either instills fear or it instigates you to vote for a person because they belong to a particular community".
Christopher Wylie, a former Analytica employee turned whistleblower, in a deposition before the House of Commons Digital, Culture, Media and Sports Committee in London had said the company had worked extensively in India and believed it was employed by the Congress.
Irani claimed that this was not just a data theft issue but a deeper malaise and a challenge.
"Somewhere in the psyche of the Congress party is a belief that we divided this country on the basis of caste decades ago, now let us use technology to divide them," said the minister.
Dismissing allegations about the NaMo (Narendra Modi) app secretly recording users' data, Irani said most apps seek information from users and to tantamount it to snooping would be very childish.
The Congress president had claimed that the NaMo app secretly recorded audio, video and contacts.
"Modi's NaMo App secretly records audio, video, contacts of your friends and family and even tracks your location via GPS. He's the Big Boss who likes to spy on Indians.
"Now he wants data on our children. 13 lakh NCC cadets are being forced to download the APP," Rahul Gandhi had said on Twitter using the hashtag "DeleteNaMoApp".
Politics
The Gandhi family desperately needs Ashok Gehlot as a networker, loyalist, and bridge builder. In better times Sonia Gandhi had Ahmed Patel as the crisis manager to do the dirty laundry. So, who has the upper hand now?
Politics
The rebellion in Rajasthan has not worked in favour of Ashok Gehlot. He is out of the race for Congress chief and finds himself distanced from the Gandhis. For now, the party is not mulling any action against him and he is likely to continue as Rajasthan chief minister
Politics
'Priyanka Gandhi Vadra should be Congress chief. Rahul Gandhi says, nobody from Gandhi family should become one. Women become a part of that family where they go after marriage. Today, she's Vadra family's daughter-in-law, not a part of Gandhi family,' Congress MP Abdul Khaleque said