Smriti Irani draws links between Rahul Gandhi, fugitive arms dealer Sanjay Bhandari, who 'lobbied' for Rafale offset
Smriti Irani also spoke about a money trail amounting to Rs 54 crore between HL Pahwa had CC Thampi, whose name figures in petroleum deal probe under the UPA, financial violation in regard to land transaction in Delhi NCR, amounting to Rs 280 crore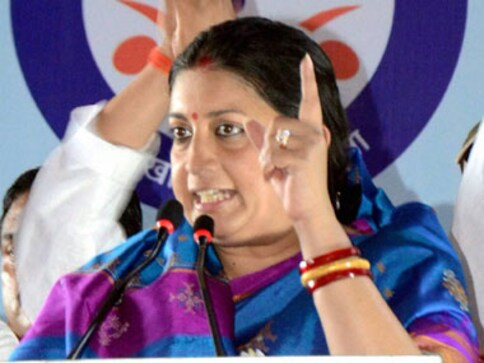 Sanjay Bhandari is under the scanner of the I-T department and the ED for allegedly receiving kickbacks from petroleum and defence deals under the UPA

Smriti Irani claimed Bhandari has links with not only Robert Vadra but Rahul Gandhi, as well

Irani said that Rahul Gandhi has become a huge roadblock for the Congress itself
Addressing a press conference at the BJP headquarters in Delhi, Textiles Minister Smriti Irani on Wednesday cited a news report by OpIndia to draw links between Congress president Rahul Gandhi and fugitive arms dealer Sanjay Bhandari, who had allegedly lobbied for the Rafale offset contract during the UPA rule.
Bhandari — known to be an aide of business and Congress leader Priyanka Gandhi's husband Robert Vadra — is under the scanner of the income tax department and the Enforcement Directorate (ED) for allegedly receiving kickbacks from petroleum and defence deals under the UPA.
"In the past 24 hours, news reports have emerged indicating how the Gandhi-Vadra family has perpetrated a 'parivarik brashtachar'. During a recent raid by the ED at one HL Pahwa's house, it was found that Rahul had bought land from Pahwa in Haryana. During this deal, one Mahesh Nagar was Rahul's representative. You must remember that Nagar had also represented Vadra in land deals in Rajasthan and Haryana, " she said.
Irani also spoke about a money trail amounting to Rs 54 crore between Pahwa and one CC Thampi, whose name also figures in the petroleum deal investigation.
"The relationship between Thampi and Bhandari is publicly known as much as Bhandari's close links with Vadra. Till now, people had only assumed the commercial relationship that existed between Vadra and Bhandari, but these new facts establish a relationship between Rahul and Bhandari, too. Rahul needs to answer what is this special commercial relationship that he shares between Bhandari, Thampi and Pahwa," she added.
She also spoke about Pahwa's "connection" with "Mrs Vadra" (Priyanka Gandhi). "The nation has come to the conclusion that Rahul's intervention in the defence preparedness of our country stems from his pursuit of personal commercial interests, his family's interests. He has been hiding behind Vadra," she added.
Launching another scathing attack, Irani said Rahul "himself has become a huge roadblock for the Congress".
"He is willing to sacrifice the defence preparedness of the country only so his friend Bhandari can have his hands in the cookie jar," she claimed.
also read
Politics
Although he has kept up a constant string of criticism against the ruling dispensation, Rahul Gandhi seems to agree with Prime Minister Narendra Modi and the BJP on one critical issue – India's foreign policy
India
Congress leader Rahul Gandhi on Thursday said that Muslim League is a completely secular party and there is nothing non-secular about the outfit, drawing a sharp condemnation from the BJP
India
Gandhi was disqualified from the Lok Sabha by the Speaker after he was convicted and sentenced to two years imprisonment by a Gujarat court in a case related to a speech against Prime Minister Narendra Modi.