Six-pack or family pack? Kin power to the fore in Andhra Pradesh
For sure, the political saga of Seemaandhra and Telangana is all in a few families.
By A Saye Sekhar
Hyderabad: A restaurant's hilarious advertisement billboard on the arterial Sardar Patel Road in Hyderabad a few years ago used to portray two caricatures — one of a muscular man and another of a rotund one. And the caption read: "Six pack or family pack?" inviting food connoisseurs for scrumptious lunches and dinners. The list of contestants from various political parties in Lok Sabha and assembly elections in the about-to-be-bifurcated Andhra Pradesh, reminds one of the billboard.
YS Jaganmohan Reddy's 'family pack' of contestants is the biggest contingent of blood relations entering the poll fray. It is in fact, the robust six-pack.
Jagan will throw his hat into the electoral rink from Pulivendula assembly constituency, while his mother YS Vijayalakshmi will seek an election from Visakhapatnam Lok Sabha seat. His maternal uncle P Ravindranath Reddy is fielded on behalf of the YSR Congress from Kamalapuram assembly seat, while his mother's brother-in-law YV Subba Reddy is contesting from Ongole Lok Sabha seat. Another cousin Balineni Srinivasa Reddy, who served in the late YS Rajasekhara Reddy cabinet and K Rosaiah's ministry, will be seeking re-election from Ongole assembly seat.
As opposed to this, the Telugu Desam Party has scaled down the contingent of its first family to a niggardly two. In fact, TDP supremo N Chandrababu Naidu must be given the credit for keeping the family out of electoral politics since 1999.
At one point in time, to be precise in 1994, the legendary NT Rama Rao contested from Tekkali and Hindupur Assembly seats, while his elder son-in-law Daggubati Venkateswara Rao was already an MP from Bapatla Lok Sabha constituency by then. He fielded his younger son-in-law N Chandrababu Naidu from Kuppam assembly constituency and Naidu's younger brother Nara Ramamurthy Naidu from Chandragiri assembly constituency.
After the infamous palace coup of 1995, Chandrababu Naidu deliberately cut the family flab in the legislative bodies. Though out of compulsion, he had NTR's son Harikrishna elected from Hindupur, and also sent him to Rajya Sabha quite a few years later, Naidu ensured that the family quota is limited to two, including himself. This time too, he is fielding his brother-in-law Nandamuri Balakrishna, the actor-son of NTR and father-in-law of Nara Lokesh, son of Chandrababu Naidu, from Hindupur Assembly constituency.
However, NTR's family had a large presence in electoral politics even in 2004 and 2009, although from different political parties. Daggubati Venkateswara Rao was an MLA and his wife Purandeshwari (NTR's daughter) was an MP from the Congress, while Chandrababu Naidu was the Leader of the Opposition for the last 10 years.
The demonstration of unbridled nepotism in politics is not new to democratic India. The lineage of Nehru-Indira Gandhi-Rajiv Gandhi-Sonia Gandhi-Rahul Gandhi is all too well known. If it is narrowed down to Andhra Pradesh politics, as many as 12 chief ministers had endowed their blood relations with legislative positions in the state. The exceptions are Neelam Sanjeeva Reddy, Damodaram Sanjeevaiah, Bhavanam Venkatram and K Rosaiah.
The biggest contingent in electoral politics so far is surely of YS Rajasekhara Reddy. An interesting incident can be recalled here in which the late YSR Reddy was embarrassed on the eve of 2009 simultaneous elections to the Lok Sabha and the assembly.
Botcha Satyanarayana, who recently demitted the office after serving as the last president of the united Andhra Pradesh Congress Committee, was asked by YSR during the selection of candidates as to how many of his family members were being pushed through. Botcha was a minister and contesting for the assembly, while his younger brother and a cousin too were given party tickets for the assembly. His wife, Jhansi, sought a re-election to the Lok Sabha. That all of them won is a different story.
In his impish retort, Botcha told Reddy that the latter's family - son (Jagan, running for Kadapa MP then), younger brother (Vivekananda Reddy was already MLC), brother-in-law (Ravindranath Reddy was Mayor of Kadapa) – too has an equal number of elected representatives. The latter had to swallow the fact, with a sheepish smile on his face.
While three members each from two families were fielded from different constituencies in Nellore and Kurnool/Anantapur districts in the current elections, a couple and a father-son duo have been fielded in Rayalaseema districts by the YSR Congress. Two each from three other families too were pitted by the party in the electoral race.
As many as seven families were given two tickets each by the Telugu Desam Party in Seemaandhra region. A couple, who were legislators in the assembly that is placed under suspended animation, were renominated by the TDP. Even the Bharatiya Janata Party nominated a father-son duo in Mahbubnagar district. The Congress tried its best to limit the number of father-son duos, cousins and blood relatives in Seemaandhra and Telangana.
The highlight of the family packs in Telangana is that of TRS supremo K Chandrasekhar Rao. Aside from KCR himself, his son, daughter and a nephew are testing their fortunes in the electoral battle. And, KCR is contesting from Medak Lok Sabha and Gajwel assembly seats.
If distant relatives of leaders are fielded, it should be construed more due to dearness rather than nearness. But, for sure, the political saga of Seemaandhra and Telangana is all in a few families.
India
Frontline and healthcare workers were assigned additional duties to help manage the public health emergency. But while the number of tasks expected of ASHAs kept increasing, the protective gear dwindled
Politics
The BJP questioned the state's finance minister's bare minimum fiscal discipline in the current economic situation as his department is releasing crores of rupees for ultra-luxury vehicles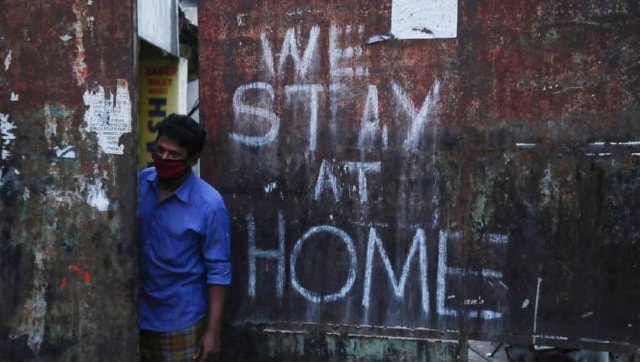 India
Bordering areas such as Khammam, Nalgonda and Nagarjuna Sagar among others, will continue to have relaxation up to 2 pm