Siddaramaiah defends tainted minister KJ George, says accusations are 'politically motivated' to tarnish Congress' image
Siddaramaiah on Friday defended KJ George who was named as an accused in an FIR filed in the case regarding suicide of DSP MK Ganapathy
Karnataka chief minister Siddaramaiah has defended KJ George, the state minister for urban planning and development, who was named as an accused in an FIR filed regarding the alleged suicide of deputy superintendent of police MK Ganapathy.
Responding to BJP's demand for George's resignation, Siddaramaiah said that the accusations were politically motivated and aimed at tarnishing the image of the Congress government in the state. "This type of attitude by the BJP is with the intention to make political gains," he said.
#BREAKING – As soon as FIR was registered, KJ George resigned. He was taken back only after clean chit by state CID: Siddaramaiah pic.twitter.com/dZ6VIsLoOl

— News18 (@CNNnews18) October 27, 2017
#BREAKING – This case has been politically motivated to tarnish image of KJ George and Karnataka govt.: CM Siddaramaiah pic.twitter.com/bnsiVaCZc9 — News18 (@CNNnews18) October 27, 2017
George was home minister then, He's not a home minister now, so in no way can he can influence CBI: Karnataka CM on DySP MK Ganapathi case — ANI (@ANI) October 27, 2017
Karnataka law minister TB Jayachandra also came to the defence of George, saying that BJP's agenda is to malign Congress' image.
Agenda of BJP is to malign Congress' image. No need for KJ George to resign now. It is a politically motivated move: K'taka Law Min pic.twitter.com/ga0x2jlX9X — News18 (@CNNnews18) October 27, 2017
According to ANI, George had said that it's an old case against him and the Supreme Court has given him three months' time. "Let CBI probe and file report," George was quoted as saying by the news agency.
The Supreme Court had handed over the probe in Ganapathy's death to the CBI in September. The agency has re-registered the Karnataka Police's FIR alleging that prior to his death, Ganapathy had said that George, former IGP (Lokayukta) Pranov Mohanty and ADGP (state intelligence) AM Prasad were responsible for his death.
Ganapathy had accused Bengaluru city development minister George and senior police officers Prasad and Mohanty of harassing him.
Ganapathy was found hanging from a ceiling fan in a room at a lodge in Madikeri on 7 July, just hours after an interview was aired by a local TV channel wherein he claimed that the minister and the two IPS officers were harassing him. He had claimed that the trio should be held responsible if anything were to happen to him.
With inputs from agencies
Politics
Earlier on Saturday, the home ministry reduced Supriyo's security category from the 'Z' to 'Y' category
Politics
Addressing the foundation day of the All India Mahila Congress, Gandhi said that the ideology of the Congress was completely opposite of the BJP-RSS and only one of the two ideologies can rule the country.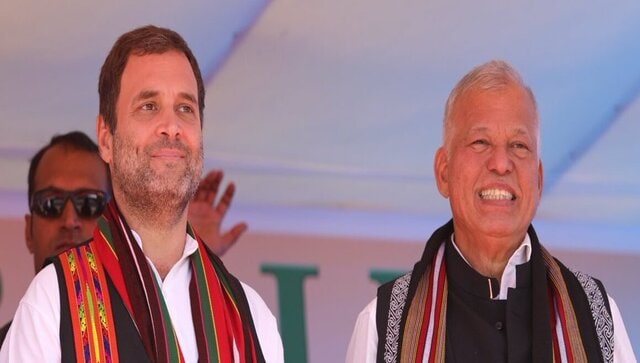 Politics
This is set to be a big blow for the Congress in the state ahead of the Assembly polls due early next year