Shiv Sena says Manohar Parrikar insulted Narendra Modi, party 'prays' for his defeat in Assembly bypoll
Accusing Manohar Parrikar of 'insulting' Narendra Modi, NDA-ally Shiv Sena 'prayed' for his defeat in the upcoming assembly bypoll which he is contesting.
Mumbai: Accusing Goa chief minister Manohar Parrikar of "insulting" Prime Minister Narendra Modi, NDA-ally Shiv Sena on Friday "prayed" for his defeat in the upcoming Assembly bypoll which he is contesting.
It also took strong umbrage at Parrikar's reported statement that he "cared less" if he loses the 23 August by-poll in Panaji assembly constituency, for he would return to the Centre and head the defence ministry.
"The Prime Minister elevated Parrikar from Goa chief minister to the defence ministry, after he failed there miserably, he again returned to the state. Now, he goes around threatening that if he indeed fails to win the by-polls, he will go back to the Centre as defence minister," the Shiv Sena said in a sharp editorial in party mouthpieces Saamana and Dopahar Ka Saamana.
This, the Sena pointed out, was tantamount to not only "rubbishing" the post of Goa chief minister but also belittling the post of the country's defence minister. "By such irresponsible and juvenile utterances, Parrikar has insulted Modi, who first promoted him to national politics, and later entrusted him with Goa's leadership after the BJP failed to secure a majority in 2016 assembly elections in the state," the Sena said.
The editorial added that Parrikar's remarks clearly proved that he was "mortally scared" of the prospect of losing the by-election. But, Parrikar "has already lost his bearings" by taking the wise voters "so lightly and treating the state as his personal fiefdom with little faith in the democratic process", the Sena said. "Is the post of defence minister so cheap and rendered as orphan without Parrikar? Modi must clarify, especially given the current tense situation on our country's borders," the Sena demanded.
On one hand, while Modi is worried about tackling the challenges from both Pakistan and China, on the other, Parrikar is blatantly trying to degrade and undermine the defence ministry by his statements, the editorial said. "In such circumstances, Parrikar must lose the Goa assembly by-polls. Let his worst fears come true. And after the loss, whether he still becomes the defence minister, at least let the people of his state witness (this)," the Sena noted sternly.
The editorial said if Parrikar was indeed a "mahatma" as was being bandied about, he should have been elected unopposed, but the truth is when the country faced crises at the borders, instead of leading the nation, he retreated back to Goa for savouring "rice-and-fish-curry". "For this act of bravado alone, he should have been conferred a 'Shaurya Chakra', but he was made the chief minister of a rag-tag outfit though the state poll was lost under his leadership," it concluded.
Politics
People of Assam have voted for the BJP for the second consecutive term as they have realised that there is no place for 'aatankwad' (insurgency) and 'andolan' (agitation) in the state, Shah asserted
India
Modi noted that on the coming 15 August, India will enter its 75th year of Independence and highlighted that Amrit Mahotsav is being celebrated throughout the country to mark that year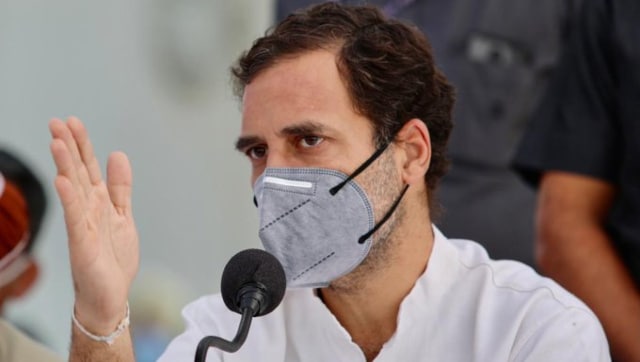 India
The former Congress president also shared a video on Twitter highlighting the alleged slow vaccination rate and media reports where people were not getting vaccines