Shiv Sena minister equates Bal Thackeray with Mahatma Gandhi over construction of memorial
A memorial for Thackeray, who died in November 2012, is proposed at the current residence of Mumbai Mayor.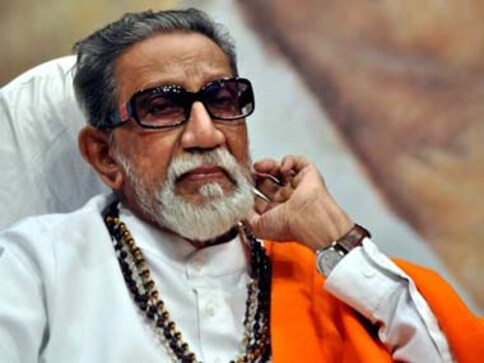 Mumbai: Shiv Sena leader and Maharashtra Industries Minister Subhash Desai on Monday kicked off a row by equating Bal Thackeray with Mahatma Gandhi over construction of a memorial for the late party supremo.
A memorial for Thackeray, who died in November 2012, is proposed at the current residence of Mumbai Mayor at Shivaji Park in Dadar.
The new residence of mayor will come up at Byculla zoo.
"A memorial was built for Mahatma Gandhi though he did not hold any constitutional post, then why not for Balasaheb?" Desai questioned while speaking to reporters in Mumbai.
The Sena leader said whenever the issue of constructing a memorial for any great leader came up someone has raised an objection.
"In our democracy we all have rights. Balasaheb was a great leader and Shiv sainiks, along with ordinary people, have a desire that a memorial be built in Balasaheb's honour. The government has decided to do it and there is nothing wrong in it," he said.
Desai, however, said the personality of the Sena founder cannot be measured on the basis of certain parameters.
"It is being asked whether he (Balasaheb) held any post. To this, I will say did Mahatma Gandhi hold any post? Though (Mahatma Gandhi) did not hold any administrative post, yet his memorials were built by various governments. Never heard anyone raising objections (to Gandhi memorials) and no one should raise objections. It is not proper," he said.
Desai said the state government will respond to the objections raised in some quarters in connection with the construction of Thackeray's proposed memorial.
The minister's statement drew flak from the Congress, with the Maharashtra Pradesh Congress Committee (MPCC) secretary Al-Nasser Zakaria terming it as an "outrageous comparison".
"What else can be expected from the Shiv Sena leaders apart from hooliganism, making outrageous comments and being a part of the Maharashtra government just to ensure the party does not disintegrate and become a part of history.
"Gandhiji is called the Mahatma and the father of our nation because, it is due to him that we got freedom. While Balasaheb is a highly respected figure, it would be outrageous to compare him with Gandhiji," he said.
Earlier this year, the BJP-led state government paved the way for a grand memorial of Thackeray by issuing an ordinance that will enable the plot to be leased out at nominal rates to the 'Balasaheb Thackeray Rashtriya Smarak' society, headed by Sena president Uddhav Thackeray.
In March, the proposal for converting the Mayor's bungalow into the Thackeray memorial received its final nod from the Sena-ruled BMC house of corporators.
India
A delegation of the ruling Shiv Sena on Monday visited the Lilavati Hospital and sought to know how Navneet Rana's videos and pictures were taken while she was undergoing an MRI
Politics
Alleging that attempts are being made to "divide the Hindu society," the Shiv Sena leader said that the people of the community are also unhappy since the temples have also stopped using loudspeakers for 'Aarti'
India
The Rana couple was booked in two FIRs lodged on charges of sedition, promoting enmity, and assaulting a public servant to prevent discharge of duty