Sharad Yadav says nation witnessing 'undeclared emergency' due to govt's lack of 'economic mind'
Former Janata Dal (United) Rajya Sabha MP Sharad Yadav, who is all set to float a new political outfit, hit out at the Narendra Modi government, saying it has no 'economic mind' and the country is witnessing an undeclared emergency
Chandigarh: Former Janata Dal (United) Rajya Sabha MP Sharad Yadav, who is all set to float a new political outfit, hit out at the Narendra Modi government on Tuesday, saying it has no 'economic mind' and the country is witnessing an undeclared emergency.
"One emergency was visible and we fought it out. This time again the country is passing through an emergency-like situation, but it's not visible," Yadav told reporters in Chandigarh.
He was in Chandigarh to interact with his sympathisers and activists ahead of floating a new party.
He said the BJP had made tall promises to the farmers and the youths during the Lok Sabha elections in 2014.
"Now the government is going to complete four years of its formation and it has betrayed the common man. It has no economic mind," he said.
Slamming the government over demonetisation and GST rollout, he said: "First it was the demonetisation that badly hit country's economy at least for three-four months. Then the GST brought troubles to the traders."
"Both the decisions had devastated the economy, especially small and medium entrepreneurs."
Yadav, who was disqualified from the Rajya Sabha on 4 December, said the next Lok Sabha elections would be fought on economic issues.
He said the 'Sanjhi Virasat Bachao' events are aimed to bring unity among opposition political parties against the National Democratic Alliance-led parties.
"The BJP wants an opposition-free India and not a Congress-free India and this will never happen. We will join hands to save our composite culture," Yadav said.
He said that in the 2014 General Elections people had voted "against" the NDA and the BJP got only 31 percent of the total vote share while rest of the parties got 69 per cent vote bank.
"We are uniting to fight against the BJP," he added.
India
On the occasion of Prime Minister Narendra Modi's birthday, he released cheetahs brought from Namibia in a national park, interacted with women self-help groups, while his party embarked on a fortnight-long nationwide drive of public outreach with blood donation camps and cleanliness drive
India
The collection has been over Rs 1.4 lakh crore since March with April seeing a rise up to Rs 1.68 lakh crore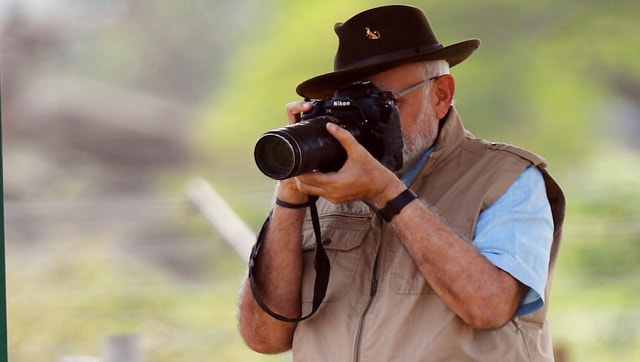 India
On the occasion of his 72nd birthday, Prime Minister Narendra Modi on Saturday released two of eight cheetahs brought from Namibia into a special enclosure at the Kuno National Park (KNP) in Madhya Pradesh and clicked some photographs of the spotted animals