Shamli firing: BJP accuses SP government of 'covering up' incident
BJP on Wednesday accused Akhilesh Yadav government in Uttar Pradesh of doing a 'cover up' of Shamli incident in which a young boy was shot dead.
New Delhi: BJP on Wednesday accused Akhilesh Yadav government in Uttar Pradesh of doing a "cover up" of Shamli incident in which a young boy was shot dead and asked why the state police was unable to catch the culprits when they act with alacrity to find lost buffaloes of a state Minister.
"Four days have gone by and no concrete action has been taken against the accused. The Akhilesh Yadav government in Uttar Pradesh is only doing damage control by suspending some officials while its leaders are making insensitive statements. The government is instead doing a cover-up of the incident," BJP national secretary Siddharth Nath told reporters.
Singh alleged the five main accused in the FIR are roaming free while three others whose names are not even mentioned in the FIR are put behind bars.
BJP also asked a set of questions to Akhilesh Yadav over the inaction in the case as it charged the police of being a mere 'spectator' and SP leaders of making "insensitive" statements instead of acting against the accused.
It said it will also ask the Governor to send an independent report to the Home Ministry over the deteriorating law and order situation in the state but said it would oust the SP through democratic means and not through imposition of President's Rule.
Taking a dig at the Uttar Pradesh police, he said, it has attained international acclaim for showing alacrity in finding the lost buffaloes of a minister but is yet to arrest the culprits even after parents of the boy killed have identified the main accused.
Singh said while Mulayam Singh Yadav talks of being a Samajwadi and asked Akhilesh Yadav if killing a child in broad daylight during a victory procession is called Samajwadi.
"The law and order situation of Uttar Pradesh has been shattered by Samajwadi Party goons drunk on power. The power of victory has taken to the heads of Samajwadi leaders and when such goons are elected, they don't shower flowers but fire bullets and that is called 'jungle raj' where police is a mere spectator," he said.
Training his guns on SP leader and Kairana MLA Nahid Hasan for attacking the media covering the incident, the BJP leader asked him under which law were the goons of his party firing at the innocent child while taking out a victory procession.
He also questioned Akhilesh Yadav if he would act against hiw own MLA for making such insensitive comments and one who had a criminal record.
PTI
India
A prominent Brahmin face in Uttar Pradesh, Prasada in an exclusive interview with CNN-News18 said that he took the decision after 'lot of deliberation'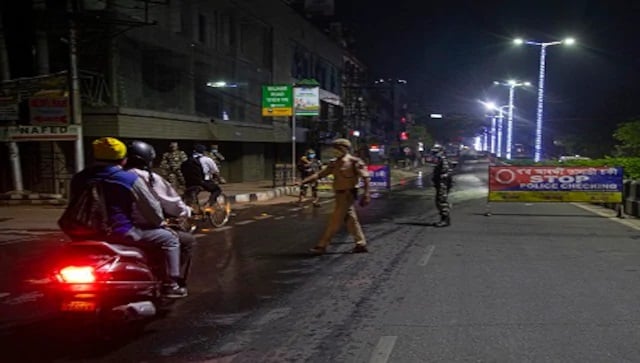 India
During marriages and other functions, a maximum of 50 people will be allowed at both open and closed venues. Only 50 people will be allowed in a religious place at a time.
India
Apart from Sibal, G-23 leaders Shashi Tharoor and M Veerappa Moily have also slammed Prasada for switching to the BJP