Shahabuddin case is an acid test for Nitish Kumar's prime ministerial ambitions
If Nitish Kumar had been able to make Shahabuddin face the full might of law in 2005, what is restricting him 11 years later that he is dithering from even filing an appeal against his bail?
It must rank among one of history's twisted plots that the most ambitious step ever taken by Nitish Kumar to become the Prime Minister of India may eventually end up nixing his prime ministerial ambitions. When Siwan don Mohammad Shahabuddin walked out of jail after 11 years and immediately threw the gauntlet at Nitish, the Bihar Chief Minister must have finally understood the full import of his mahagathbandhan of convenience with RJD chief Lalu Prasad Yadav.
This was the same don Nitish had managed to put behind the bars in 2005, signaling the political and figurative end of Bihar's 15-year nightmare under former CM Lalu. Determined to cleanse the ill-effects of Lalu raj, Nitish had tied up with the BJP and ushered in Bihar's own glasnost and perestroika. The reformist steps ensured restoration of law and order and the state was hurled back into the path of growth, earning Nitish the moniker of 'sushasan babu'.
But the ambition of Nitish Kumar, who saw in Narendra Modi a ghost of Banquo that could block his eventual ascension to the Delhi throne, led him to sever ties with the BJP. It was his most ambitious step.
The clock has turned a proverbial full circle.
Now as Shahabuddin, the mafia-don-turned RJD leader, celebrated release on bail in his signature style of wanton unruliness — his bike-riding goons running amok in Siwan and 100-strong cavalcade whistling past toll nakas — mentor Lalu rushed in to justify his protégé. And all that 'sushasan babu' could manage was a miserable squeak. It is a testimony to how hard Nitish has fallen on the scale of morality and courage having bartered his writ and authority with Lalu in exchange for CM's berth and in order to keep the BJP at bay.
"Shahabuddin has said nothing wrong," quipped Lalu as reporters asked him about the Siwan MP's statement that Nitish Kumar is a chief minister of circumstances. According to ANI, the RJD chief even ventured to offer that "Nitish has no problems with his statement".
Shahabuddin ne koi aisi baat nahin ki hai,ye kaha ki Lalu ji neta hain.Takleef Nitish ji ko nhi hai is baat se: Lalu pic.twitter.com/qMkRRnFFwI

— ANI (@ANI_news) September 12, 2016
Talking to CNN-News 18 shortly after his release on Saturday, Shahabuddin, whose bail application was upheld by the Patna High Court in the case related to the murder of Rajiv Roshan, said that "Nitishji became Bihar's CM only because of the political situation."
The lameness of Nitish Kumar's comeback revealed his deep discomfort at having to walk the political tightrope. He tried to dismiss Shahabuddin's jibe as "unimportant" and then went ahead and responded anyway, insisting that he has the people's mandate.
People know the mandate,doesn't matter what a person says-Bihar CM Nitish Kumar on Mohd Shahbuddin pic.twitter.com/JZbl1BtTgU

— ANI (@ANI_news) September 11, 2016
Shahabuddin's retort? He pumped up the rhetoric and openly challenged the CM, even raising oblique questions about Nitish's character by comparing him to Madhu Koda, the disgraced ex-Jharkhand CM.
Talking to reporters from his residence on Sunday, the Siwan strongman, according to The Times of India, said: "Nitish has never been a mass leader; he cannot win even 20 seats on his own. My party is definitely a part of the government, but RJD boss Lalu Prasad was, is and will remain my leader. Madhu Koda (also) became the CM because of circumstances, and so is the case with Nitish."
This is truly a Rubicon-crossing moment for Nitish. If he cannot put pressure on Lalu to rein in Shahabuddin, it will send an unmistakable message that he has been held to ransom by a rogue ally. There have been allegations that the state government did not secure the best legal help to keep Shahabuddin in jail against whom there are at least 40 different criminal cases including murder and kidnapping.
According to an editorial in The Times of India, "What is disturbing is that the state machinery's reluctance to start the trial against Shahabuddin in the 2014 murder of Rajiv Roshan paved the way for his bail."
If that is indeed true, then Nitish has a lot to answer for. As India Today reports, the maelstrom of criticism following Shahabuddin's release and the state's perceived inaction led a minister in Nitish Cabinet, Rajiv Ranjan Singh, to insist that "Bihar government tried its best to ensure bail was not granted to Shahabuddin in Patna HC. We put the best lawyers." But it is a claim few are buying. It is being pointed out that the state government could have immediately knocked on the Supreme Court's door to cancel the controversial MP's bail. But it did not.
Additionally, as The Times of India indicated, the JD(U) remains tight-lipped on whether or not it will appeal against Shahabuddin's bail.
If Nitish had been able to make Shahabuddin face the full might of law in 2005, what is restricting him 11 years later that he is dithering from even filing an appeal against his bail? Has an alliance with Lalu sapped Nitish's moral courage?
If 'sushasan babu' is made to dance to Lalu's tunes — a possibility that was widely predicted when Nitish joined hands with his bête-noire to keep out the BJP — it may not only jeopardise his stint as Bihar CM but crucially, also show him up as a weak leader.
Questions will be raised that if a chief minister fails to manage allies in his own state and succumbs to the compulsions of coalition politics, how will he lead an infinitely more complex coalition government at the Centre should such a possibility arise?
And there should not be any doubt over the extent of Nitish Kumar's ambition. On 6 March, 2014, a few days before Narendra Modi assumed office at 7 Race Course Road, Nitish had openly declared that he will be "much better than the declared PM candidates" as he has experience of working both at the Centre and the state, according to a report in The Indian Express.
He didn't name either Rahul Gandhi or Modi, but went on to say: "While one does not have the experience of Parliament another has no experience of running a state…I have both experiences …Am I less qualified than them?", according to the newspaper.
Nitish's liquor ban, one of the very few pan-Indian planks that allows a regional satrap to transcend the boundaries of state, is also tailored towards his ultimate ambition. There is nothing wrong in having an ambition and Nitish won't perhaps make a bad Prime Minister. But if he allows Lalu to ride roughshod over him, Nitish's dream of becoming the PM will remain just a that — a dream.
World
Prime Minister Narendra Modi and Widmar agreed on enhancing manufacturing of solar panels in India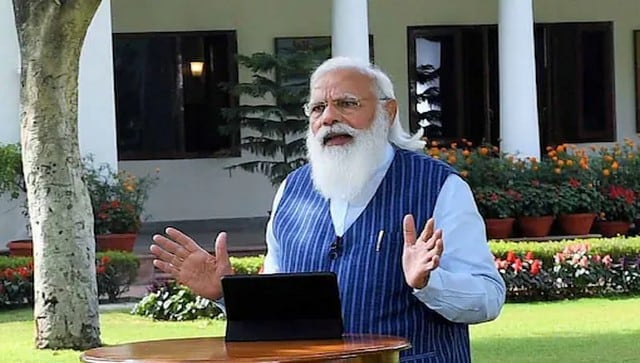 World
The CEOs were appreciative of India's reform trajectory and closer economic linkages between India and USA will benefit the people of both the nations, Modi later tweeted
Sports
Thursday morning was a special one for the Paralympians who were able to experience the personal touch of the PM while he connected with them during the function