#SeditionDebate: BJP's 'more nationalist-than-thou' outlook on JNU reeks of opportunism and sham
Notice now the sequence of events at JNU. Anti-India slogans are shouted at an event organised on the third death anniversary of Afzal Guru.
Patriotism is always the last refuge of the BJP.
For every tough election, the BJP brings out Hindutva and nationalism from the cold storage, dresses them up in new rhetoric, arms them with recycled slogans and sends them out to battle for the BJP.
Since the crutches of rashtravad (nationalism) and Hindutva are indispensable for the BJP, it is always jittery that some other politician or a party may come up with a better and more acceptable model of Indian nationalism.
It is, thus, always keen to nip any future challenge in the bud. Portraying every rival as a threat to national security, tacit supporter of Pakistan, sympathiser of Kashmiri separatists and being soft towards terrorists and Naxalites are essential components of the BJP's strategy.
So, Arvind Kejriwal becomes a Naxalite, Nitish Kumar the man whose victory in Bihar may lead to celebrations in Pakistan, Rahul Gandhi a sympathiser of anti-nationals and the entire Leftist ideology, the idea that inspired icons like Bhagat Singh and Subhas Bose, is branded a threat to the nation.
But, the BJP's own record on the parameters it uses to brand others anti-national is blighted. Its brand of nationalism is usually sloganeering and politicking, all sound no substance. It is a sham.
For instance, if supporting those who sympathise with Afzal Guru is sedition, what does it make the BJP, which is trying revive its alliance with Mehbooba Mufti's whose party had called his hanging a travesty of justice?
How does it explain the convenient interpretation of sedition and patriotism, when students are hounded for pro-Azadi slogans on a university campus, but hardliners and soft-separatists who do the same in Kashmir almost daily are ignored in a state run by the BJP? If arresting a student leader for anti-national is kosher, it stands to reason that it is legitimate to expect a deputy chief minister to resign when Islamic State flags are waved in Kashmir and slogans of 'Long Live Afzal Guru' are heard at the funeral of the chief minister.
Being a nationalist in the eyes of the 'patriotic' right is impossible. One has to have the felicity of a chameleon to conform to its ever-changing definition of nationalism. If patriotism is what the BJP does, if patriotism is what the BJP patriot says, then the idea changes drastically with results of elections.
Out of it, the BJP ridicules the PM for his chicken biryani diplomacy with Pakistan. When in power, it puffs its chest with pride for its lunch diplomacy with Nawaz Sharif. So, you never know if you are an anti-national for supporting dialogue with Pakistan or for opposing it.
Out of it, the BJP rails against any compromise with Italian marines accused of shooting Indians. When in power, it gives amnesty to David Headley, accused of the 26/11 terror strike. Out of it, it rails against India being a soft state; when in power, it succumbs to pressure and releases dreaded terrorists like Masood Azhar.
The truth is, behind every seasonal spurt in the BJP's patriotism and nationalism there is an impending election. The fever is always brought about by the electoral exigency of polarising voters on communal lines.
The recent finger-waving at JNU and the triumphal finger-pointing after David Headley's recent deposition are examples of the classic BJP stratagem of giving rivals a bad name and decapitating them with the guillotine of Hinduism and Nationalism to influence an election.
Assembly elections in five states are on the horizon. In three of them — Kerala, West Bengal and Assam — the BJP is pitted either against parties the Left, the Congress and the Trinamool Congress. Coincidentally, all these states have a sizeable population of Muslims and other religious minorities.
Against the national average of 14.23% (2011 Census), Assam has 34.22% and West Bengal 27.01% Muslims. In Kerala, there are 26.56% Muslims and 18.38% Christians, bringing them almost at par with the 54.73% Hindus.
So, the BJP has fired its brahmastra. It is expanding all its energy on branding rivals as anti-Hindu and discrediting them as supporters of anti-national elements, terrorists and minorities.
Notice that the BJP's game of patriotic-than-thou is predicated on two things. First, of creating a monster on the basis of flimsy evidence — including a terrorists hearsay-- and propaganda. And then lacerating those who protest the questionable vilification with the convenient whiplash of anti-nationalism.
Ishrat Jahan. Tick.
Beef. Tick.
Dadri. Tick.
And now the JNU.
Notice now the sequence of events at JNU. Anti-India slogans are shouted at an event organised on the third death anniversary of Afzal Guru. Nobody knows who raised the slogans — contrasting videos uploaded on social media point fingers at leaders of the radical Left and the ABVP — or who created the ruckus at the pro-Afzal gathering. But, the president of the students union of the JNU, Kanhaiya Kumar, is arrested and booked on sedition charges that are likely to be thrown out by the court.
Nobody knows why Kanhaiya is in jail? Did he shout the alleged anti-India slogans at the protest meet, did he eulogise Pakistan or call for a war-until-barbadi against the Indian state? What exactly was his fault apart from defeating the ABVP candidate by a huge margin in the varsity polls or blasting the RSS?
You can make up your mind on Kahaiya by listening to his speech
The only plausible reason behind Kanhaiya's arrest is this: He has been punished to satisfy the collective conscience of the Akhil Bharatiya Vidyarthi Parishad (ABVP) and its ideological mentors and protectors. Yet, those who protest this irrational, disproportionate crackdown are labelled anti-nationals.
It is laughable to assume every politician outside the BJP, student of the JNU and card-holding communist is anti-national. But, this 'politics of patriotic-than-thou' is certainly anti-national. It negates the very idea of democracy and the rights guaranteed in the Constitution.

As TK Arun argues in the Economic Times, strengthening Indian democracy by expanding inclusion and empowerment to embrace wider sections of society beyond the elite is true nationalism. Branding tribal people trying to defend their minimal rights, as well as anyone reporting on police atrocities against tribal women, antinational is not nationalism. Labelling young students groping their way to democratic positions in the heat of campus politics as anti-national is not nationalism.
"In fact, by reducing the Indian nation to a Hindu elite, such patriots do serious harm to India and its emergence on the global stage. More than from Kashmiri students choosing to study at campuses in non-Kashmiri parts of India, India needs protection from these zealots of pseudonationalism."
But, the BJP is unlikely to get it. Elections in Uttar Pradesh are due next. Rest assured, another round of name calling and branding is on the anvil.
Ram Mandir will be the flavour of the season soon. And there will be a new definition of anti-nationals.
No, you won't be called one for eating beef, not supporting extra-judicial executions, watching Aamir Khan's films or supporting the right to equality and freedom of speech of every Indian, including Kashmiris.
When the next season of Big Boss of patriotism begins, all those who can't say with garv they are temple-building, trident-wielding, slogan-shouting, minority-bashing Hindus would be the new anti-nationals.
And, nationalists would be those who, like always, swear to build the mandir wahin.
Find latest and upcoming tech gadgets online on Tech2 Gadgets. Get technology news, gadgets reviews & ratings. Popular gadgets including laptop, tablet and mobile specifications, features, prices, comparison.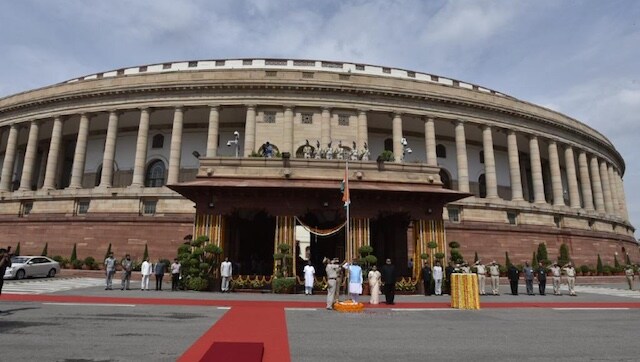 Politics
The Centre told the Parliament in a written reply to a question that India's ties with China have not worsened in the aftermath of the border tensions
Politics
Parliament Updates: The Essential Commodities (Amendment) Bill, 2020, has been passed in the Lok Sabha, by voice vote. The House has been adjourned until 3 pm on 16 September, 2020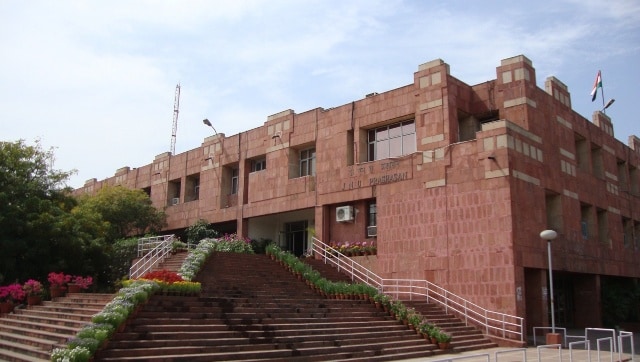 India
JNUEE 2020 | Various centres have been assigned for conducting the exams following the COVID-19 protocols