SCAM, VIKAS: Narendra Modi, Rahul Gandhi make Election 2017 the season of acronyms
During the election season of 2017, the latest trend is that of acronyms. Politicians are coming up with some of the unique (and absurd) acronyms.
During election season, one often gets to see some weird patterns or trends emerging among politicians, who resort to some unique forms of criticism against other parties to get votes.
And during the election season of 2017, the latest trend is that of acronyms. Politicians are coming up with some of the unique (and absurd) acronyms to attack their opponents or praise their own party.
Now, we do not know how much of a difference it will make to the election results. What we do know is that the election season is slowly developing into some sort of hilarious battle of quips, much like the way two rappers are in a rap battle.
Here are some of the most prominent acronyms used by politicians:
SCAM
It all began when Prime Minister Narendra Modi, while rallying in Uttar Pradesh, asked people to "rid the state of SCAM — S for Samajwadi (party), C for Congress, A for Akhilesh (Yadav) and M for Mayawati".
Before we could say "Oh snap!", Uttar Pradesh Chief Minister Akhilesh Yadav reacted and came up with his own version.
"You all must have been hearing what the senior BJP minister said about removing SCAMs. He also named buaa (Mayawati) in his speech. Even we want to get rid of scams. We want to save the country from Amit Shah and Prime Minister Modi," ANI quoted Akhilesh as saying.
But perhaps the most entertaining acronym came from Rahul Gandhi. "I'll reply to PM Modi's SCAM remark. It's Seva (Service), Bahaduri (Courage), Shamta (Ability) and Modesty," ANI quoted him as saying.
While we do appreciate the effort, we really do not know whether Rahul Gandhi realised that he was associating positive traits or activities with a word that has a negative connotation. That may have defeated the entire purpose of the acronym.
Sitaram Yechury on Monday had his on take on the acronym.
"...If the prime minister is saying that he is fighting the SCAM, the RSS and the BJP are fighting the SCAM — Scheduled Castes and Minorities — in our country," he told a rally organised in Kochi as part of its national conference.
VIKAS
The prime minister seems to be on a roll. At another rally in Aligarh in Uttar Pradesh on Sunday, Prime Minister Modi came up with another acronym, this time for 'Vikas' (development).
"We are working towards Uttar Pradesh's vikas. Vikas means V for Vidyod (electricity), K for Kanoon (law and order) and S for Sadak (roads)," he had said.
FUTURE
Modi came up with yet another acronym after the Union Budget 2017 was presented. Now, this was not at an election rally but well, this was still created days before the election.
After the Budget was presented, Modi praised the Budget and called it the "Future", which, he said, stood for "Farmers, Underprivilged, Technology, Urban development, Rural Development and Employment".
With inputs from PTI
India
The visit by the Saudi foreign minister comes at a time when India has been engaged with all leading powers on the developments in Afghanistan
India
Modi has been deemed to be one of the biggest supporters and proponents of Yoga.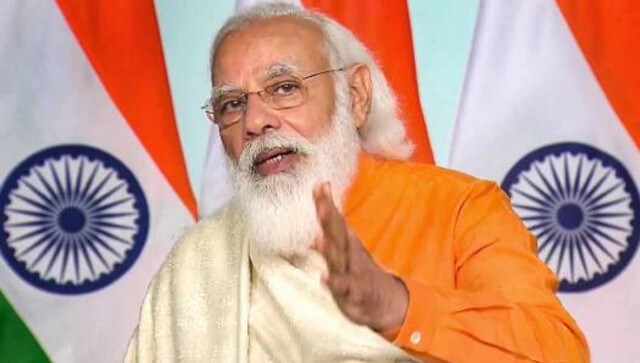 India
Huge celebrations have been planned for the occasion, with over 71,000 diyas to be lit at Varanasi's Bharat Mata temple