Sasikala DA case verdict: Vidyasagar Rao stands vindicated for delaying AIADMK gen secy's swearing-in
SC verdict convicting AIADMK general secretary VK Sasikala in a 19-year-old disproportionate assets case comes as a vindication for Governor Vidyasagar Rao.
The Supreme Court verdict convicting AIADMK general secretary VK Sasikala in a 19-year-old disproportionate assets case, effectively ending her chances of ever taking office as Tamil Nadu chief minister, is a vindication for Governor Vidyasagar Rao.
Throughout the political turmoil, the governor had been targeted for his use of "delaying tactics". There were elaborate conspiracy theories drawn and endless sound bites given on why his office had taken the wait-and-watch approach. With the apex court indicating that it would deliver the verdict within a week, it made little sense for Rao to call Sasikala for swearing-in and usher in a Constitutional crisis should there be an unfavourable verdict (as it turned out to be the case). Considered legal opinion was of the view that he was right in not rushing into a hasty decision. No less than former Attorney-General of India Soli Sorabjee had come out in his favour.
But politics in India is a 24x7 reality show, driven by TV ratings. To the breathless media and its many pundits, the governor's "delay" was a sure sign that somebody was conducting a backroom operation from somewhere, dictating his actions. No evidence was offered for such a conjecture, but what's the point in waiting for facts when journalism can be conducted through speculation?
The Congress, never to lose an opportunity to bang its face on eggs, accused the governor of 'acting at the behest of the Centre' and trying to destabilise the state.
Emerging from the Parliament, a solemn-looking Congress spokesperson Abhishek Manu Singhvi "advised" the Centre and BJP not to "fish in troubled waters" of Tamil Nadu "unconstitutionally", though he didn't clarify how the prime minister stood to gain from prolonging the crisis. He also didn't make clear which part of the Constitution did governor Rao (and by extension, the Centre) violate.
Speaking to reporters on 8 February, he said, "I must say it is extremely wrong, unconstitutional and patently illegal on the part of BJP and the Central government to fish in the troubled waters of Tamil Nadu. They have no business to instruct the governor to not go to Tamil Nadu," and added that Rao cannot delay the swearing-in even "by a minute".
ANI quoted state Congress president S Thirunavukkarasar as saying: "The Narendra Modi government is playing a dirty game. They want to create a problem for the political parties and they want to get some advantage as BJP has no hold in Tamil Nadu. They think this an opportunity to be utilised."
His party colleague Randeep Surjewala tweeted that Modi was "trying to bring down an elected government".
Not only does it sound a bit rich when Congress, which 'boasts' of an elaborate history, accuses other parties of trying to bring down elected governments but its position is indicative of the rudderless nature of its politics. It was pressurising the governor to swear in either O Paneerselvam, who didn't have the numbers or Sasikala, who was facing an imminent SC verdict. The improbability of its own position was irrelevant when it came to blaming the Modi government for one pretext or other.
For all the heat being piled on him, governor Rao showed admirable patience in holding his counsel and not taking a decision that could trigger another crisis in the state later.
It is now clear, with the SC sending Sasikala to prison for four years and slapping a Rs 10 crore fine on her, that Rao's stand was accurate and that the charges against him – that he was letting gubernatorial preference interfere with the will of a state in choosing a chief minister – were unfounded and incorrect.
The SC verdict disqualifies Sasikala from becoming a legislator, and means she will have to spend 10 years out of active politics.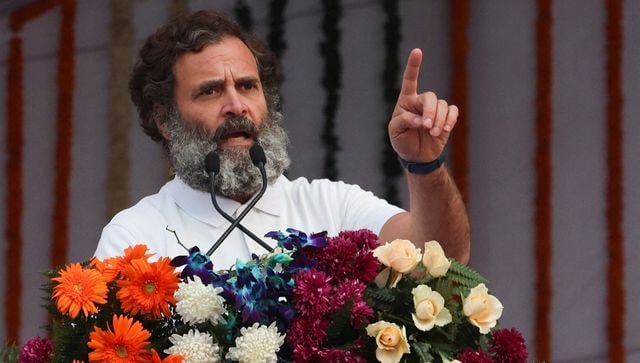 India
Rahul Gandhi was convicted by a Surat court on Thursday in a 2019 criminal defamation case. Later, after the Court's ruling, he was disqualified from the Lok Sabha and lost his position as a Member of Parliament
World
Scepticism remained high over the negotiations on the judicial overhaul, which would curtail the authority of the Supreme Court and give politicians greater powers over the selection of judges
World
Pro-Khalistan supporters in the US threatened the Indian embassy and Indian Ambassador to the United States Taranjit Singh Sandhu during their protest on Saturday. They issued threats and made announcements that the 'hypocrisy' will come to an end