Samajwadi Party drama enters 5th day: Akhilesh-Shivpal feud sparks SP-Congress alliance ahead of UP polls
While on one hand Shivpal clipped out another Akhilesh supporter, a reassuarance from him followed close at heels that all is well within the family.
The family drama within the Samajwadi Party continued to fester in full public view for the fifth consecutive day even as fresh signs confirmed that all is not well within the Yadav clan. With the Uttar Pradesh elections closing in on the strife-torn ruling party, the two warring factions have sent out mixed signals.
On one hand, Mulayam Singh Yadav, the party patriarch, insists that the party and family stands united. On the other hand, Mulayam's brother Shivpal Yadav and son Akhilesh Yadav are busy flexing their muscles, each showing the other the damage they can do in their official capacity. The drama on Wednesday unfolded with early morning news that Shivpal has sacked another Akhilesh supporter. Here is how the Yadav clan's story unfurled on Wednesday.
Shivpal expells Pawan Pandey from party
State unit chief Shivpal expelled Tej Narain Pandey alias Pawan Pandey, for clashing with one of influential party MLC's Ashu Malik at the Samajwadi party meet on Monday. Pandey was expelled for six years.  Political pundits and media analysts were quick to read between the lines and suggest that the move is another veiled attempt at carefully pruning out Akhilesh supporters from the inner circle of the party.
It is instructive to note here that Ashu Malik is considered close to party chief Mulayam, whereas Pandey is a close aide to the chief minister. Addressing a press conference in the morning, Shivpal announced Pandey's expulsion while stating that he has also written to the chief minister requesting that he be sacked from the Cabinet. Malik had alleged that Pandey slapped him twice at the chief minister's residence. He, however, stated that Akhilesh himself wasn't present when the incident took place.
Meanwhile, Pandey termed the charges levelled against him as false and part of a conspiracy. "I might have been expelled from the party through a piece of paper but SP chief Mulayam Singh Yadav and Chief Minister Akhilesh Yadav will always remain in my heart...I have no regrets over the expulsion," he told the media. "Ashu Malik has cited in the police complaint that he was beaten up outside the CM's residence...CCTV cameras are installed all over the place and media was also present there on that day...if the footage is checked the reality will come to light," he stressed.
All is well within the family: After Mulayam, Shivpal stresses on unity
While on one hand Shivpal clipped out another Akhilesh supporter, a reassurance from Shivpal followed close at heels that all is well within the family. He said that there are no differences within the party or the family members and everybody is united to brace the elections. The fact that such statements sound hollow in the backdrop of expelling his nephew's aides from the party, is perhaps inconsequential in Shivpal's view.
It has been a standard statement from SP's top leadership. In every press briefing or while addressing party workers, the party supremo has stressed on the fact that the party and the family have no rift. An emotional Akhilesh, in the party workers' meeting on Monday, echoed his father's claim and ruled out a split in the party, that many were speculating.
It would have been easy to believe the Yadavs if their talk was backed by some action. Shivpal and Akhilesh have been at loggerheads since the problems within the party have caught the public eye. On Tuesday, at a crucial media briefing by Mulayam, the rift was there for everyone to witness, with Akhilesh missing from the event while Shivpal sat right next to the party chief. Another instance, among many others, was when Shivpal interrupted Akhilesh's address to the party workers and called him a "liar".
Shivpal's name plate as minister removed 
In a move clearly signalling that Shivpal does not want to be taken back in the state government, his ministerial name plate was removed by his staff from his official residence. Although a very subtle and minor development, the news further reinstated that swords were drawn between the uncle and the nephew. The red beacon atop his vehicle has also been taken away and he has surrendered his official vehicle to the state's 'Rajya Sampatti Vibhag' (state property division), according to  IANS.
The move is being seen in political circles as Shivpal's snub to attempts by Akhilesh to broker a deal with party chief Mulayam, in which he had reportedly sought revocation of Ram Gopal Yadav's expulsion from the party in lieu of the re-entry of Shivpal and three others — Om Prakash Singh, Narad Rai and Shadab Fatima — into his cabinet.
While Mulayam had initially asked Akhilesh to reinstate the sacked ministers, the chief minister refused to yield to the diktat forcing the SP supremo to tell reporters that he had left the matter to Akhilesh.
Akhilesh meets UP Governor Ram Naik
While uncle Shivpal was busy setting in order the party's affairs, Akhilesh, in a surprise move, called upon Governor Ram Naik and briefed him on the prevailing political situation in the state.
What conspired in the meeting is still not known, however, the meeting triggered speculations in political circles. Reportedly, Akhilesh paid a sudden visit to the Raj Bhawan when he was in the middle of a meeting with party legislators and seniors to finalise details of his proposed 'rath yatra' from 3 November.
The sudden visit caught everyone by surprise, though some said an appointment had been sought in advance. Raj Bhawan sources said Akhilesh briefed the Governor on the prevailing political situation in the state. SP sources told PTI that the visit might have been in connection with the four vacancies in the ministry after Akhilesh sacked Shivpal , Om Prakash Singh, Narad Rai and Sayeda Shadaab Fatima in a sudden move on Sunday, plunging the party into a deeper chaos.
Another informed source told IANS that Akhilesh had handed over a letter of support from 205 legislators of his party and briefed Naik about the legislature meeting of his party MLAs. The move is being seen as an attempt by the chief minister's camp to pre-empt any move by Shivpal and father Mulayam to upstage him at any point of time in near future.
SP chief Mulayam has, however, made it clear that for now, there was no move to remove the chief minister. "Akhilesh is Chief Minister today and nobody has an objection to it," the SP supremo told a press conference on Tuesday.
Shivpal hints at pre-poll alliance
Party's state unit chief Shivpal dropped hints that back-channel talks for possible pre-poll alliances may be taking place already. Speaking to reporters Shivpal said, "SP has always fought against communal powers and we will do whatever it takes to defeat them." Referring to the BJP as "communal power", Shivpal said that it is a common enemy. He also signalled that the ruling party is much more humbled than the last elections and from the days of Mahagathbandhan. "We will make whatever sacrifices are needed (read flexibility in seat negotiations) from us, to stop communal forces from coming to power in Uttar Pradesh," Shivpal added.
Shivpal did not take any names but he said that "Lohiawadis, Gandhiwadis and Chaudhri Charan Singhvadis"will come together to defeat "communal powers." Ram Manohar Lohia is the SP ideologue, 'Gandhians' was an apparent reference to Congress while Rashtriya Lok Dal is  affiliated to Chaudhri Charan Singh's ideology. Please bear in mind these are only speculations at this point.
Interestingly, this statement is not only reminiscent of the political banter when negotiations for forming the Mahagathbandhan were underway, but it also reminds of the recent praises heaped by Congress Vice-President Rahul Gandhi and Akhilesh on each other. Both the leaders have called each other "nice human being" and "well-meaning boy."
However, both Congress and RLD responded with caution. According to CNN-News18, Congress' chief ministerial candidate in Uttar Pradesh Sheila Dikshit said, "To the best of my knowledge no such negotiations have happened so far... Let us see. I am not saying we are open to alliance or closed to alliance. We cannot say like that. There are some negotiations in alliance."
She, however, conceded that in case of a splinter, Akhilesh would be the preferred choice. Carefully guarding her words, Dikshit also said that the rift was apparent and that the father and son could no longer be considered a single entity as far as negotiations with Congress were concerned. "They are not together anymore. So the communication has to be held separately. Certainly Akhilesh looks like a more modern chief minister, there have been no scandals yet in his leadership," she said.
Similarly RLD too said that it will prefer to wait and watch rather than making any upfront commitments. CNN-News18, however, reported that the party is not keen on allying with Congress.
India
The former prime minister was admitted to the All India Institute of Medical Sciences (AIIMS) on Wednesday evening after he suffered from fever and weakness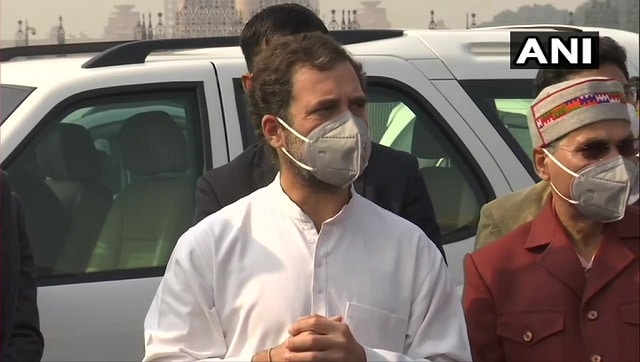 India
Rahul's remarks on Kashmir came after two government school teachers, including a woman, were shot dead by militants in Eidgah area of Srinagar
Politics
As the theatrical farce played out providing daily prime time entertainment to a country aghast at the party's amateurish handling of the imbroglio, the Congress leadership remained mummified