Amit Shah sounds poll bugle in Uttar Pradesh, calls Samajwadi Party biggest rival
Shah parried a question about whether Ram temple will be a poll issue for BJP in the UP polls.
New Delhi: BJP president Amit Shah on Wednesday named Samajwadi Party as its main rival in the next year's assembly election in Uttar Pradesh even as he exuded confidence that his party will form the government in the key state.
Shah also rejected the contention that the party was on a sticky wicket in Gujarat following the violent Patidar quota agitation, claiming that it will win a two-thirds majority in the state, where polls are due next year end.
He dismissed reports that the BJP brass was mulling over removing Chief Minister Anandiben Patel and said the party
had not discussed the issue.
In an interaction with journalists, he said it had not been decided yet whether to name a chief ministerial candidate for Uttar Pradesh, a tactic it successfully deployed in Assam, saying all states are different.
"It is certain that BJP will get a majority in Uttar Pradesh," he said, adding the party had a strong base in the state where it won 71 of the 80 Lok Sabha seats in 2014.
His strong expectation from UP was not linked to the party's win in Assam, Shah said, adding the key Hindi
heartland state was "easy" even before the polls in the northeastern state.
Asked about the party's election agenda for Uttar Pradesh, Shah said development would be the top priority as the entire state was in a "mess" from "top to bottom" under Samajwadi Party's "misrule".
Shah said he considered SP as the BJP's main adversary because of its larger support base than Mayawati's BSP. The
saffron outfit has been trying to wean away Dalit votes from Mayawati-led BSP.
To a query whether he was under pressure to deliver UP to the party, he said "There is always pressure for me".
Asked about Bihar Chief Minister Nitish Kumar's plan to contest the UP polls, he said if Nitish factor worked, it
would only benefit BJP. He was apparently referring to the split of secular votes the presence of Kumar's JD(U) in the electoral fray could cause.
Shah, who led party to victory in several states but under whom BJP suffered massive losses in Delhi and Bihar, also rejected the contention that it was at a disadvantage in Uttarakhand following its failed bid to topple the Harish Rawat government.
"There is a massive anti-incumbency wave in the state. We will come to power whenever polls are held," he asserted.
The hill state will go to the polls with Uttar Pradesh next year.
Asked about the likely reshuffle in the Union Council of Ministers, he said it would happen whenever it has to.
Shah parried a question about whether Ram temple will be a poll issue for BJP in the UP polls, saying it has been in the party's manifesto and the party wanted a resolution based on either consensus or court's verdict.
The party is holding its national executive in Allahabad on 12-13 June and he would be going to the state three times before that, Shah said, underlining UP's priority in his scheme of things.
He also made light of questions about AAP gaining in strength in Punjab, where polls are due early next year,
saying he had heard so only through media and was yet to make an independent assessment.
"Punjab is not Delhi. Mass base matters," he said, suggesting Arvind Kejriwal's party's lack of roots in the
state would go against it.
Asked if BJP agreed with party MP Subramanian Swamy's aggressive stand on a host of issues, including his recent
demand that RBI Governor Raghuram Rajan be sacked, Shah said, "What I say is the party's line."
Commenting on the recent assembly elections, he said he was "happiest" about Kerala results as the party-led alliance had bagged 15 percent votes and noted that before BJP formed its governments in Gujarat and Karnataka for the first time it had hardly polled 11-12 percent votes.
On being asked about BJP's mission of 'Congress-mukt Bharat', Shah said the slogan is often "misinterpreted".
The BJP chief said the Congress party stood for "sacrificing" national interest for its "selfish" gains and for "misgovernance" and getting rid of this is what he meant by "Congress-mukt Bharat".
If Congress loses everywhere, it is good for BJP, he said.
India
Justice Yadav would, however, demit the office on 25 June when he turns 62. Chief Justices and judges of high courts retire at the age of 62.
Politics
The UP CM's visit to Delhi comes close on the heels of the BJP holding a series of review meetings in Lucknow, which had fuelled speculation of a ministerial reshuffle in the state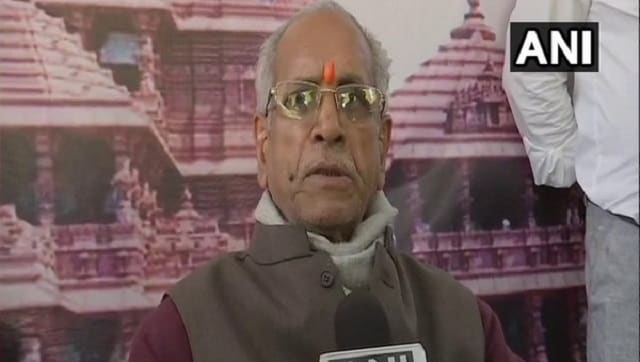 India
The Samajwadi Party and the Aam Aadmi Party Sunday accused Ram Mandir Trust set up by the Centre in 2020 of a major land scam in which the price of a piece of land changed from Rs 2 crore to Rs 18.5 crore in minutes