Sajad Lone's bid to form Jammu and Kashmir govt shows he's learnt the hard way that political opportunity doesn't wait to knock
Lone has long been written off as a bit-actor in Kashmir's savage political story: an opportunist, his critics allege, lacking ideological and even moral fibre. This much is clear, though: he's certain he belongs centre stage.
"He is a liar, a curse on our nation." Sajad Gani Lone spat out the words in 2008, as anti-India violence tore Kashmir apart, after the state's Islamic patriarch, Syed Ali Shah Geelani, accused him of preparing to betray the secessionist cause, and contest elections. Less than six months later, though, Lone announced his candidacy for the Baramulla Lok Sabha constituency and, today, is at the centre of the Bharatiya Janata Party's plans to plant its flag in the Valley.
Lone has long been written off as a bit-actor in Kashmir's savage political story: an opportunist, his critics allege, lacking ideological and even moral fibre. This much is clear, though: he's certain he belongs centre stage.
For an understanding of Lone's political trajectory, one has to turn to events that began in the late-1990s, when the Islamist insurgency in Kashmir began to reach an impasse. Early in 1997, the former head of the Jamaat-e-Islami—the organisation which birthed the Hizbul Mujahideen—stunned observers by publicly criticising what he called "gun culture". He instead called for "a political dialogue" to end the conflict in Jammu and Kashmir.
In 1999, All Parties Hurriyat Conference leader Abdul Gani Butt called for a dialogue between secessionist and pro-India political groups; the following year, Hurriyat centrists helped facilitate a unilateral ceasefire by dissident Hizbul commander Abdul Majid Dar.
Following the near-war that erupted after the Jaish-e-Mohammed's attack on Parliament House in New Delhi, General Pervez Musharraf's regime threw its weight behind these efforts: the Bill for the jihad in Kashmir was starting to look too high.
Lone's father, Abdul Gani Lone, sought to use these new circumstances to build a consensus for negotiations. In April 2002, he travelled to Sharjah for discussions with the powerful Pakistan-occupied Jammu and Kashmir leader Sardar Abdul Qayoom Khan, and the then Inter-Services Intelligence chief Lieutenant-General Ehsan-ul-Haq. He is believed to have told both men that the Hurriyat intended to open the way for a direct dialogue with New Delhi.
"If the (Indian) government is not ready to allow self-determination," Abdul said soon after the meeting, "the alternative is that it should be ready to settle the dispute through a meaningful dialogue involving all parties concerned." But days after he made that declaration, the elder Lone was assassinated by a Lashkar-e-Taiba hit squad: a blunt message from the ISI that it wasn't quite prepared to let go of its puppet strings.
The assassination terrified the Hurriyat leadership. In 2004, Hurriyat leaders led by Mirwaiz Farooq met then Union home minister LK Advani, but their talks were purely surface-level. Then prime minister Manmohan Singh held a fresh round of negotiations with the Hurriyat in 2005, but its leaders never delivered on the promises to come back with detailed proposals. Former Union home minister P Chidambaram also secretly met with Hurriyat leaders. Finally, in March 2006, APHC leaders promised mediators they would attend Manmohan's second round table conference on Jammu and Kashmir, but backed off after threats from the Hizbul.
Lone's decision to break ranks with the secessionists in 2008 rested on two fundamental assumptions. First, the fracturing of the 2008 anti-India mass mobilisation—and the successful elections held in 2009—demonstrated that the secessionist constituency was waning. There was, secondly, no sign that India and Pakistan were going to cut a deal that would give the Hurriyat power. This meant power was going to have to be won through the only means available: elections.
Lone stayed away from Kashmir politics after the early 1990s. His father's People's Conference had long played a role in Opposition politics, but the long jihad which began in 1989 dealt him out of the game. For a while, Lone worked at a gold jewellery export business in Delhi: a business which collapsed amidst litigation over alleged misappropriation from the Minerals and Metals Trading Corporation. Later, he moved to Dubai to set up a business with a Pakistani national. He married Asma Lone, the son of one-time terrorist Amanullah Khan in 2000; it is improbable the two would have moved home to Srinagar were it not for the assassination.
Lone inherited his father's party at a time when New Delhi turned away from the Hurriyat, and sought to cut a deal with Pakistan. In secret meetings which began in 2005, Manmohan's envoy SK Lambah, and his Pakistani counterpart Tariq Aziz, arrived at five points of convergence. The agreements were drafted on unsigned notes, and contain the contours of a final India-Pakistan agreement on Kashmir.
First, the two men agreed, there would be no redrawing of the Line of Control. Second, they accepted that there would have to be greater political autonomy on both sides of Jammu and Kashmir. Lambah and Aziz also agreed that India would begin troops cuts in response to deescalation of jihadist violence, cooperatively manage resources like watersheds and glaciers and, finally, open the Line of Control. "I think the agenda is pretty much set," Hurriyat chief Mirwaiz Umar Farooq told an interviewer in April 2007. "It is September, 2007," he went on, "that India and Pakistan are looking at, in terms of announcing something on Kashmir".
But General Musharraf was swept out of power: and Lone finally lost hope of a deal involving Pakistan. Butt now called on the National Conference and the Peoples Democratic Party to work with the secessionist formation to "mutually work out a joint settlement and present it to India and Pakistan." For his part, Lone called for secessionist aspirations to focus on the "achievable". "In between 'everything' and 'nothing'," Lone said, "the leadership has to consider 'something' as well". Put simply, he realised he'd missed the bus—and was scrambling to get the journey going again.
"Something" is exactly what Lone got: two Members of the Legislative Assembly were elected in 2014, including himself. The wins were significant not for their scale, but because it marked the first transition of secessionists back into the political system. Key Hurriyat leaders, including Syed Ali Shah Geelani, fought and won elections prior to the long jihad; the hope was that figures like Lone marked a reversal of the tide. Lone himself showed signs that he regretted not having fought the 2009 Assembly elections: ""People voted at the wrong time," Lone ruefully said at a press conference in December, "but we cannot pretend nothing has happened".
The People's Conference leader's bid to form a government in Kashmir is consistent with his strategy since his election run. Having persuaded himself that Pakistan will be able to give Kashmir's secessionists nothing, cultivating a close relationship with whomsoever holds power in New Delhi offers the best chance of acquiring power. In the process, Lone is running several risks. For one, the BJP is seen, by substantial numbers numbers of ethnic Kashmiris, as an agent of a predatory Hindu State: determined to steal both their land and religious identity. Perhaps more important, the political tide has changed since 2009. Then, the secessionist movement collapsed; now, it has been reborn, spearheaded by a new generation of young Islamists.
There is a flip side to that reality, though: The disarray in the ranks of the PDP and National Conference, both besieged by Islamists in their traditional strongholds, offers Lone  an historic opportunity to expand his constituency. He hopes to emerge as the leader of a new cohort of politicians emerging out of the debris of the collapsed political system. Lone would, perhaps, call this ambition; others might see it as hubris. He's learnt the hard way, though, that political opportunities do not wait at the roadside to pick up passengers.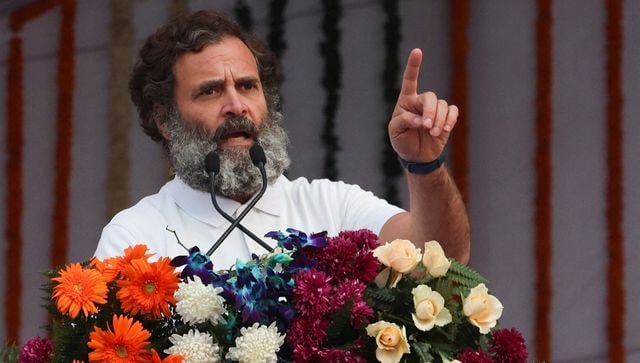 India
Rahul Gandhi was convicted by a Surat court on Thursday in a 2019 criminal defamation case. Later, after the Court's ruling, he was disqualified from the Lok Sabha and lost his position as a Member of Parliament
Opinion
Pakistan Foreign Minister Bilawal Bhutto is getting increasingly hyper about India whether it is in the UN or in the bilateral fora that happened in Berlin late last year or to a domestic audience
India
Jammu and Kashmir Lieutenant Governor Manoj Sinha at the opening ceremony said that about 68 varieties of tulips will bloom in the garden this year