Saifuddin Soz echoes Musharraf, says Kashmiris' first choice is freedom; BJP compares Congress leader to LeT
Soz argued that the Centre should first open dialogue with Hurriyat Conference before moving to mainstream parties to find a solution to the Kashmir issue.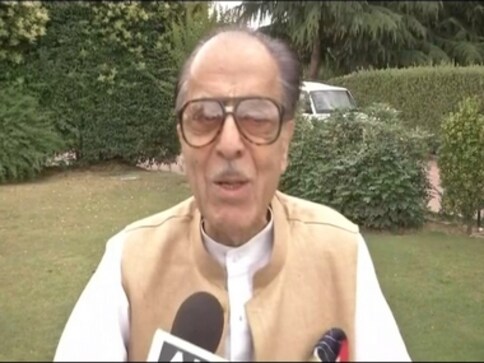 Kashmiris do not want to merge with Pakistan... their first choice is independence, senior Congress leader and Union minister in the UPA-I government Saifuddin Soz has argued in his forthcoming book Kashmir: Glimpses of History and the Story of Struggle, which is scheduled to release next week.
"The statement was true then and remains true now also. I say the same but I know that it is not possible," Soz was quoted as saying by ANI.
The Congress, however, quickly washed their hands of the former Union minister's comments saying that it was not the party's opinion.
"Musharraf had explained that if Kashmiris were given a chance to exercise their free will, they would prefer to be independent. In fact, this assessment of Musharraf seems to be correct even today," The Print quoted an excerpt from the book. Soz has also argued that the central government should first open a dialogue with the Hurriyat Conference before moving to mainstream parties to find a solution to the Kashmir issue.
Arguing that several governments since 1953, including that of Jawaharlal Nehru and Indira Gandhi, have caused blunders which abetted alienation of the Kashmiris from India's heartland, he said that the primary responsibility to find a solution to Kashmir lies with the Centre.
The Centre has to show "a gesture of compassion for creating a situation of relief in the minds of Kashmiris" and initiate a dialogue with the people, reports, quoting sections of his book, said.
"And, if the Union of India has to talk to the people of Kashmir, it will have to decide the grouping with which it will initiate the dialogue. In my opinion, it is the political conglomerate called the Hurriyat. Then, the ball will certainly move to what is broadly known as the 'mainstream'," he said.
Former Pakistan president Pervez Musharraf in 2006 had said that if given a choice, Kashmiris would choose independence and would not want to be part of either India or Pakistan. The admission had come during former prime minister Manmohan Singh's visit to Islamabad for a "decisive dialogue."
The meeting could not happen after Musharraf requested for a postponement and said that the next date would be fixed soon, which never came. The "Musharraf-Vajpayee-Manmohan" formula predicted same borders but free movement across Jammu and Kashmir state, Gilgit-Baltistan, Pakistan-held Kashmir, Kashmir Valley, Jammu and Ladakh; autonomy on both sides; demilitarisation, that is, phased withdrawal of troops from the region and a mechanism devised jointly so that the roadmap for a settlement is implemented smoothly, Soz has written in the book.
BJP compares Congress to LeT
Soz's comments soon went viral on social media and BJP leaders took to Twitter to slam him and the Congress leadership. BJP IT cell chief Amit Malviya said:
After LeT Chief endorsed Ghulam Nabi Azad, Senior Congress leader Saifuddin Soz returns the favour and endorses Musharraf. What is wrong with these Congress leaders? खाते यहाँ की हैं, और बजाते वहाँ की... No wonder Rahul Gandhi rushed to endorse the 'टुकड़े टुकड़े' gang... Shame. pic.twitter.com/LWNA0XyB0Y

— Amit Malviya (@amitmalviya) June 22, 2018
BJP spokesperson Sambit Patra took a cue from Malviya's tweet and said:
While terrorist group LeT endorses the statement of Congress leader GulamNavi Azad, top Congress Neta Saifuddin Soz declares that Kashmiris want to be independent!! Alas there's a Pakistan outside of India & a Pakistan within the Congress!#CongMahagatbandhanWithLeT pic.twitter.com/IDsnjwkm4u — Sambit Patra (@sambitswaraj) June 22, 2018
Speaking to ANI, Subramanian Swamy said, "As a central minister, Soz benefitted from Centre's power when his daughter was kidnapped by JKLF. There's no use helping these people. Whoever wants to stay here can stay abiding by the Constitution, if they like Musharraf we will give them a one-way ticket to Pakistan."
"This has been a trend for Kashmir-centric politicians. When they're in power they swear by Kashmir being an integral part of India. The moment they're thrown out of power, they start using this separatist or semi-separatist jargon," said Union Minister Jitendra Singh.
Entertainment
In response to a Twitter user's appreciation post for Gandhi, Agnihotri wrote, "I like the ease with which he wears warm jackets indoors and goes without jacket outdoors. Also, ease with which he drinks chai outdoors and 5 course meal indoors. Easy drama. Easy followers. Good one."
Opinion
Kashmiri Pandits have been protesting and demanding relocation from the valley till the security situation improves. Hundreds of employees and their families have shifted to Jammu. This has seriously affected quality education in the Valley
India
Amit Shah was received at the airport by Lieutenant Governor Manoj Sinha and top officials of administration and security forces