Modi@2-year: At PM's Saharanpur rally, Rajnath aims to end BJP's UP 'vanvas'
Home Minister Rajnath Singh closed his speech with a clear appeal -- come next elections, give a clear majority and form a BJP government.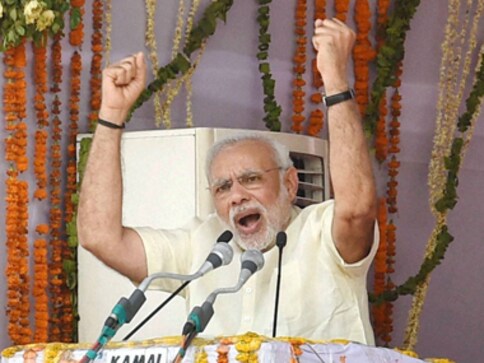 Prime Minister Narendra Modi didn't directly refer to the coming Uttar Pradesh elections in his Saharanpur rally, barring the fact that he represented the state in Parliament and thus should be taken as a 'UPwala'. He focussed on developmental issues, highlighting achievements of his government intended to create a long term goodwill for him, his government and his party. However, the Prime Minister allowed his official number two, Home Minister Rajnath Singh to take centrestage and sound the poll bugle.
Singh was direct. He closed his speech with a clear appeal -- come next elections, give a clear majority and form a BJP government. And that emotive Ram tinge, BJP has already spent 14 years of vanwas (out of power) and it was now time that it should be voted to power. Singh had specially accompanied Modi for the rally and thus it could be assumed that his task was clearly cut out - he as the most prominent face of the party in the state would be straightaway put on campaign mode, while Modi would give more of a Prime Ministerial speech than be the one to take on the lead campaigner role. The difference is a bit nuanced but still it was played like that, at least today.
If that is of any indication then it is clear that Singh will be face of BJP's poll campaign in Uttar Pradesh. Firstpost learnt from reliable sources that Singh would campaign extensively in Uttar Pradesh and will be the campaign lead for the BJP. It is however not clear so far if a formal announcement to that effect would be made or a campaign committee with him as the head would be formed in due course. Throughout Singh's speech "if our party comes to power in UP then we will..." do this or do that was a constant.
Singh, a former Uttar Pradesh chief minister, remains the most credible face in the state around whom varied sections of voters could rally round. He has right stature and support base to be the prime campaigner to take on both Mulayam Singh Yadav and Mayawati. Incidentally he was the last chief minister from BJP ranks in Uttar Pradesh. In fact in the last Assembly election in 2012, Singh's tenure as chief minister and achievements were only positive things which tier two and three leaders could say to the audience while warming the stage for arrival of senior central leaders. These are early days but what emerged from Saharanpur is indeed very interesting.
Modi and Singh, along with some other senior leaders would again be together on dais to address a public rally in Allahabad on 13 June after conclusion of the two-day BJP National Executive meet. Modi would perhaps then take on two rival political parties, SP and BSP or even the third one, the Congress and get in election mode. For today he only referred to loot and plunder by some parties and link public schemes with castes, communities, and urging the state government to tame the sugar mill owners and make them pay the farmers' dues. And that warning, to whosoever it could concern: Desh badal raha hai par kuch logon ka dimag nahi badal raha hai (the country is changing but minds of some people remains static).
The central theme of Modi's speech was that his government was dedicated to the marginalised sections of society and listed a number of measures taken by him in this regard, as also reminding his first speech in Central Hall of Parliament in 2014 after he was formally elected leader of NDA and PM-designate.
He had good news for doctors and the patients dependent on them. He announced that retirement age of the doctors in government hospitals was being raised to 65.
Niyat saaf hai, niti saaf hai (The intentions are clean, the policies clean) and he went on, if two years ago leader of a ruling party could claim to give a corruption free government.
The crowd merrily cheered to that. If the pictures of responsive crowd and size of it, beamed from Saharanpur was of any indication then Modi and his party have reasons to be optimistic for Uttar Pradesh polls. But the challenge is very tough and they have miles to go. The message was lost to none when Singh said the party had been in exile for last 14 years. Will Modi make Singh script its return from exile to power?
World
Biden has previously made clear, without formally announcing, that he intends to run for a second term in 2024 when he'll be just under 82 years old on election day
World
Supporters of Khan's party, the Pakistan Tehreek-e-Insaf (PTI), clashed with police in the city of Lahore last week as they attempted to arrest him at his home, and later with police in Islamabad as he arrived to appear before a court on Saturday.
World
The decision by Kuwait's Constitutional Court, reported by the state-run KUNA news agency, threw more chaos into the politics of this small, oil-rich nation on the Persian Gulf