Sadhna Singh's 'offensive' remarks on Mayawati creates storm: Politicos take to Twitter to condemn BJP's inaction against her
Sadhna Singh's shocking comments have drawn severe criticism even as a police complaint has been filed against her by the BSP and the National Commission for Women pulling her up, saying it will seek an official explanation from her
A police complaint has been filed against Sadhna Singh by the BSP

The National Commission for Women also pulled her up, saying it will seek an official explanation from her

BSP leader Satish Chandra Mishra called Singh
Much has been said  and speculated about Mayawati's alliance with SP leader Akhilesh Yadav since their announcement on 12 January but one of the most controversial comments was made by BJP MLA Sadhna Singh at a rally in Uttar Pradesh on Saturday. Singh called the BSP supremo "worse than a eunuch" and that she had "sold her dignity" in exchange for power".
Not surprising then that Singh's shocking comments have drawn severe criticism even as a police complaint has been filed against her by the BSP and the National Commission for Women pulling her up, seeking an official explanation from her.
BSP leader Satish Chandra Mishra called Singh "mentally ill" and said that the SP-BSP alliance has rattled BJP leaders.
Akhilesh Yadav also took to Twitter to condemn the statement. "The kind words used by used for Mayawati by BJP's woman MLA from Mughalsarai is highly objectionable. I condemn the statement. BJP has become completely bankrupt when it comes to morals. They are just frustrated. The statement is an insult to the women of the country."
A member of Uttar Pradesh's 17th Legislative Assembly, Singh represents the Mughalsarai constituency in Chandauli district. Hours after the video in which Singh lashes out at Mayawati was released, the clip was widely shared on social media. She can be heard saying: "I don't think Uttar Pradesh's former chief minister is a woman or a man. She doesn't understand the concept of dignity. Draupadi was a victim of sexual misconduct. She vowed to get revenge. That was a self-respecting woman. Look at this woman. Everything was looted from her, despite which she sold all her dignity to get power."
Minister of State for Social Justice and Empowerment and Republican Party chief, Ramdas Athawale, was quoted by ANI, as saying, "Our party is with BJP, but we don't agree with disrespectful remarks against Mayawati. She is a strong lady of our Dalit community and a good administrator. I would've definitely taken action if it was someone from our party". While the Congress was left out of the SP-BSP alliance, described Singh's comments as "disturbing". Congress spokesperson Priyanka Chaturvedi tweeted:
Congress Rajya Sabha MP Abhishek Manu Singhvi also took to Twitter and said the saffron party "accommodates" candidates who "love to abuse the minorities".
Former Jammu and Kashmir chief minister Mehbooba Mufti called Singh's statement "repulsive and regressive" and said Mayawati has always been "ridiculed with the choicest of casteist and sexist remarks".
In another tweet, Mufti went on to condemn the Centre for slapping sedition charges on JNU students' union (JNUSU) president Kanhaiya Kumar and others while not taking action against its own MLAs. and others in the 2016 sedition case
Former Chhattisgarh chief minister Ajit Jogi called for immediate expulsion of Singh from the BJP even as he said her comments reflect "frustration and fear" within the saffron party.
Photos
Likely to be inaugurated in March, the new Parliament building, is constructed as part of the Central Vista redevelopment plan. The new building has bigger halls, a library, committee rooms with the latest communication technology and convenient parking spaces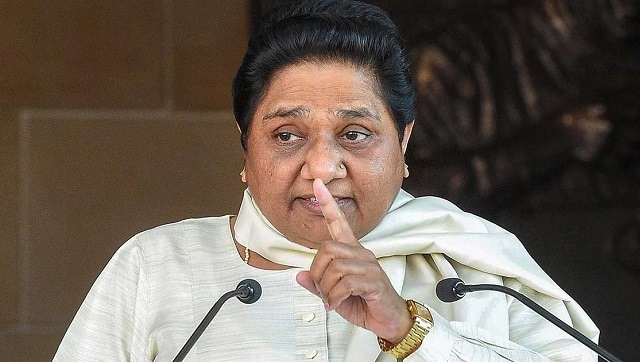 India
Know in detail some interesting facts about BSP chief Mayawati