Saamana cartoon row: Shiv Sena needs to look within before preaching Maratha pride
With the publication of a cartoon that takes a dig at Marathas, JNU students and uses martyred soldiers for a joke, Shiv Sena has shot itself in the foot.
With the publication of a cartoon which mocks the Maratha silent morchas, Jawaharlal Nehru University (JNU) students and tries to raise the issue of spread of dengue using martyred soldiers as the butt of a sick joke, the Shiv Sena has really shot itself in the foot.
But before discussing the cartoon itself, let's be clear about a critical point. Shiv Sena's freedom of speech entitles the party to publish anything which does not incite violence, even if what is being published is utterly cheap.
Thus, as flawed as the party's cartoon might be, the attack on the Saamana (Shiv Sena's mouthpiece) office in Navi Mumbai by pro-Maratha social organisation 'Sambhaji Brigade' is downright wrong. Action should definitely be taken against the three youths responsible for the attack.
The correct response to a flawed opinion is criticism, not senseless violence.
Moreover, the cartoonist responsible for the toon has also apologised.
Having said that, let's take a look at how Saamana managed to make even Shiv Sena leaders angry.
The dig at the Maratha silent morchas
Maharashtra has been shaken by the silent marches which the Maratha community members have been taking out in various towns in the state over the last month.
These protests were sparked by the brutal gangrape and murder of a 15-year-old Maratha girl in Kopardi village in Ahmednagar. The heinous crime was allegedly committed by four Dalit youths.
The Marathas, through these silent marches, has been demanding death penalty for the accused, amendments in the Scheduled Castes and Schedules Tribes (Atrocities Prevention) Act and reservation for their community members in jobs and education.
It is perhaps the biggest irony in Maharashtra politics today that a party like Shiv Sena — known for its aggressive pro-Maratha ideology — has published a cartoon in its mouthpiece that mocks the Maratha agitation.
The cartoon at the bottom shows some protesters carrying a sign which says, "Massive kissing agitation" and two protesters kissing while other people shockingly stare at the kissing couple.
One of the people staring says, "The over-enthusiastic protesters seem to have misinterpreted their protest."
The bad joke is based on the Marathi word "muka", which means "to kiss". The Marathi morchas are also known as 'Muk' morchas.
This tells us two things about the Shiv Sena.
First off, the fact that Saamana decided that it was perfectly fine to try to crack a frivolous joke about protests based on a shocking crime of sexual assault shows its lack of sensitivity.
Moreover, it's not like the Maratha morchas have not faced criticism. For example, according to this article in The Indian Express, over 150 crimes against Dalits, including some brutal murders, were committed just in Ahmadnagar district (where the Kopardi gangrape took place) in the last four to five years. But we did not see any such massive protest against these crimes.
According to NDTV, Dalits and Adivasis make up 19 percent of Maharashtra's population but only one percent of the FIRs registered by the police were filed members of SC or ST. Out of those few FIRs, the Atrocities Act was applied in less than 40 percent of the cases.
The Maratha agitation is also being seen by some people as more about the longstanding reservation issue and a divide between Marathas and Dalits.
But instead of raising serious points to provide a constructive and logical counter, Shiv Sena's Saamana trivialised the protests and mocked and insulted all the members of a community.
Secondly, the fact that Shiv Sena chose the act of kissing to denote something which it considered to be inappropriate and worthy of judgement by the shocked onlookers in the cartoon shows its skewed sense of morals. Political parties like Shiv Sena have not been able to accept that there is absolutely nothing wrong with kissing.
Using martyred soldiers for a joke
"Something's amiss. This soldier died as a result of dengue and not a terror attack," says a character in the top-left side of the cartoon as a small crowd looks at the body of martyred soldier.
Yes, the menace of dengue needs to be taken seriously in India. According to an NDTV report, three people have died due to dengue in Maharashtra and 122 dengue cases have been recorded in Mumbai. The number of dengue and chikungunya cases are also rising in New Delhi.
But did the Shiv Sena really need to use the image of a martyred soldier to make this point? Saamana basically decided to raise the issue of deaths due to dengue by making a dark joke about deaths of soldiers due to terrorism, again showcasing its lack of sensitivity.
The irony is yet again visible because for all the chest-thumping nationalism which Shiv Sena resorts to, the anti-Pakistan rants after the Uri terror attack, the demand for Pakistani artists to leave India and the violent protests by its party members on the issue, Shiv Sena itself failed to show the most basic respect to martyred soldiers.
The drama around JNU students' 'morality'
Ever since the JNU row erupted since the controversial event on Afzal Guru in February, some right wing parties have tried everything in their power to defame its students.
One of the most hilarious attempts was when BJP MLA Gyandev Ahuja suggested that JNU was some land of vice when he had said, "More than 10,000 butts of cigarettes and 4,000 pieces of beedis are found daily in the JNU campus. 50,000 big and small pieces of bones are left by those eating non-vegetarian food. They gorge on meat... these anti-nationals. 2,000 wrappers of chips and namkeen are found, as also 3,000 used condoms — the misdeeds they commit with our sisters and daughters there. And 500 used contraceptive injections are also found."
Similarly, on the top-right of the Saamana cartoon, a person wearing a T-shirt with 'JNU' written on it can be seen saying, "To condemn the Pakistan-led Uri attack, I will give up cigarettes, alcohol, cocaine and gutkha for two days."
Assuming that all the JNU students consume drugs makes as much sense as assuming that all right-wing party members are jingoistic. Generalisation has never done anyone any good.
And Shiv Sena's attempt at taking the moral high ground by trying to project smoking and drinking as shameful acts is laughable.
Perhaps the biggest evidence of the insensitivity of the cartoon is that a section of Shiv Sena leaders are themselves angry because of it. Bhaskarrao Bhange from Marathwada, Ravi Raj (corporator) from Dhule and Ashok Khedkar from Buldhana have submitted their resignations to Sena chief Uddhav Thackeray.
Before preaching about values like nationalism and local pride to others, the party clearly needs to introspect.
With inputs from agencies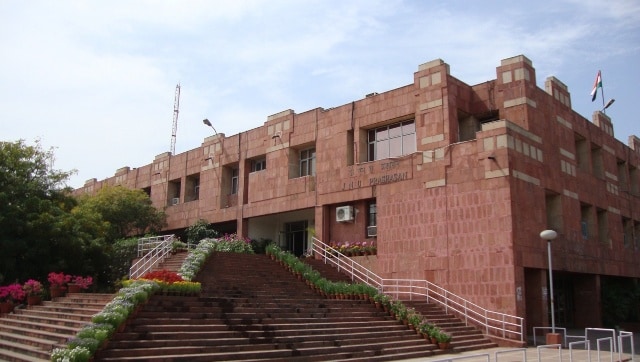 India
Interested candidates can fill the forms till 5:00 pm on 27 August and the application fee can be submitted by 11:50 pm on the same date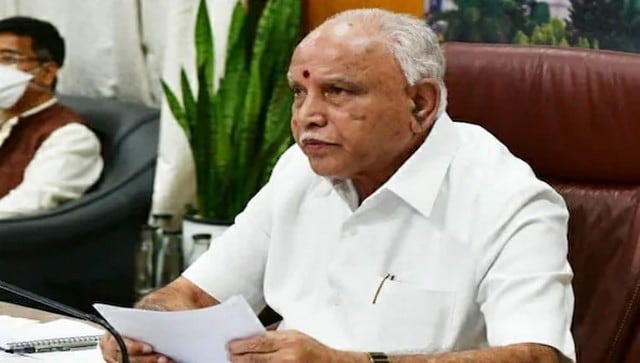 Politics
The 78-year-old Yediyurappa belongs to the older generation of politicians who started their service to the public as a teenager (in his case with the Rashtriya Swayamsevak Sangh) and did not hail from either a political or an affluent family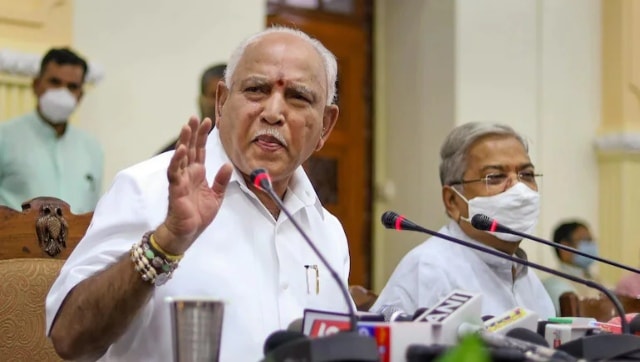 Politics
The BJP high command, with one eye on the upcoming 2023 Assembly polls in the state, has shortlisted a few notable names as possible replacements as chief minister